Evening everyone. Wow, talk about temptation. Because my office had a special meeting/course being held onsite all week, there has been food everywhere – and not much of the healthy kind either. For instance, today, there were all sorts of Panera sweets, bagels, and then for lunch, deep dish pizza. 
How To Trick the Office Snack Monster
I do have a little trick that helps me pass up these high calorie, low-nutrient foods. If I see something that looks good, like a coffee cake, I will take one small slice and wrap it up to save for the afternoon. This way, I don't feel left out in the merry-making, but I make myself wait all day to make sure that I really want the treat and am not just eating it because it's there. Many times, by the time afternoon rolls around, I get too busy to eat it. Or, I decide I'm not really hungry enough to eat it and just toss it in the garbage. I'm telling you, this works like a charm! Although, it can be a bit wasteful I guess.
For dinner tonight, I defrosted some of the homemade chili I made a few weeks ago. The chili was made with turkey meat, red and green peppers, grape tomatoes, and spinach – kind of a cross between a veggie and regular chili!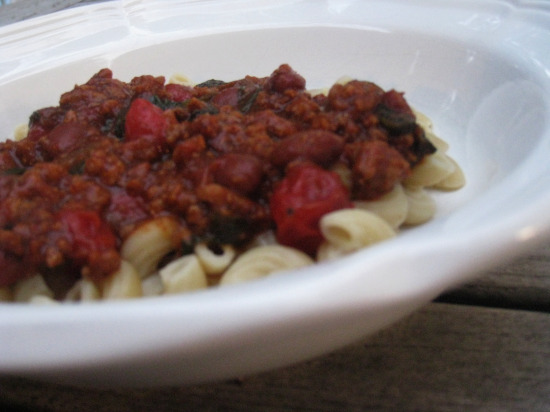 I served the chili over Barilla Plus Multi-grain pasta with added Omega-3. And, it has 7 g. of fiber per serving! Some people (like my father) refuse to eat anything pasta/bread product that is NOT white. I just don't understand it when the multi-grain or whole wheat kind is so much better for you. My father also refuses to eat any lettuce other than iceberg lettuce, even though I've told him it is the equivalent of eating paper because it has zero nutrients. If I could only convince him to change his eating habits, even a little, I'm sure he wouldn't have as many ailments as he does.
Sorry for the digression. After my chili bowl came dessert! I wasn't really craving dessert – which is a good thing really – but decided to have a few of the brand new French cookies I bought the other day.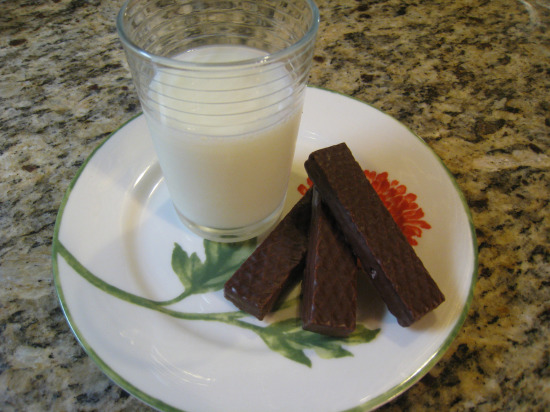 The Le Chocolatier cookies, or biscuits as they are known in Europe, are chocolate covered wafers that are layered with both chocolate and cream. They are really yummy, but man do they get stale FAST. They need to be sealed up tight (like in a ziploc bag) or else any humidity will ruin the cookies.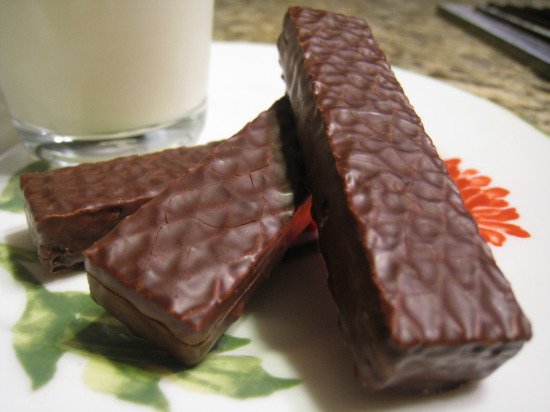 I had 3 of the cookies which totaled 150 calories, plus a little more than a shot glass of milk. Ahh, cookies and milk before bed, now that's what I called being a kid again – right Mia? I think the only thing that could have made these cookies better is if they were dipped in peanut butter – already planning that little experiment for tomorrow!
Ok, I need to head to bed. I'm usually off on Fridays, but I'm going into work tomorrow to catch up on a bunch of projects. And, there WILL be more food there tomorrow. You can run but you can't hid from the Office Snack Monster!
Night everyone!