Hello All! Well, I never ended up going for my walk. I was hoping to walk to a new farmer's market about a 1/2 mile from the office. But, when I was about to head out, I decided to double check how late it was open. Sure enough, it's only open until 1 PM and it just happened to be 12:45 PM! Bummer. So, I opted to stay at the office and continue to work – not very fun, but fairly productive.
But, I did snack on some really tasty popcorn….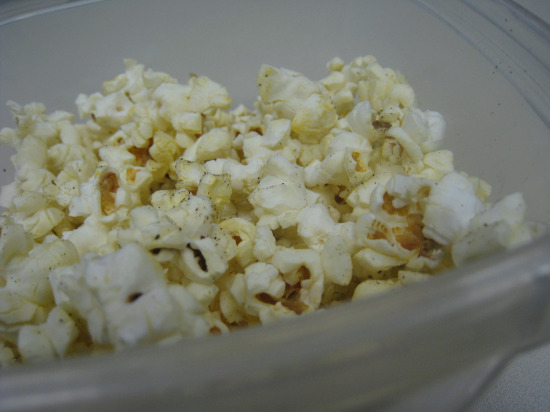 It was just the microwavable kind with butter and salt, but I also added a little black pepper – so good!
There was a time when I would eat popcorn nearly every day at work. But then I became burned out on it and stopped eating it altogether. Now, I enjoy a few cups every now and then. Popcorn is actually a great alternative snack to pretzels and chips because it has way more fiber. And, my popcorn only had 25 calories per popped cup.
Not only does popcorn have more fiber, but new research presented last month at a meeting of the American Chemical Society found that popcorn has surprisingly large amounts of the healthy antioxidant, polyphenols. Polyphenols, which are commonly found in fruits, vegetables, chocolate, wine, coffee, and tea, are known for protecting against cardiovascular disease and reducing the risk of cancer. Further tests showed that popcorn contains similar levels of the antioxidants per gram as fruits and veggies. Who would have thought that popcorn would be as healthy as a salad!
For dinner, I had intended to make BBQ chicken and grilled sweet potatoes, but I arrived home later than expected AND the chicken wasn't defrosted. Don't you hate that?! I had to make a fast executive decision – we were going to have homemade pasta sauce instead.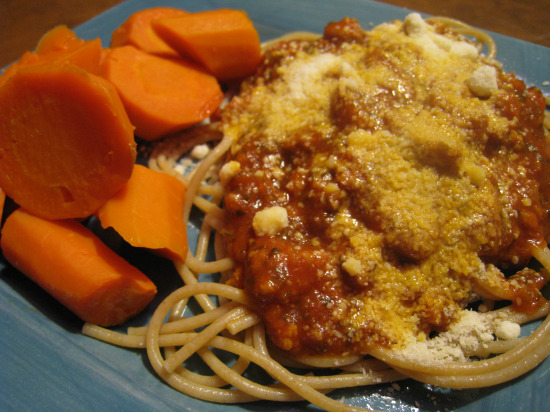 And even that took longer than expected – and all I had to do was warm up the sauce! We didn't eat until about 7:30 PM which is really late for us. I swear we're not that old, we just don't like to eat late.
Now I'm enjoying some of Edy's Spumoni ice cream – one of my husband's favorites.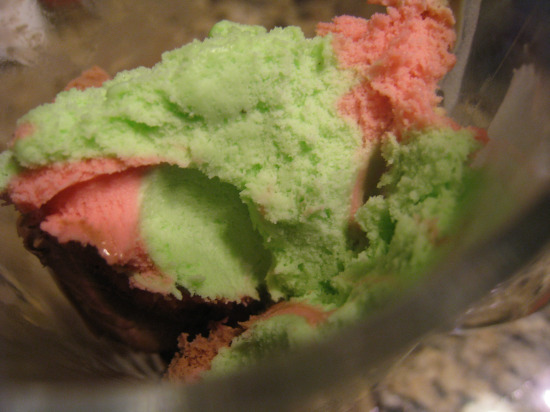 He says that he likes to eat it after having Italian food because it "settles the stomach". This is just one of my husband's many justifications for eating ice cream and other not so healthy foods.
Ok, now I'm off to bed. We have our annual staff appreciation luncheon tomorrow, and you know what that means…more food! I'm hoping we have a few healthy selections on the menu, but what can you really hope for with free food?
Have a great night everyone!