I had a good start to the day with a brisk 4-mile run, followed by a hearty and healthy breakfast. But it was all downhill from there!
After my run, my awesome husband made me a yummy omelette for breakfast: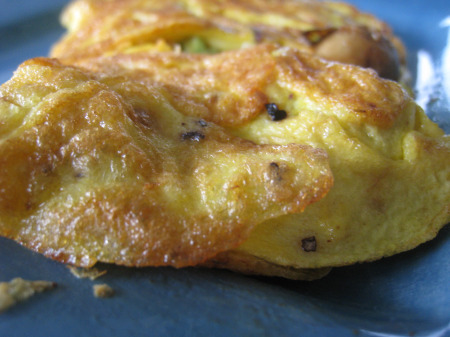 The omelette was made with 1 egg and 1 egg white, with a little cheddar cheese, mushrooms, broccoli, and pieces of all-natural (nitrate-free) bacon. It was so tasty and such a change from what I usually eat in the morning.
He also made me my favorite morning tea…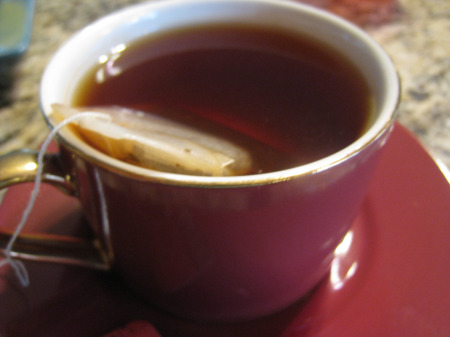 Tazo Awake tea! He's so thoughtful.
The rest of our day was spent running errands, visiting family, and getting ready for the big day tomorrow. There will actually be three events taking place tomorrow – a huge family portrait at a studio, a lunch with the family, and a birthday party for my nephew/anniversary party for my parents. Whew, that's a lot to do in one day!
I actually started feeling a little sick in the car, so I munched on an emergency snack: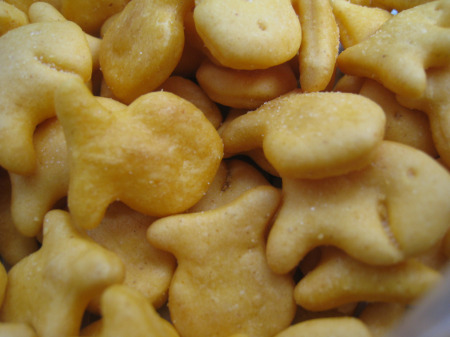 That's right, goldfish crackers. I seriously do NOT eat these crackers on a regular basis – maybe twice a year. But today, I am so glad they were in the car.
Our errands took us all over the place so we weren't near our house around lunchtime. So, we headed to Chili's: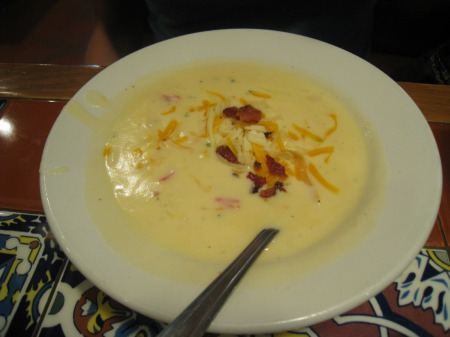 I had a bowl of potato soup and it was very tasty. I do prefer Corner Bakery's baked potato soup over all others, but Chili's has a nice recipe as well.
After more running around, we dropped into Panera very quickly to pick up an ice tea (for my hubby) and 2 giant cookies -1 double chocolate and a new kind – toffee.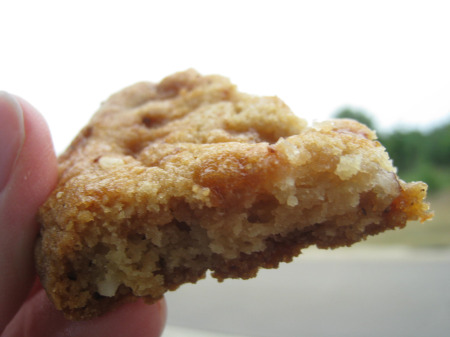 Here's what's left of my cookie after about 2 minutes! I told you it was going downhill…
We headed over to my sister's house late in the day to discuss plans for tomorrow. She was nice enough to order pizza and salad for us, knowing how tired we were from running around all day.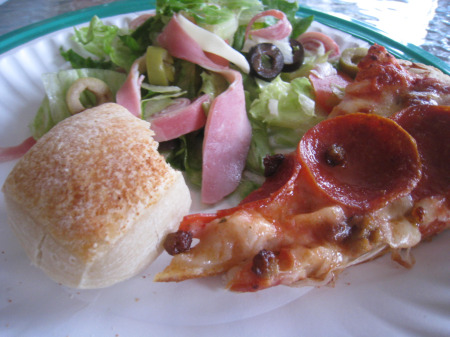 I had one piece of pepperoni pizza, a little antipasto salad, a roll, and a piece of cheesy bread (not pictured). I was pretty full after that, but couldn't resist a little moose-tracks ice cream, because I very rarely eat that flavor.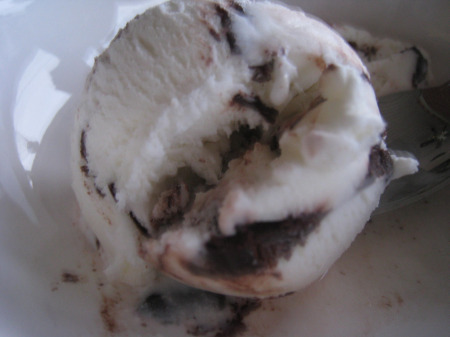 I honestly only had one small scoop, and that was enough for me.
So, as you can see, today was a complete eating fest for me. Although I try to make healthy choices when I'm out and about, sometimes my hunger and my stomach take over and get the better of me.
I plan to eat lighter tomorrow, without a doubt. Now, I'm off to bed to, hopefully, get a good night's sleep before the big day!
Night all!