Hello All. I had such a great day today. I was really focused at work and was able to get quite a lot done (although there's still more to go!). I love it when I'm super productive, it makes having to leave early so much easier.
For lunch, I packed some of the homemade split-pea and ham soup that my husband and I made a couple weeks ago. I froze some of the leftovers in individual containers (mostly for me, because Scott won't eat the leftovers) and knew they'd come in handy for work lunches.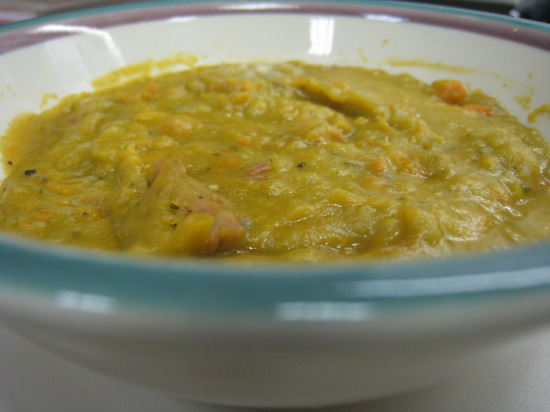 I only had about a cup of the soup but it was sooo rich and filling. That's why legumes (peas, beans, etc) come so highly recommended – because they are full of fiber and they fill you up, even with a small amount.
I left work around 2:30 PM to make a 3:15 PM doctor's appointment. After that, I perused the local Barnes and Noble for the September issues of Natural Health and Yoga Journal, but didn't have time to read more than a few pages. It was my night to make dinner so I needed to scoot home and get that started.
Tonight was chili night! I made my husband's homemade turkey chili with beans, but I added a few variations to give the chili more veggie power.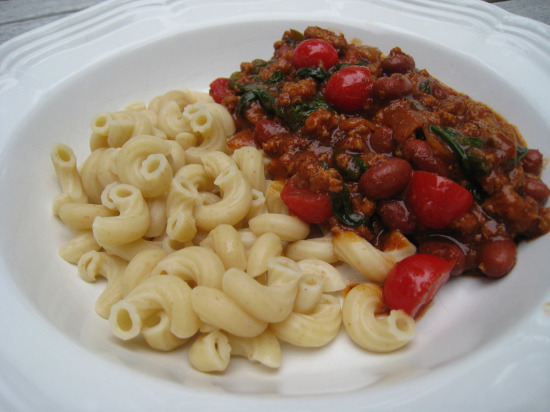 Scott's Original Homemade Chili

1 lb ground turkey
2 tbsp olive oil
2-3 tbsp chili powder
1/2 tsp cumin
1-2 tbsp garlic powder
1-2 tbsp onion powder
1/4 tsp pepper
1 green or red bell pepper, chopped
1/2 yellow onion, chopped
24 ounces canned tomato sauce
1 McCormick's Original Chili packet
1 16-ounce can chili beans
1/4 tsp ground cinnamon
1 cup cheddar cheese, shredded
2-3 cups whole wheat elbow or other short noodle, cooked and drained

Add oil to a large sauce pan and heat for 1 minute. Add turkey meat and chop into fine pieces. Add garlic powder, onion powder, chili powder, cumin, and pepper to meat and cook until 3/4 of the way cooked. Add green pepper and onion and continue cooking until meat is completely cooked through. Add tomato sauce and chili packet and simmer for 15-20 minutes. Add beans (with juice) and simmer for 10 minutes. Add cinnamon, stir, and cook for 1-2 minutes more. Serve over noodles, bread, rice, or plain. Add cheddar cheese for extra flavor. Leftovers can be frozen and then reheated in the microwave or on the stove.

Serves 8 people.
I've been eating this chili for as long as I've known my husband and never thought I could love chili so much! But tonight, I threw caution to the wind and added two secret ingredients…1) when I added the beans, I also added about 1 cup of sliced grape tomatoes; and 2) when I added the cinnamon, I also added about 2 cups of baby spinach and mixed it into the chili thoroughly.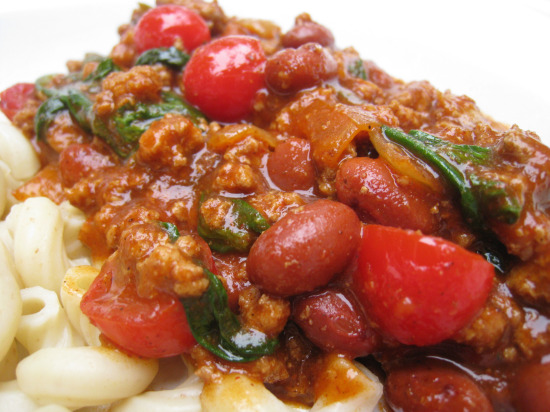 I absolutely LOVED my new variation of the chili! The tomatoes added even greater flavor to the chili and the spinach (although you couldn't even taste it) added a ton of vitamins that spinach is famous for.
However, my husband was not so pleased. He immediately asked, "what did you do to the chili! Did you add spinach to it!?" And then he grumbled a few things under his breath. I calmly explained that, on more than one occasion, he has complained that he does not eat enough vegetables. So tonight, I tried to sneak a few more in for him. Hmm, it's not always a good thing to be a sneaky vegetable cook. After all was said and done, he did admit that the chili tasted good (although he had picked over most of the tomatoes and spinach which defeated the whole purpose – I get points for trying). As for me, I would definitely try this variation again, but for newbies, you may just want to stick with the original recipe provided above.
After dinner and clean up, I needed to the head to the library to return a book. I ended up bringing about 20 more books and DVD's home! I'm so glad there's no limit to what you can check out. 
Then it was dessert. Scott and I made homemade sundaes.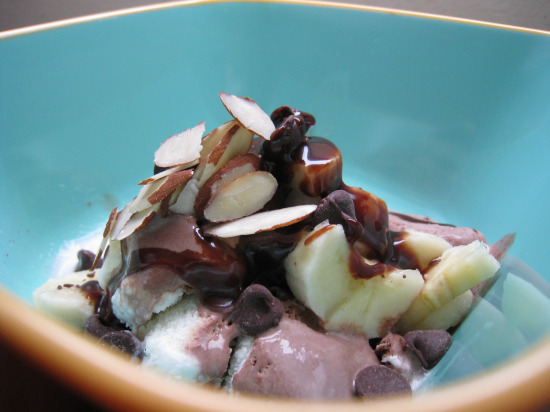 For my sundae, I started with 2 small scoops of Breyers all-natural vanilla/chocolate ice cream. Then I added:
1/4 sliced banana
1 tbsp chocolate chips
1 tbsp hot fudge sauce
1 tsp sliced almonds
It sounds so indulgent, but it was actually quite healthy. Bananas are a great source of potassium and fiber and the almonds are an awesome source of monounsaturated fats (MUFA's) or the good fats that our body needs to stay healthy. Combine all of those goodies with the antioxidants in the dark chocolate I used, and the sundae is practically a health food! Ok, I shouldn't go that far, but more nutritious than a Dairy Queen sundae, and much smaller too.
Now, I'm finally going to read my new Marie Claire magazine that's been sitting on my nightstand for two weeks.
Have a great night!