Wow, what an afternoon! I reviewed more videotape timecodes, had a meeting, and gave a presentation to about 35 people. All in a day's work! Luckily, in all of the chaos I was able to stop and take a break for lunch – and it was catered again – yeah for me!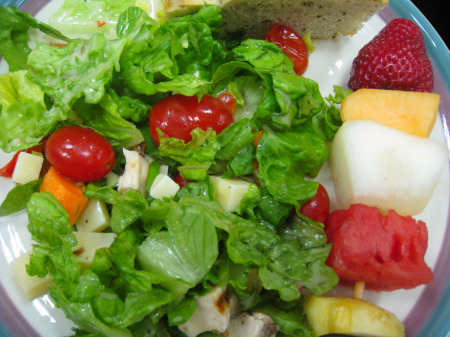 Lunch was salad and wraps for today. I was not in the mood for a messy wrap, so I opted for salad. It was kind of a make-your-own salad, so I added tons of greens that had carrots, peppers, and cucs mixed in, plus I added cherry tomatoes, cheese cubes, and chopped chicken, all with a little Italian vinaigrette – delicious. But, my lunch didn't stop there…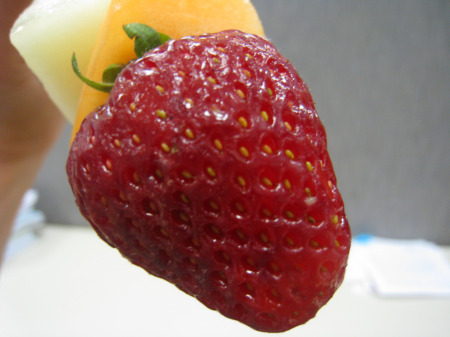 There were also fruit kabobs for dessert – I just love where I work. My kebob had pineapple, honeydew, cantaloupe, watermelon, and a huge strawberry on the end. Between the fruit on a stick and the salad, I had at least 4 servings of fruits and veggies – all in one sitting. I guess this shows that you really can eat healthy while at work.
By the time I arrived home around 6:30 PM, I was still not very hungry. However, I knew I had to have a little something to eat.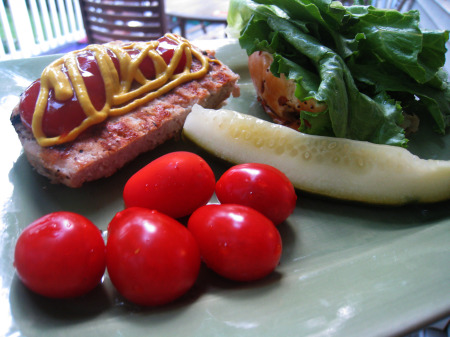 My husband was working late, so I made a turkey burger for myself (only ate about 2/3 of it) with a side of grape tomatoes. It was just enough. And, because my husband and I have both been working very hard this week, I decided to surprise him and make oatmeal chocolate chip cookies. Won't he be surprised? Well, he won't be that surprise, because he knows that oatmeal chocolate chip cookies are my favorite cookies to make. I make them so much that I know the recipe by heart and can make them in 45 minutes flat.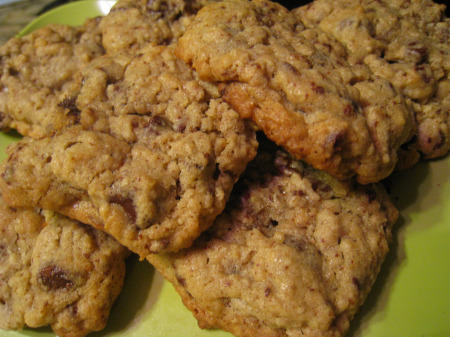 Now for the close-up…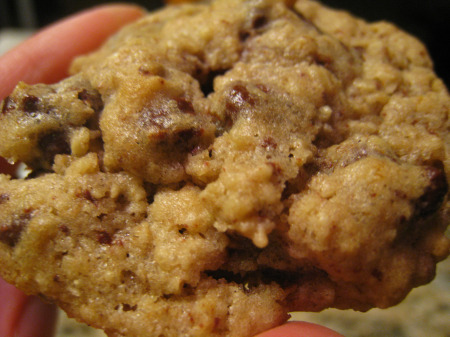 Hmmm, so goood!
Now that I have a tummy full of cookies, I'm going to catch up on my reading – my new Shape magazine just arrived! – and then I'm hitting the sack.
Have a great night everyone.