Hey all. I am really ready to crash right now. It was very challenging for me to concentrate all day with only five hours of sleep.
For lunch, I brought the last of my homemade turkey chili…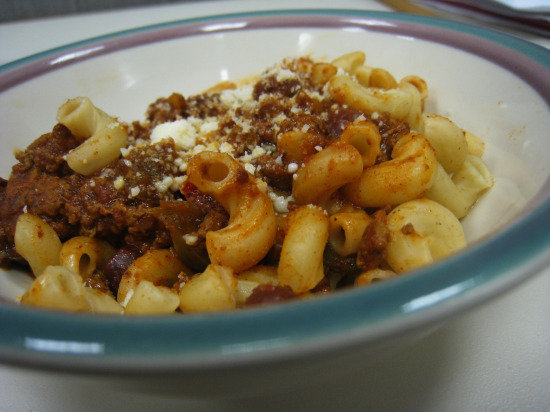 You probably can't tell, but it has baby spinach in it. I love that you can put baby spinach in just about anything and have it blend so much that you don't notice you're eating it.
After lunch, I stepped outside for a 20 minute walk to wake me up. It was 85 degrees and sunny here today so the walk was quite warm. But, it was also well worth it. I love these last days of summer. The afternoon went by very fast, although I felt extremely tired around 3 PM so I popped open a diet coke. Ah…a cold diet coke on a hot day – love it!
I arrived home around 6 PM and was pretty beat. But, I still managed to pull off a fab dinner – a creation of my very own I am proud to say…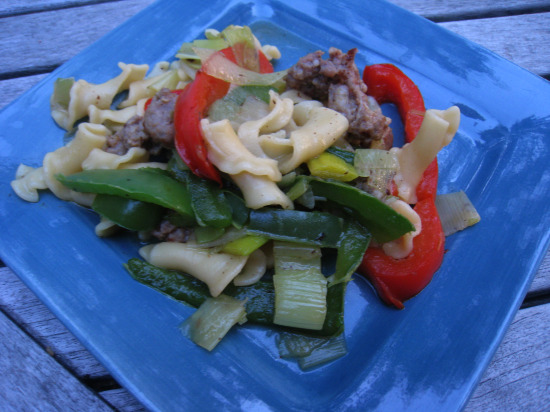 I made, what has become, my signature dish. It's my Italian sausage-pasta dish with tri-color peppers and leeks. This is such an awesome one pot recipe and it really makes a lot more than you think so it's great for leftovers. For all of you vegetarians out there, you could probably substitute tofu or portobello for the sausage – just a thought.
After dinner, I scooted off to the library to return some books, then it was off to Party City to get a few supplies for my first staff training program I'm implementing on Thursday this week. Then, I headed to the local dairy/ice cream store for Scott. He loves mint chocolate chip ice cream and had a special request for it tonight.
I decided to save money and just eat the leftover Breyers vanilla bean ice cream at home. But, I added a few extras – like dark chocolate chips and watermelon, for all of those antioxidants you know!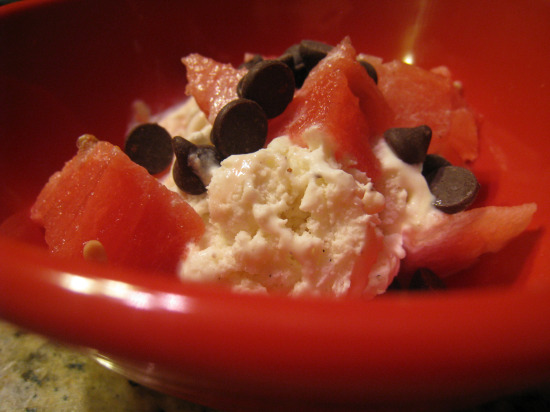 Question of the Day
Ok, now for the question of the day, what do you do when you keep getting emails from a company that is trying to give you a sample of a product you absolutely loathe? There is a company that is trying to send me samples of cigarette pack decals/decorations, I assume to make them trendy. But, I am against smoking in every way. Do I not answer their emails? Do I politely say no thank you, or do I really tell them that I think their product disgusts me? At the very least, they really need to get a better PR firm because they obviously did not check to see what I write about – health and wellness. And, since when do cigarettes promote health and wellness?
Ok, enough griping. I'm off to bed. Have a great night!