Hey there. I've had such a long day. It seemed like it was never going to end. It doesn't help that it was 72 degrees and sunny outside and I wasn't able to get out for lunch. I kept hearing people say how gorgeous it was outside, so I decided to leave work earlier than planned.
Seeing as September is National Yoga Month, I headed to an outdoor mall near my house to check out the new yoga and running lines at Lucy and the Gap.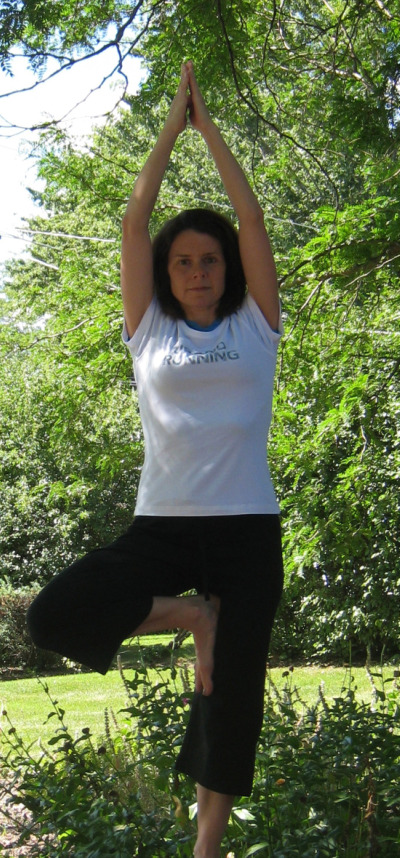 Me, in my most comfortable yoga pose and clothes!
Lucy had a bunch of brand new yoga and running gear – in fact they were just putting out some cool new t-shirts when I arrived. Lucy gear at full price is way too expensive for my budget so I have to wait for things to go on sale – I'm sure more than one of you can relate. On the other hand, the Gap had hardly anything on display, except for yoga pants, which was a big disappointment. Maybe I just need to go to their new affiliate store Athleta to fill my yoga and running gear needs.
On another note, both Lucy and Athleta have online communities that you can participate in by adding comments to a blog or attending events, etc. Way cool!
And, if you're interested in trying yoga during National Yoga Month, check out Yogamonth.org. They have a promotion running right now where you can attend a free week of yoga classes in September at a studio near your house. You just fill out the form and it brings up all of the participating studios near your zip code.
Well, after my short and fruitless shopping excursion, I picked up dinner at Noodles cafe and headed home.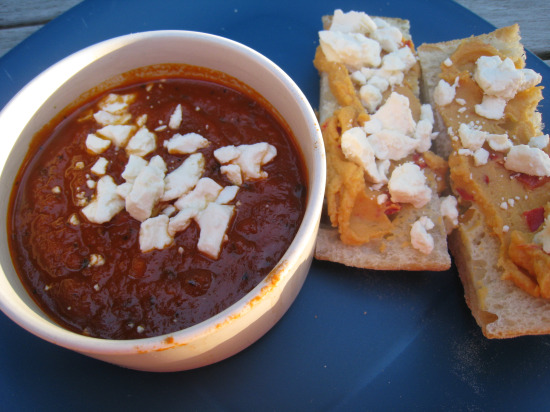 I had a cup of tomato basil soup to which I added a bunch of fresh crumbled feta cheese. I've never had Noodle's tomato basil soup before but I could have sworn this looked, smelled, and even tasted like tomato sauce and NOT tomato basil soup. I'm almost wondering if they gave me a scoop of their marinara sauce and not the soup! It was ok enough to eat though, but not what I expected. I also made a little homemade hummus bread…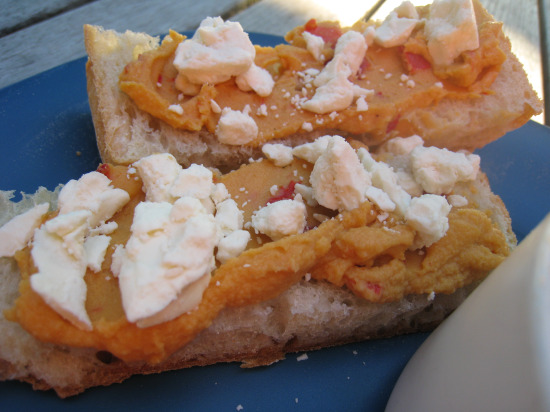 I took two very small pieces of leftover ciabatta bread and spread about 2 tbsp of red pepper hummus on top, then sprinkled the bread with fresh crumbled feta. The hummus bread was great alone and also for dipping in the soup!
There were too many rice krispy treats left from last night's dessert, so I thought I'd have a couple more to help us get rid of them faster – he he!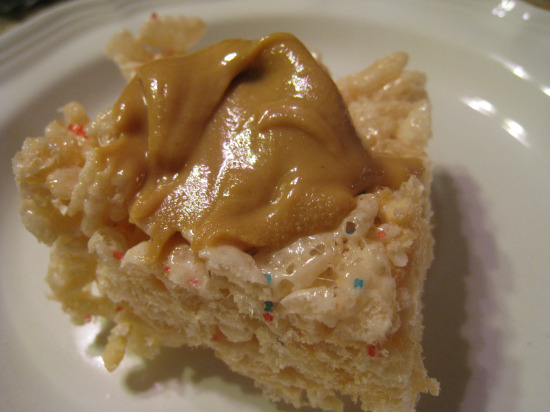 I even added a dollop of MaraNatha all-natural creamy peanut butter to give my krispy a little protein and MUFA kick. The only thing that would have made this simple dessert better is melted chocolate. Hmmm….maybe tomorrow!
I'm off to do a little magazine reading and then, hopefully, hitting the sack early tonight.
Take care everyone and see you in the AM!