The title of this post really says it all. In the last 24 hours, I have consumed about 1,600 calories, equaling about 800 calories per day. No, I'm not trying some crash diet. I have been very sick since Sunday night with both the stomach and respiratory flu. Not a good combination. 
As I mentioned last night, I was only able to make it though a 1/2 day of work yesterday. In all of my sick glory, I was only able to eat some jello, two cookies (later in the day), and sip a little Sprite. As you can imagine, I was so weak this morning that I was not even going to attempt running. I did make it through a whole day of work today and was able to keep down a piece of toast, followed by some chicken soup for lunch.
By dinner time, I was feeling much better and actually quite hungry, so I made myself a little sammie…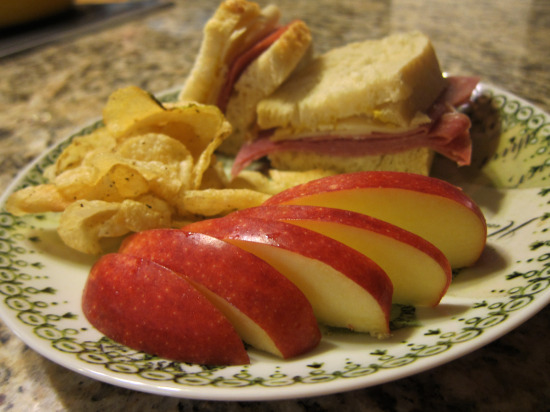 I had very high hopes for this salami and cheese sandwich, but after eating just 1/2 of the sandwich I was feeling very full and a little sick again. I tried to eat the apples as well…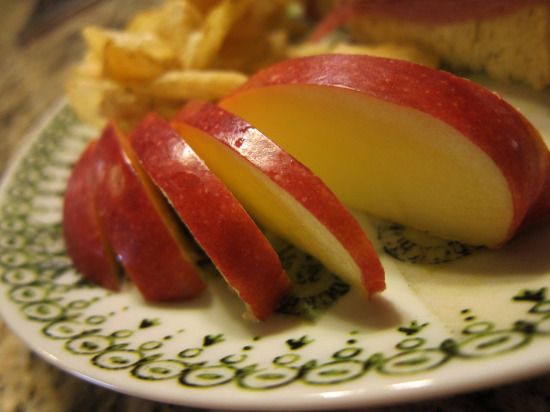 But I guess when you're sick, nothing tastes good, not even sweet, crunchy apples.
When I weighed myself this morning, I was sure I had lost 2-3 pounds, given how much I was sick and how much I did not eat. However, I was only one pound lighter. But, after I thought about it, I was in bed practically the whole day yesterday, so I was not exerting much energy – not enough to burn significant calories. 
I honestly don't mind losing a pound here and there when I'm sick – it all balances out anyway. But what I don't like is not being able to eat – due to loss of appetite or whatever. If you can't eat, you can't fuel your body with calories which help you engage in your daily activities – especially exercise, therefore you feel tired, weak, and just plain blah! And anytime I can't exercise – well, let's just say I'm not much fun to be around. Conclusion..being one pound lighter is not worth being sick – AT ALL!
OK, enough from me. I need to get some sleep so I don't relapse 🙁
Have a good night.