Happy Saturday everyone,
I am super tired right now, so I'm going to make this quick. We celebrated my father-in-law's birthday today with dinner at their house. After a very hearty meal of zesty meatloaf, homemade macaroni and cheese, and scallop potatoes, we were treated to this…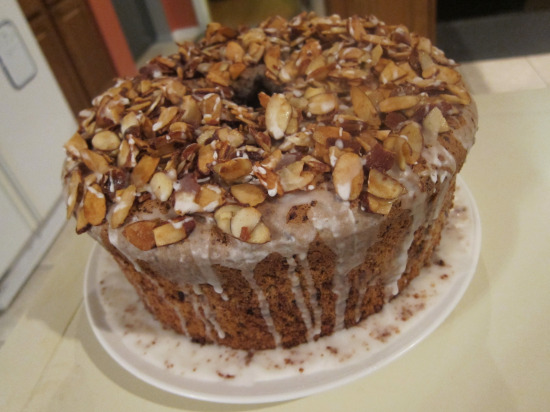 An Almond Crunch and Chocolate Confetti Chiffon Cake, baked by none other than my father-in-law himself! I guess he has been waiting for ten years to make this cake – no joke. The recipe was from a Fine Cooking magazine from May 2000!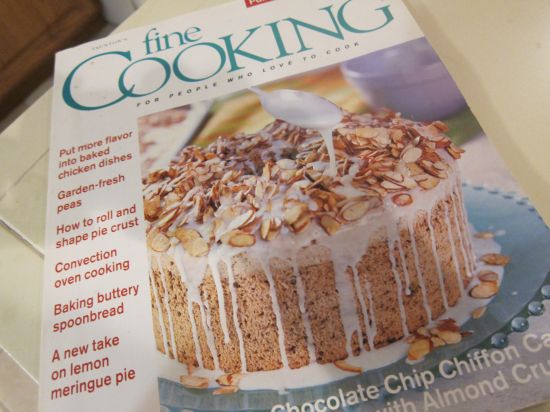 By now  you know that my father-in-law is a fabulous baker. He and my mother-in-law even contemplated opening their own bakery a few years back. So, I was not surprised at all that this cake was fantastic – it tasted as good or even better than it looked – if you can believe that! This proves that it pays to save those old recipes – you never know when they're going to come in handy. I had one nice size piece, but could have easily eaten more. I did end up taking a piece home – AM coffee/tea cake, anyone?
Fine Cooking magazine really does have some great recipes. Now that I think about it, I subscribed to the magazine over a month ago and I still haven't received my first issue – ugh!
Ok, must run for now. Tomorrow is a busy day full of WORK! That's right, because of a HUGE new project (yes, it requires even more travel) I have to work this weekend.
Also, it's supposed to be about 40-45 degrees out in the AM, so I'm hoping to get a long run in outside – fingers crossed!
Have a great night 🙂