Ok folks, I have to make this quick. I actually have work to do tonight. Yes, it seems that I don't spend enough time working during the day that I need to work more at night. 
Before I forget, check out my new Bistro Chic post where you'll learn all about my love for Jane Austen novels and Masterpiece Theatre – he he!
Today was sooo crazy busy at work that I barely had time to go to the bathroom. Not good – at least for my bladder.
Dinner was a makeshift meal of an all-natural, nitrate free hot dog by Vienna Beef. Hey, I gotta get me some Chicago hot dog lovin' some how!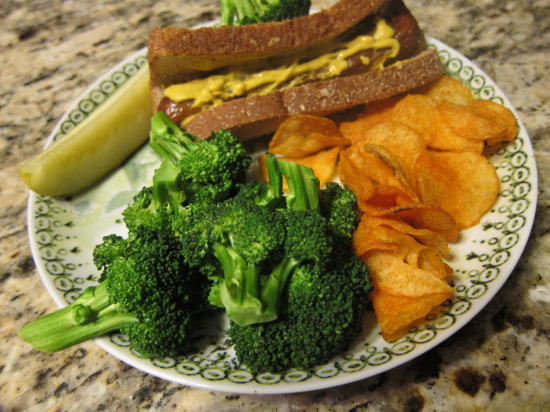 As you can see, I balanced the meaty hot dog on a double fiber piece of bread with a HUGE portion of broccoli. And I mean huge! I think there were two cups worth of the trees on my plate 🙂
Tomorrow, I'm getting ready for my son's big Saturday birthday bash. He's turning the big F-I-V-E and I can hardly believe it! We are all set to make goodie bags and then shop for other party items. This will be my first time hosting a kids' party. I'm a little nervous I have to admit. Running after 20 kids, mostly 5 and under, is not my idea of a relaxing Saturday. But hey, you only turn 5 once right?
OK, gotta run. Have a wonderful Thursday night!