Hi All! Glad to see you're all intrigued by the concept of barefoot running. One reader, Neal, mentioned a very unique type of running shoe/sock that is supposed to allow the foot to move in a more natural way but still gives you protection from the road/trail and related elements. Neal wrote…
I'm a big proponent of the Vibram Five Fingers. You should give them a try if you are serious about exploring the barefoot running thing. 
I have to admit, when I saw this "shoe" it kind of creeped me out a bit. But then it also reminded me of the toesie socks that were so popular a few years back! It really makes sense though – having all of your toes "free" allows them to flex and grab the ground, hence making it easier to balance and putting less stress on the ankle and legs.
I'm sure we could talk for hours and hours about this, but let's move on for now. My morning started off with a quick treadmill run. Wednesday is usually my day off, but after last weekend's indulgences, I felt like I needed an extra day of calorie burning! Running was following by a little Cheerios for breakfast…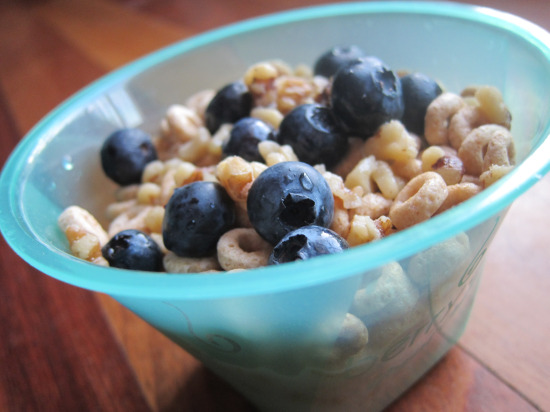 Ahh…so healthy and colorful! On my way to work, I was really wanting a Starbucks but resisted the urge and temptation (after all, I am into Week #2 of the restaurant diet!). Instead, I tried out my office's coffee/hot chocolate machine for a little frothy, chocolaty milk…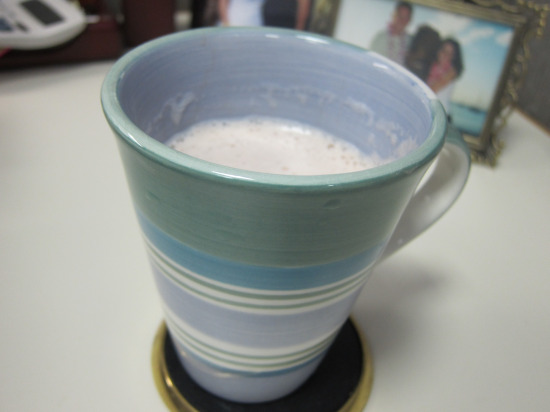 Adequate, but not Starbucks quality. I had back-to-back meetings this morning (you haven't heard me say that in a while!) so, on a break, I managed to snack on a lemon Luna bar…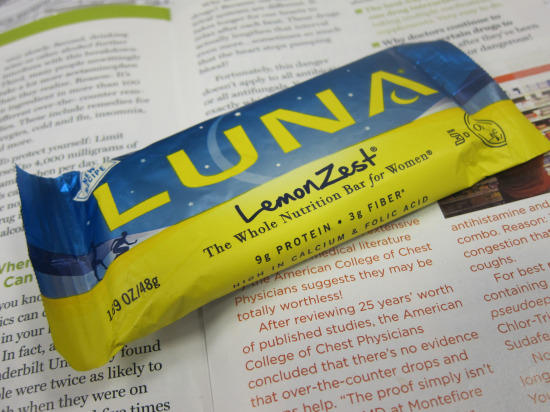 I LOVE lemon cookies, cakes, etc, so I was pleasantly surprised with the taste of this bar. It's also a nice change from chocolate and peanut butter – whoaa, did I just say that?
Lunch happened to be an unpictured bowl of Trader Joe's shells and white cheddar followed by TJ's vanilla Greek yogurt in the late afternoon…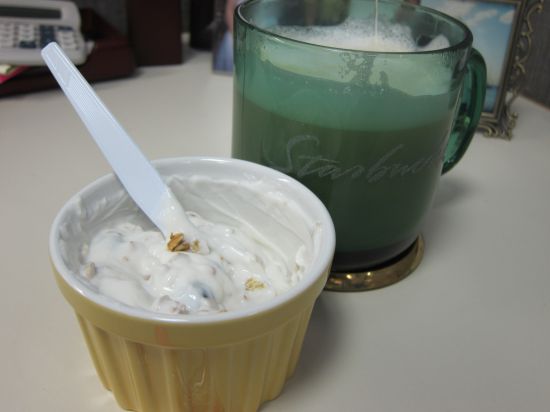 I mixed in some homemade granola and blueberries for an tasty and protein-filled treat. Plus, a little Tazo Awake tea to keep me going. I've discovered another new feature of my office's gourmet coffee maker. It has a frothed milk option! So, I fill up a mug about 1/4 way with frothy milk then fill up the rest with hot water. I add my Tazo and voila – instant Tazo Awake Latte – not bad for spending no cashola!
Dinner was quickie because I was not in the mood to cook…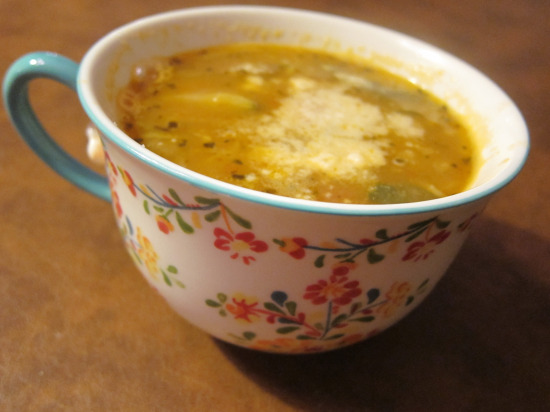 I'm so thankful we had minestrone soup still left in the freezer, otherwise I would have probably resorted to peanuts.
We are nearly out of all things chocolate in our house, except for the chocolate/peanut butter Cliff bar that I put in Scott's Christmas stocking. He was not very willing to share his treats, even though he ate most of the chocolate truffles from my stocking – blah! He needs to go back to kindergarten. 
Ok friends, I must be off to bed. I have a date with the treadmill in the AM as well as a yoga session at noon. Have a great night!