Hey everyone!
I had server/host issues last night so I was MIA. I'd like to start this post with a question for all runners… 
Have you ever run barefoot or thought about running barefoot? And not just running barefoot across a pool deck or while playing on the beach – I mean, truly running barefoot? No? Me either…until now.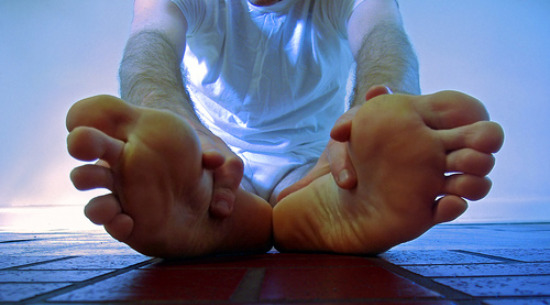 The New Facts
A new study from PM&R: The Journal of the American Academy of Physical Medicine and Rehabilitation, shows that shoeless running may actually be better for you than running with shoes. The study showed that the force placed on the joints caused by running is greater than when walking in high heels.
The Big Debate
Although the study is new, the idea of barefoot running being good for you is far from novel. There has been a long-standing debate over the benefits of barefoot running, with advocates saying it encourages a more natural style of running, placing less stress on the joints. On the flip-side, running with shoes was shown to increase the torque (twisting force) at the hip, knee, and ankle, compared with barefoot running. Furthermore, the researched showed that the padding under the heel and arch may cause increased stress on the leg joints. 
But, just as there are runners claiming barefoot is best, there are equal numbers of runners who say barefoot running is not a wise option. I agree with the latter and whole-heartedly admit that I do NOT embrace this barefoot running. Who really wants to run on the road or trails with rocks, sticks, glass, and other potential hazards? I'd rather have a little more stress on my legs than a hundred tiny (and not so tiny) cuts on my feet. Besides, can you imagine what your feet would look like after years of barefoot running – like one huge callus! Eeeww!!! Not even a pedicure could help you with that!
How do all of you feel about barefoot running?
If you're interested in learning more about the pros and cons of barefoot running, Runner's World has a great article in the February 2010 issue. The magazine also published a very humorous opposing view of barefoot running last year. 
I can't say whether barefoot running is good or bad, but I'm not ready to give up my shoes just yet.