Hey all! Hope you had a great weekend. I was up and at 'em around 7 AM today. I went for a 6-mile run, then came home to finish packing for my trip to DC. I boarded a plane around 1 PM and touched down in DC about 3:30 PM. Whew – all that in just a matter of a few hours! Since my conference doesn't start until tomorrow, I quickly unpacked at the hotel then headed out to take in the sites. I walked all over Penn Quarter, sampling froyo, viewing the goods at Teasim, and then finally stopping off at the American Art Museum and Portrait Gallery.
Later on, I met Prachi – a DC friend of mine – for dinner at Circa on Du Pont Circle. Circa Cafe is a mix of trendy and charming, and with the weather at 70 degrees, you just can't beat sitting outside! To start, we split a bottle of Chardonnay and some super yummy risotto croquettes…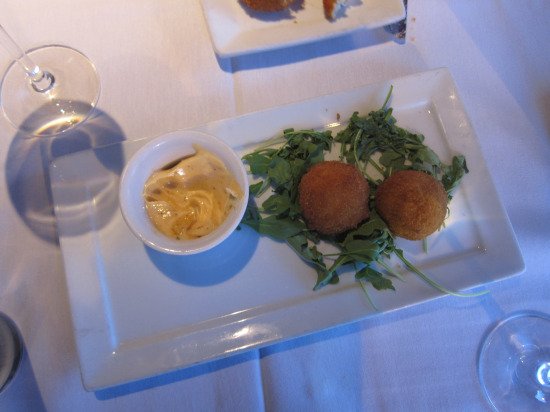 These croquettes were awesome! Cheers to the chef who thought up the idea to bread risotto balls and deep fry them! Note to self – must try these at home. Next up, I enjoyed the Rocket salad with cherry tomatoes, arugula, sliced chicken, and more…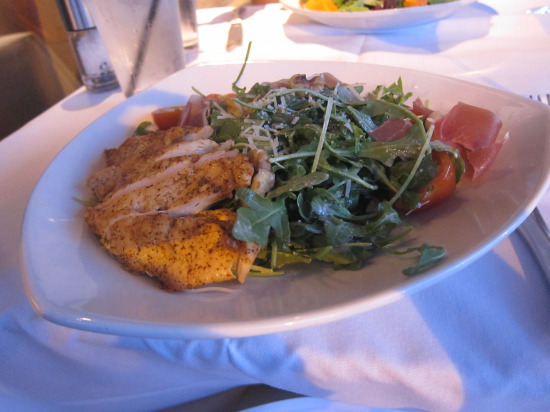 As you can tell, I was more than happy with my entree choice, the wine, and the company. Since I don't see Prachi very often – a couple times  a year – we try to catch up on everything when we do see each other. Sadly, I learned that she is moving to Phoenix for a year with her boyfriend, Jigar. I only say "sadly" because I don't travel to Phoenix very often so will likely not see her for quite some time. Ironically, Phoenix is where Prachi and I met for the first time about 5 years ago. I have never met Jigar but I'm sure he must be a great catch – after all, he likes Pazo restaurant in Baltimore!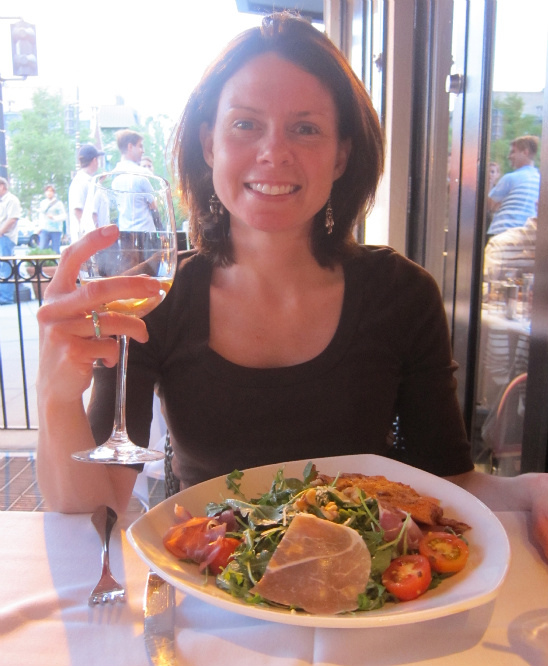 For dessert – Prachi and I shared a wonderful orange almond crescent bread pudding with pistachio gelato. OK, we really didn't "share". She ordered a decaf coffee and I ate most of the dessert, but can you blame me…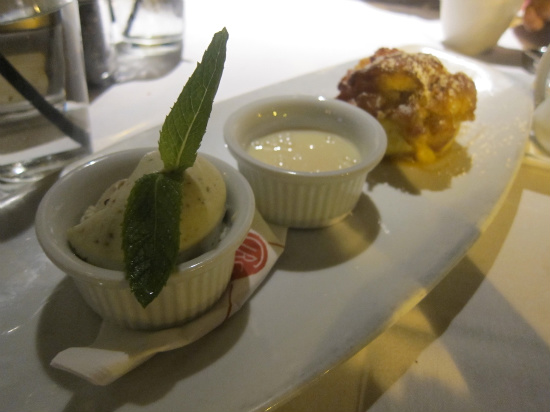 Who can pass up bread pudding sans raisins with creme anglaise? The only thing that would have made this better is chocolate – hmm, something to think about for next time.
OK ladies, it's off to bed for me. Planning a early AM run tomorrow!