Last night, after my work-related event was finished, a colleague and I ventured off to downtown Scottsdale for a bite to eat. My colleague had been to Scottsdale several times before and had been raving about a restaurant there. Given that she is a foodie and somewhat of a wine snob, I was pretty sure the restaurant would be a good one – and I was NOT disappointed.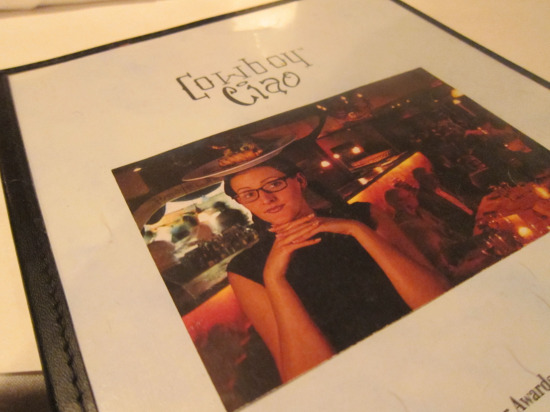 We ate at Cowboy Ciao, a very eclectic restaurant, with a mix of Southwest meets LA meets NY kind of menu. Plus, they had a HUGE wine menu, probably 3x the size of the food menu. It was easily the largest wine menu I've ever seen -and I've seen quite a few on business trips.
My colleague wasted no time devouring all of the listed wines and decided on a French white wine. I can't tell you the name but I can tell you that it was an aged wine – 10 years old – and about $45 a bottle! Yikes – I was glad I was not buying.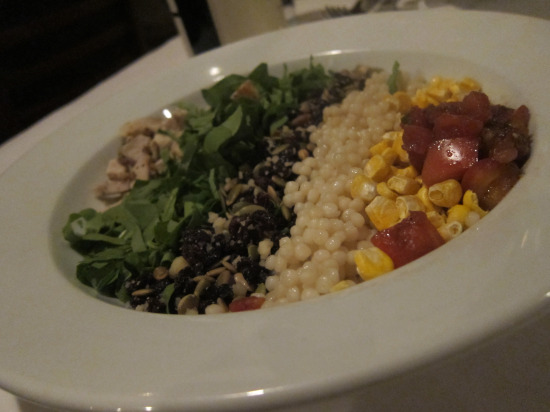 We both ordered the restaurant's signature salad – the Stetson Salad, which is a mix of all sorts of goodies. I can't remember all of the ingredients, but I know there were corn nibbles, couscous, tomatoes, and chicken thrown in there. The mix of flavors was outstanding! And, because I opted for chicken instead of salmon, this salad could have easily been my meal.
But oh no, it didn't stop there. Next, we ordered our entrees…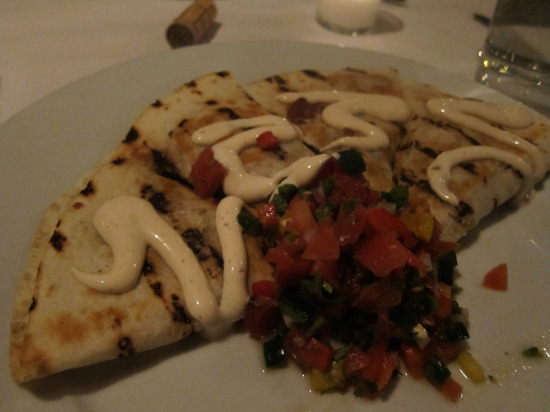 By this time, I was feeling pretty full, so I wanted to keep my entree on the lighter side. I had the butternut squash and bacon quesadilla. OMG – bacon and butternut squash – come ON! Why didn't I think of that sooner! This quesadilla was fantastic! I only wish that I wasn't so full when I ordered this. I ended up eating two pieces and leaving the rest.
As I mentioned last night, a piece of red velvet birthday cake was the grand finale of the meal.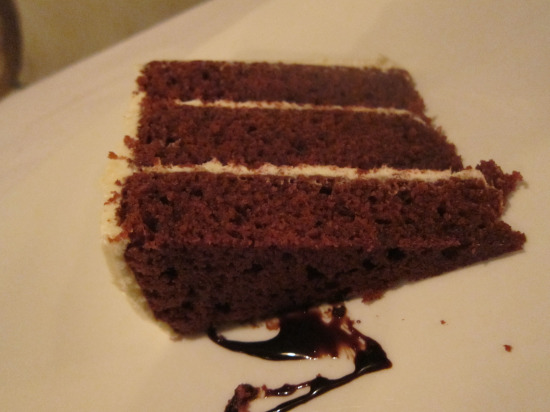 I know, I know, I've already said I was full. I should have thrown in my napkin after the entree. But, when our waiter said those magic words – Red Velvet – all reasoning went out the window.
If you are ever in Phoenix or Scottsdale, I highly recommend this restaurant. It really is a restaurant for foodies, wine lovers, and anyone looking for something fun and different. However, it is NOT cheap. Our bill came to $142 with tip – again, so glad someone else was buying!
I was so incredibly full after the meal that I had to walk around the hotel for 40 minutes when we got back. I'm so glad I did or else that food would have been laying in my stomach like a big lump all night.
Alright, I'm back in the office tomorrow so must head to bed.
Next trip – Wash, DC, in two weeks!