I can hardly believe that Summer 2009 is over! It went by so fast that I feel like I didn't get enough time to enjoy it. I guess I shouldn't be too sad since we are heading into my favorite season of all – Autumn!  From apples, to leaves, to pumpkins, there are so many things that I love about this time of year. I'm sure you'll be hearing about my favorites for the next few months – he he!
Today was a gorgeous day for Labor Day! It was 75 degrees and sunny – just perfect for sitting in the backyard enjoying the last sounds of summer. Before heading out for our Labor Day dinner, I had a small lunch of leftover veggie pasta salad. I really wasn't that hungry and I knew that we'd be eating an early dinner.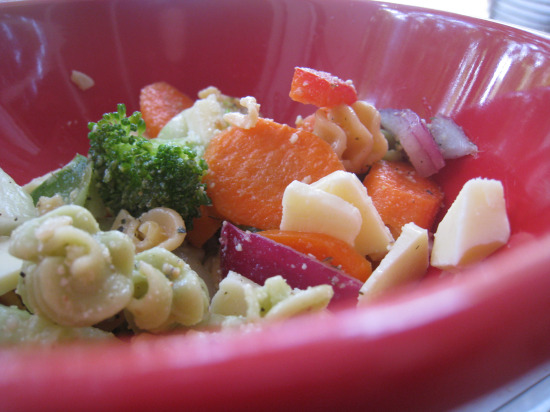 Then, we left for my in-law's house which is about 45 minutes away. I did happen to enjoy a Starbuck's Frap along the way – a Labor Day treat to myself!
We spent most of Labor Day at my in-law's house chatting, laughing, and eating. I was content just to sit on the double swing outside, reading a magazine, and watching the kids run around. And, while sitting outside, we snacked on some of my father-in-law's homemade salsa…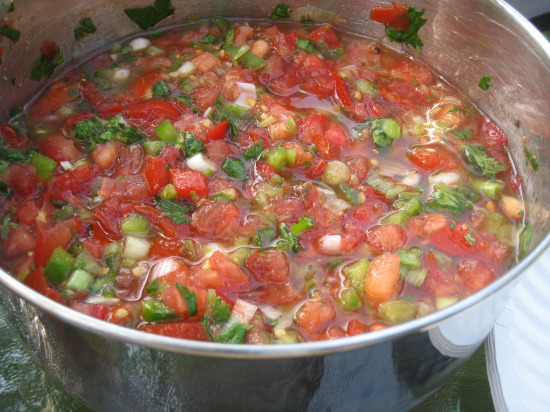 So goood! Even though salsa is very low in calories, the accompanying tortilla chips are not, and I had way too many. Good thing I'm planning another 40 min/5-mile run tomorrow.
For dinner, Scott's parents prepared a family favorite, Chili Verde made with pork loin and green chilies, which give the dish it's rich green color.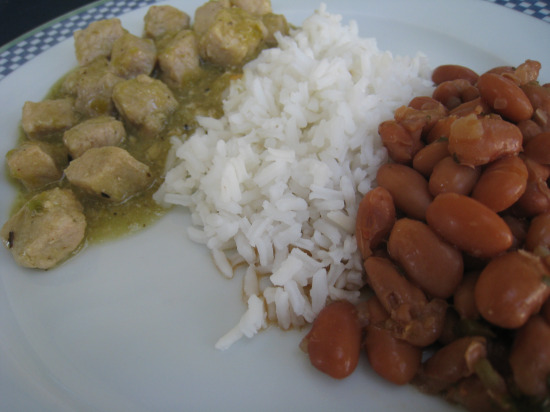 Chili Verde is customarily served over rice (at least in my husband's family it is) and with a side of homemade pinto beans and soft tortillas. I'm not a huge Chili Verde fan and never have been, but tonight it was extra good and a little spicy. I really had to make myself stop at one serving, especially because I wanted to save room for dessert…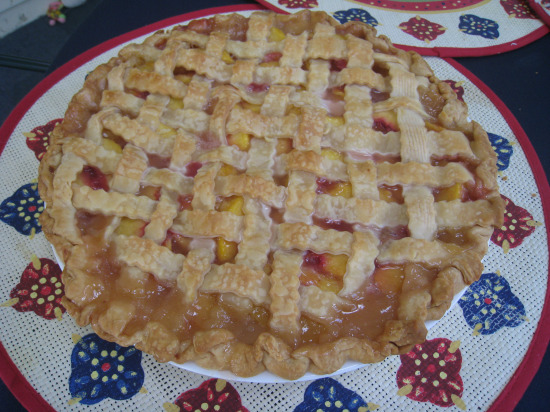 Homemade summer peach pie! My father-in-law makes some of the best fruit-pies (and other desserts) that I've ever eaten. I'm lucky that he shares the recipes with me but even luckier that he takes the time to make these treats for his family.
I had the peach pie with one scoop of Edy's slow-churned vanilla bean ice cream, which has about 100 calories per 1/2 cup – not bad. The peach pie and ice cream combo was amazing! I have only ever had peach pie that my father-in-law has made – I'd hate to try any other for fear that I'd be disappointed!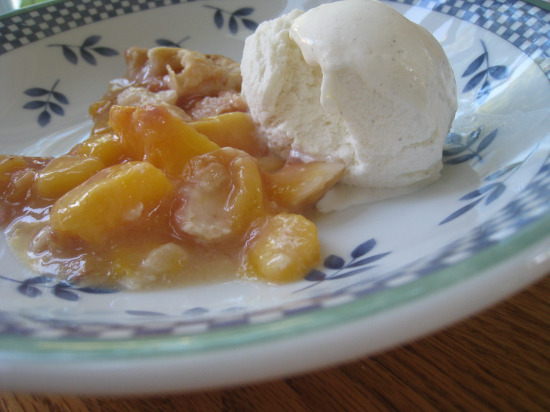 Tomorrow is my first vacation day in about 2 months and my last until the week of Thanksgiving! It really is nice having an extra long weekend to do things around the house while having a little fun too. So, on my much needed vacation day, I plan to finally see the latest Harry Potter film at the IMAX theatre. I am a huge Harry Potter fan – read all of the books 2-3 times, seen all of the movies, etc. I seriously can't believe I've waited this long to see the Half-Blood Prince. Of course I know what happens because I read the book, but it's always fun to see how they adapt each book into a movie. Can't wait!
I need to run out again tonight to return some library books and to pick up a few things at the store for an apple coffee cake. It seems like I am always going to the grocery store!
Have a great night and I'll see you in the AM!