Morning everyone! Can you believe it's Labor Day weekend already! I'm a little sad that the summer is over, but I have a great weekend ahead. Here's what's on my agenda for the last days of summer…
Friday – haircut (which is an event for me)
Saturday – Apple picking with the fam
Sunday – Outdoor music concert (my "Labor Day weekend show")
Monday – Golf (not me, but the guys) and a BBQ
Tuesday – A vacation day for me and hopefully the day I finally see the latest Harry Potter
I want to fit in some magazine reading and a new recipe or two. So much to do, so little time! 
But, before I get into the weekend, let's talk about today! The weather is just amazing this morning – slightly cool and sunny. It was just perfect for a run.
For breakfast, I was inspired by Tina's oatmeal this morning and decided to make my own oatmeal creation…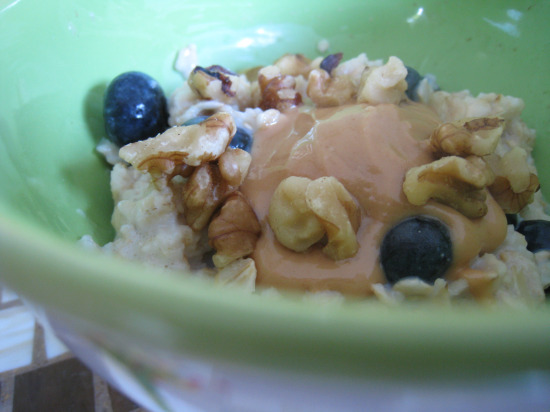 I started with about 1/4 whole oats and added 1/2 cup skim milk. After I microwaved it for 2 minutes, I added a spoonful of MaraNatha all-natural creamy peanut butter, a few walnuts (I'm on a walnut kick if you can't tell!) and a handful of blueberries. Oh my, this is such a filling combination and full of protein, fiber, and antioxidants. 
I also had a little chopped fruit that I brought home from our staff luncheon yesterday…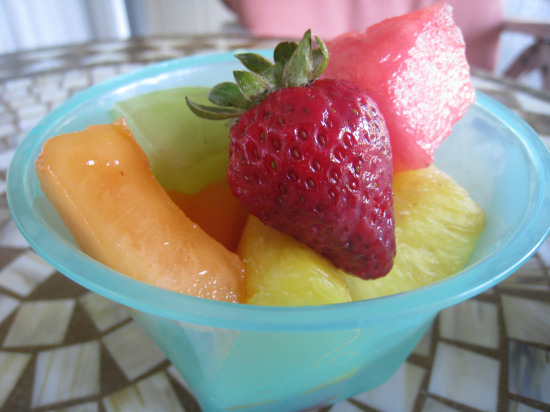 Doesn't that fruit look yummy! Finally, to top off my breakfast, I had a shot of wellness from 
Zola.
 I have a ton of grocery shopping to do today so I need to hurry up and get ready then head out the door. I also have a haircut appointment at 1:45 – yeah!! I'm dying to try a new style, but I'm such a nervous nellie about my hair. Whatever I decide, I'll post some pics later – if it turns out well. Otherwise, I'll be in hiding for a few weeks -ha!
By the way, what's everyone doing for the long Labor Day weekend? Even though I have a full weekend planned, I really wish I could pull a Jimmy B. and say I was heading up to San Francisco for the Labor Day weekend show… I can never get enough Jimmy!
Ok, now I really have to get going. Have a great morning everyone!