Let's play a game – It's called, What did Jennifer eat today?
1) Breakfast = Oatmeal with walnuts or Kashi?
Answer…
If you chose Kashi you would be correct! I enjoyed a nice size bowl of Cheerios topped with a little bit of Kashi Go Lean Crunch. This was a super energizing breakfast after another hard and sweaty run on the treadmill. I keep pointing out that it was sweaty because, for some reason, it is exceptionally HOT in our basement. You think it would be cold down there – after all, it's a basement in Chicago!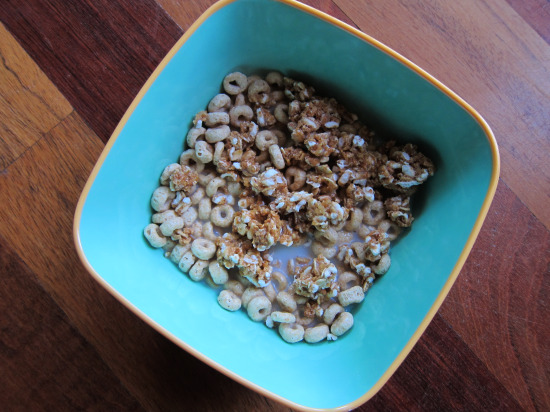 2) Lunch – A small salad or a bowl of minestrone soup?
Answer…
And the salad is the winner!! Around 1:10 PM, I was contemplating what I would have for lunch. Because I did not bring my lunch, it was very obvious that I needed to actually leave my cube to get something to eat. Then, I realized that we had an all staff meeting at 1:30 PM – oh s–t!! I ran out of the building so fast all you could see was my hair flying in the wind. First, I headed right across the street to Go Roma – super convenient I thought. Until I saw the line! My God people, it was nearly 1:30 PM, why haven't you eaten lunch yet – I thought – not out loud of course. So, I made a side trip a few doors down to a local deli where I threw together a quick and health salad…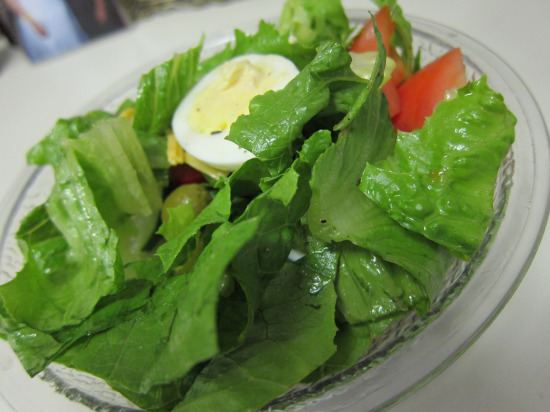 Although, I walked back into the building JUST as the meeting was starting, so I threw the greens in the fridge and didn't eat them until around 2:30. I was starving by this time, but a crisis was averted.
3) Dinner – Leftover chicken and dumpling soup or peanut butter and jelly?
Answer…
Yes, I was so lazy tired tonight that I didn't even feel like warming up soup. So, it was a PBJ kind of night…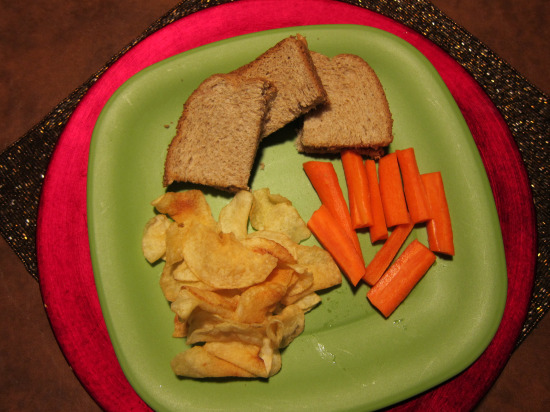 It was rather tasty and looked kind of fancy – as fancy as PBJ can get – on my sparkly placemat from Crate and Barrel.
4) Dessert – Ice cream or chocolate chip cookies?
Answer…
Ding, ding, ding – you are correct if you guessed ice cream – Edy's Slow-churned Butter Pecan ice cream to be exact. I swear this had lower calories for the simple reason that they added fewer pecans. They were definitely few and far between in this quart, if you know what I mean. You might as well just call it butter ice cream, with a few pecans. Maybe I'll have better luck at the end of the quart. I will be happy to find out 😉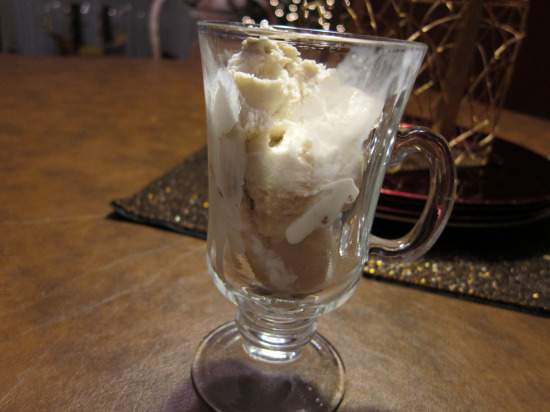 5) But, the real question is what did I eat today that I did NOT take a photo of:
a. Starbucks mocha frap
b. Chocolate log cookies
c. M&M's
d. All of the above
I am embarrassed to admit it, but answer D is correct. I was a junk food eating machine today. I guess that's what happens when you only eat a bowl of cereal and a small salad all day. Blah! I guess I really am human like everyone else.
Well friends, I'm off to study!