Hey there! So what happens when you work 10 hour days Monday-Thursday?  You spend your Fridays running all of the errands that you would have during the week. Yes, that is exactly what I did today, I ran errands for practically the entire day.
After an awesome outdoor 4-mile run, I chomped on a hearty bowl of Honeynut Cheerios…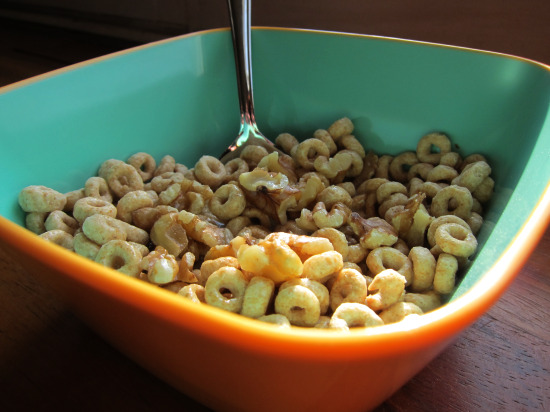 I really want to get some new dishes to jazz up my food pictures. But quite honestly, I have so much dishware that it's hard to justify spending money to buy more. And I really don't have much more space to put it.
Post-breakfast, it was off to:
Post Office – To Mail out Christy's giveaway – yeah! I just hope the chocolate withstands the warmer Florida temps!
Target – LUNA bars and a birthday present
Grocery Store – Bread and milk
I went to my usual grocery store to pick up our favorite La Brea three-cheese bread, but realized that all they had was the pre-sliced kind. I prefer to slice my own as needed – I think it stays fresher that way. Well, one of the workers offered to bake me a fresh loaf right then and there! Woo hoo – jackpot!
But of course, since I had to wait an extra 20 minutes for the bread to bake, I spent more time at the store than I intended. As a result, I ended up buying more groceries than I had planned. Case in point – I bought brussel sprouts.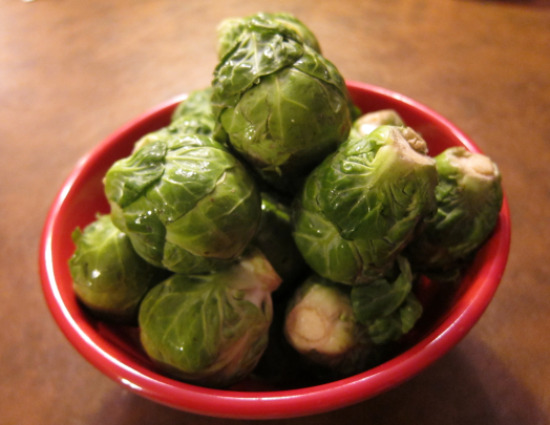 Now, I know many of you buy and cook brussel sprouts on a regular basis. Well, I have never bought or cooked brussel sprouts EVER and have only eaten them once in my entire life! However, after seeing a bunch of your posts featuring these little green cabbages, I decided to give them a try. I actually recall seeing a Tyler Florence show where he roasted brussel spouts and they looked fantastic. I'm not quite sure if that's because Tyler made them or if it was because bacon was involved. Maybe it's a little of both.
So, how do you make brussel sprouts taste good? If you have the answer to that question (such as in the form of a great recipe), please let me know! 
For lunch, Scott and I had minestrone soup with some of that fresh three-cheese bakery bread I mentioned before…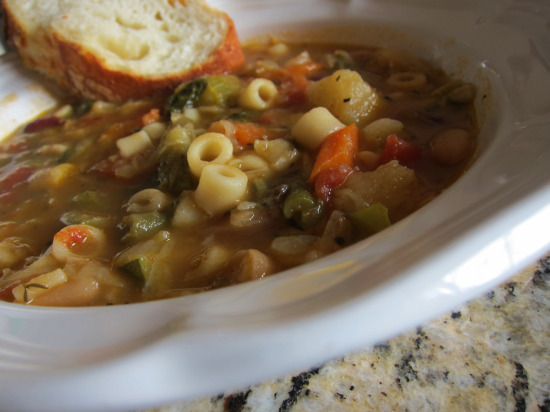 The soup was good, but the bread was outstanding! I admit that I had more than one piece 😉 On a side note – Bread is one of my vices, along with peanut M&M's.
Later in the day, it was more errands for me, including a fruitless stop at Old Navy. Whenever I go into Old Navy, I have these high hopes of finding some great shirt or sweater – but that just never happens. Oh well, I guess it's back to the Gap and JCrew for me.
Tonight was my turn to cook again, but you all have figured out by now that when it's my turn to cook I make every effort to NOT cook. So tonight was sandwich night at the Running With Cake household…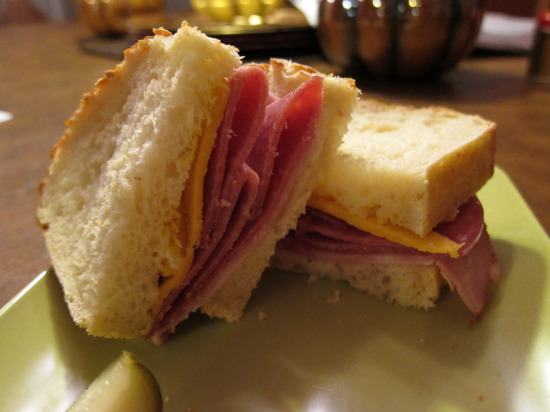 The salami and ham sandwiches were a little fancier because of the freshly-made cheese bread. Who am I kidding – it's still just a sandwich. But I did have a few mini bell peppers for some added vitamin C…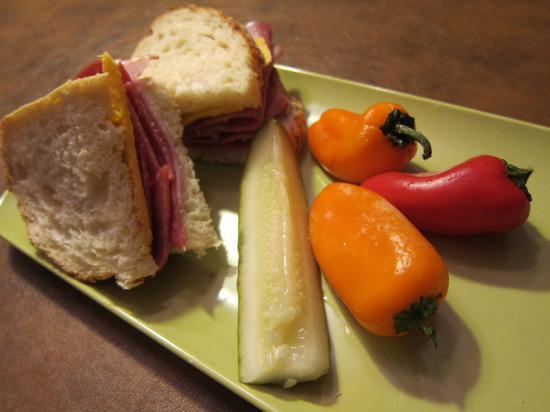 And now, on to the best part of my day… dessert!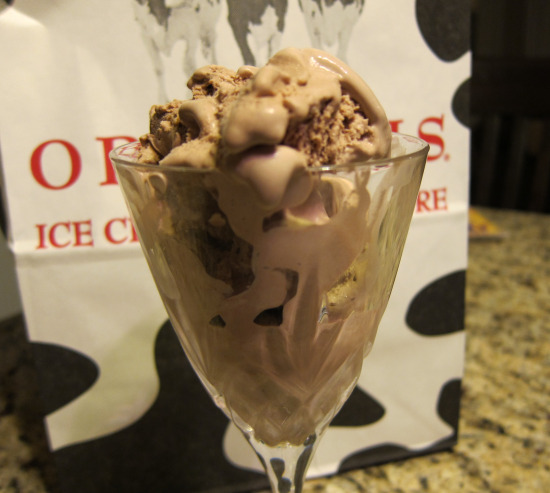 Scott made a run up to our local Oberweis dairy to pick up two quarts of ice cream – mint chocolate chip for him and chocolate peanut butter for me. Yum!
I have another busy day planned for tomorrow, between Christmas shopping and wrapping, so I'm going to sign off for the night. 
Every your Friday evening!