Yes, it was a super, soup-er day, and you'll see why in a minute. It was a no-run Wednesday for me today which means I was able to sleep in for a whole extra 20 minutes – whoopie!
Then, it was time for breakfast…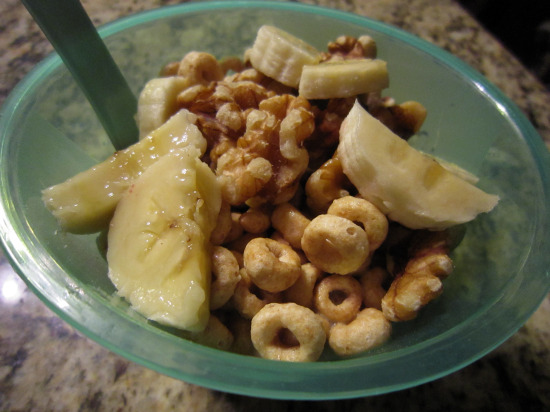 A cereal mix of Honey Nut Cheerios and Kashi Go Lean, topped with walnuts and banana slices – hmm!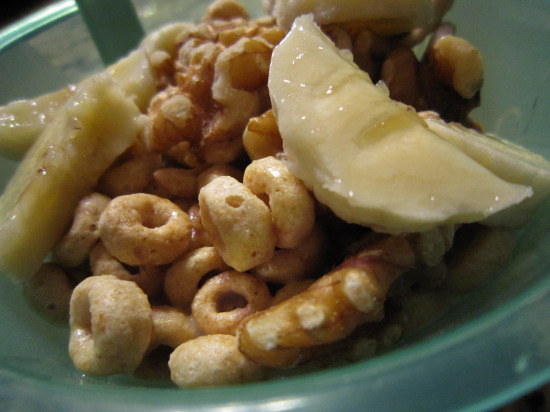 It was another day and another birthday at work. This time, someone supplied the whole office with birthday bagels. Luckily I stopped eating bagels circa 2000. I seriously can't even look at a bagel without feeling bloated.
The morning flew by and I was able to get a ton done – so much in fact that I had a little extra time at lunch. So, I met Scott at Go Roma. Enter soup #1…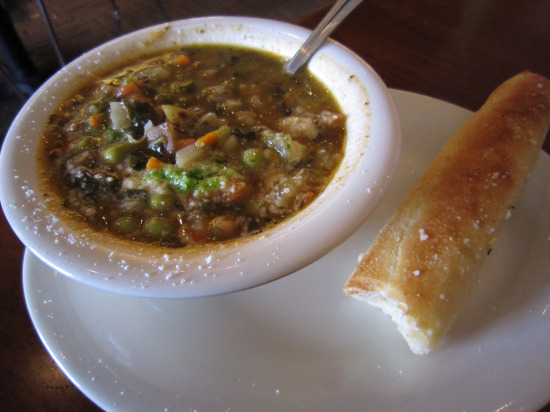 A cup of hearty minestrone with a dollop of basil pesto on top. This soup is so rich and filling – it's hard to believe that it's low in calories – but it is thank goodness! This soup actually kept me fairly full all the way until dinner – minus a few Halloween-shaped pretzels I had 😉
Enter soup #2….Potato and cheese!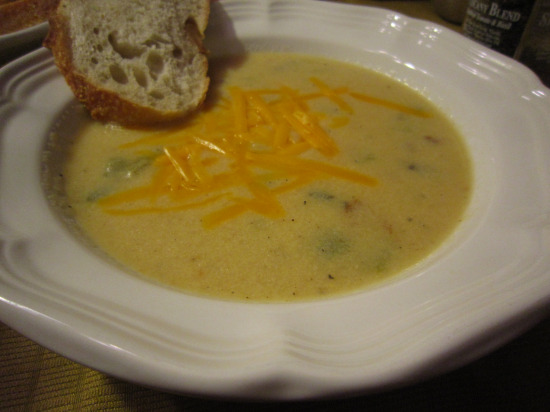 Scott made this soup on Monday and now, after sitting for two days, this soup tastes 10 times better! It really thickened up and all the flavors finally came out to say "hello!" I had the soup with a few pieces of whole-garlic infused bakery bread – the perfect thickness for dipping in hot soup!
Now, it's time for dessert – a little chocolate peanut butter ice cream from a huge Chicago favorite – Oberweis!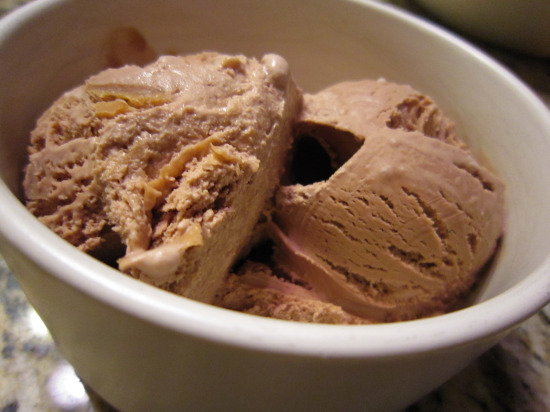 We used to buy single scoops of ice cream at Oberweis for about $3 a scoop. But now, we've wised up a little and just buy the pre-packed quart of chocolate peanut butter for $6. It makes like 10 scoops which is waaaay cheaper!
Now that I'm all souped and ice creamed out, I'm going to read a little of my new Real Simple magazine – yeah! I love the Holiday issues!
Only 15 more days until the BIG meeting in San Diego!!
Have a great night all!