Hey Everyone! Sorry for the late post, but I've been gone for most of the day. I went to see my brother-in-law compete in the Chicago triathlon, which was awesome! But, I'll get to that in a minute. 
Before we headed to the city, I did my typical long Sunday run of 6 miles. It was perfect weather for running – really cool and no wind. After my run, I chowed on a protein-packed breakfast because I didn't know when we would be eating lunch…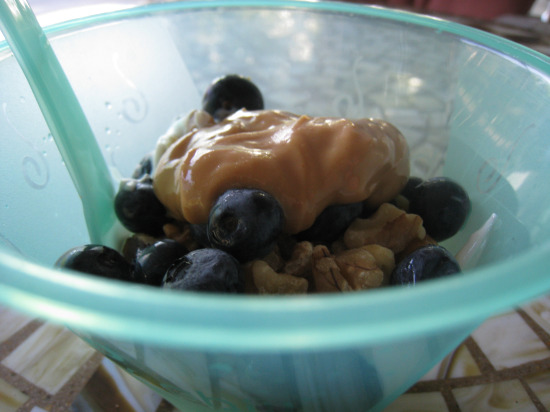 I had a container of Trader Joe's vanilla Greek yogurt mixed with blueberries, walnuts, and a big dollop of MaraNatha all-natural creamy peanut butter. I wasn't sure how the pb would taste with blueberries but it was fantastic!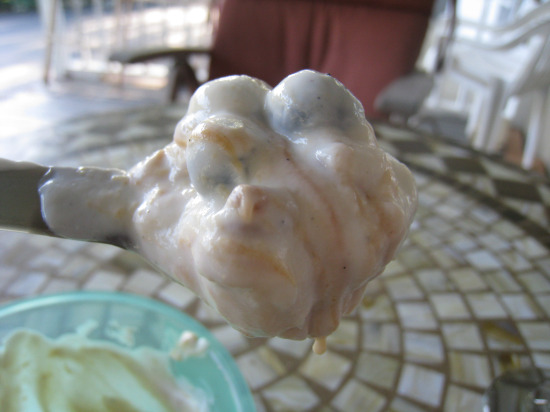 So creamy and yummy – like peanut butter fluff! I also had a little more of my Zola Energy smoothie…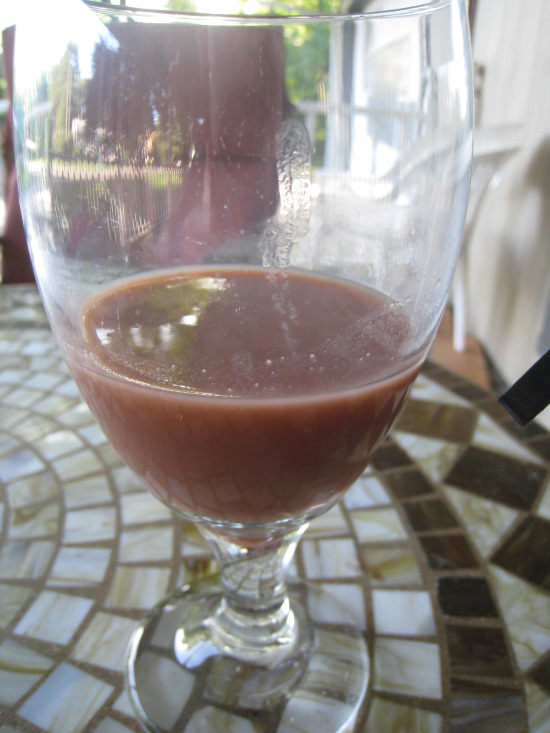 After breakfast, we headed downtown for the event. Traffic was really light going downtown and thankfully, parking was a breeze. We met up with my in-laws and my sister-in-law and her three children near the finish line.
Isn't this an awesome photo! I am definitely not the triathlete type – I can swim to save my life, but that's even debatable. But, I saw the finish line and all of the spectators and it so made me want to run a marathon. We only waited about 30 minutes before my brother-in-law came into view. And, while he was running his last 100 yards,  his youngest son ran on the course with him and they jogged hand in hand over the finish line – so cute!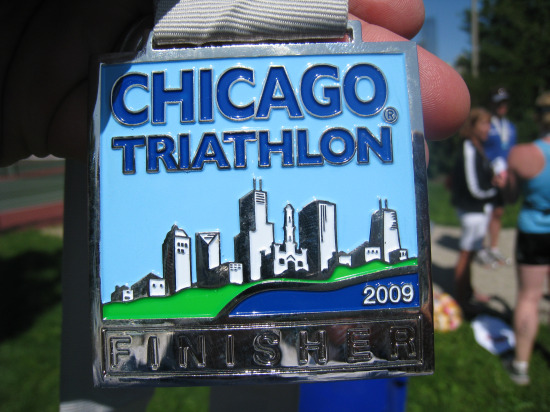 This is the triathlete's medal of honor – how cool is that!
After the race, we all chatted for a bit while the kids ran around. I started to get hungry so I munched on a Luna bar I had stashed in my purse.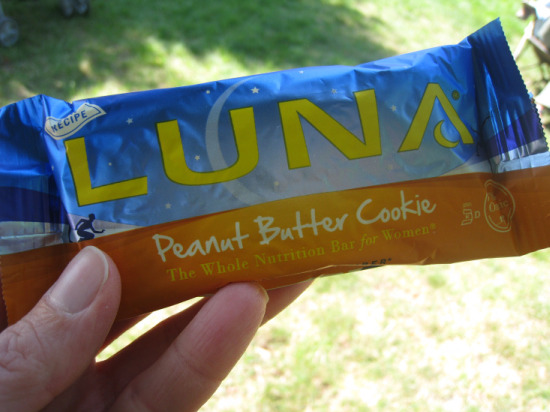 This is my first ever LUNA bar and it was pretty tasty, although it had a slight aftertaste.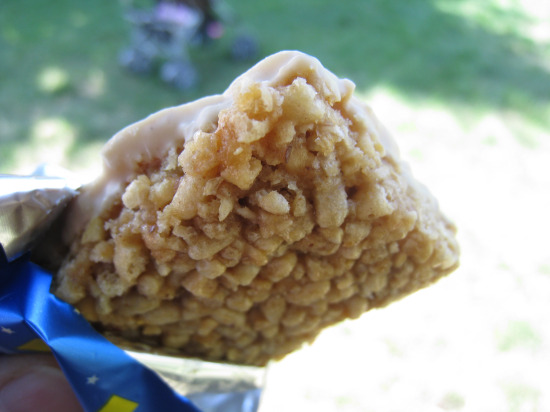 I had the peanut butter flavored bar which had 180 calories, 3 g of fiber, and 9 g. of protein. I'm sure this bar would make a great post-run or post-workout snack.
As it turned out, it took over an hour before we actually sat down for lunch at an outdoor cafe in Millenium Park. By this time, I was so hungry that I could have eaten fish – ok, not that hungry.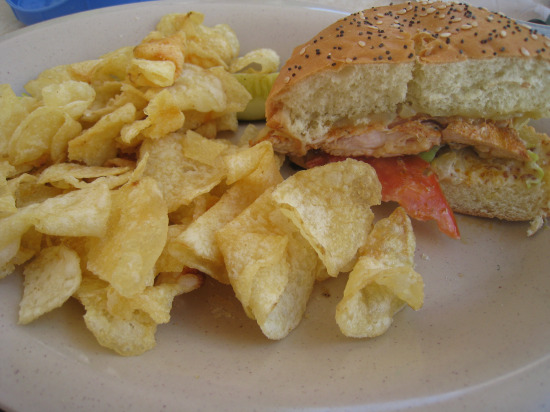 I did split a chicken sandwich with my father-in-law. It was good, but not worth the $12 we paid for it. After lunch, we all said our goodbyes and we headed back home. It took about 1 1/2 hours to get home (way longer than it should have) so we stopped at Barnes and Noble for a Starbucks refresher. I had my typical Frap and enjoyed every sip (sorry, no photo!)
For dinner, we decided to use the panini maker that we borrowed from my in-laws. I made a Greek-style panini…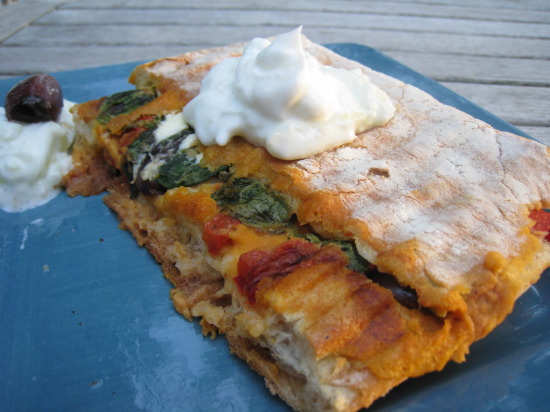 This was my first time making a panini – a panini novice of sorts – so I was not sure how it was going to turn out. I made my panini with red pepper hummus, sauteed red and green bell peppers, spinach, hot peppers, and feta cheese. I topped it with a homemade cucumber-yogurt sauce. It was absolutely outstanding! I actually made the sandwich for Mezzetta's sandwich contest, so I don't want to give the recipe away just yet! But you may find it on my other blog – Bistro Chic – pretty soon!
Now, I really need to get to bed. All of this fresh air has made me exhausted. Have a great night everyone!