In a continuation from yesterday's post, Scott and I literally shopped ALL afternoon yesterday and ended up dropping some semi-serious cash-ola on holiday gifts. Good thing this only comes once a year! For us, the key is to buy most of our gifts using our debit card so that we are not shocked when we see our credit card bill in January.
Toward the end of our shopping excursion, we had a totally fabulous dinner at a chic French bistro…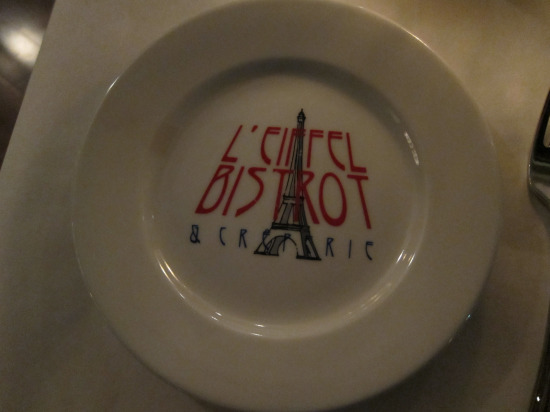 The restaurant, L'Eiffel Bistro & Creperie, is a little out of the way for us to drive, but it was well worth it. It was our first time at the bistro but we read great reviews online so I was super excited! We arrived for our dinner reservation at 7 PM and were promptly seated near the window. Then, it was time for le vin…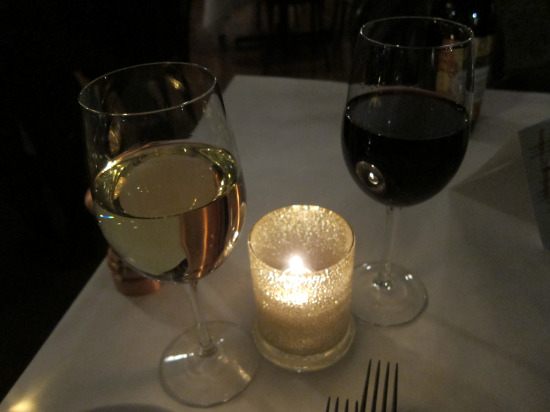 His and Hers wine – Hers would be the chardonnay, naturally, and His the cabernet. A perfect toast to our Christmas shopping marathon!
Just curious, do you ever feel that a particular drink or food is more male or female? For instance, I usually associate white wine more with women and red with men; or chicken with women and steak with men. 
I was so hungry by this time in the evening that I didn't hesitate to break into this tasty duo…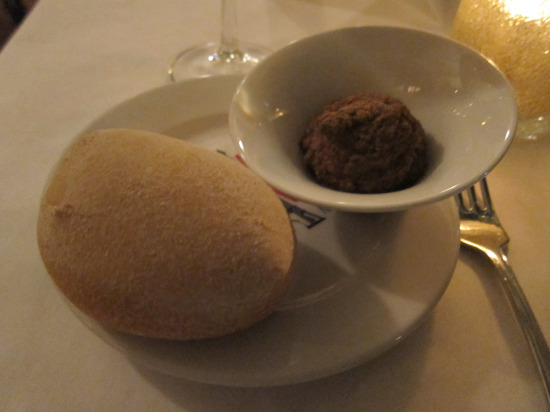 A little somethin' somethin' of crusty bread and sun-dried tomato tapenade. Oh my, I would definitely buy this tapenade if it was available in a bottle – so good!
By the way, all of these photos were taken in extremely low light, but my new, handy dandy, Canon S90 camera just so happens to take GREAT low light photos – how conveeeenient!
Next came the salad…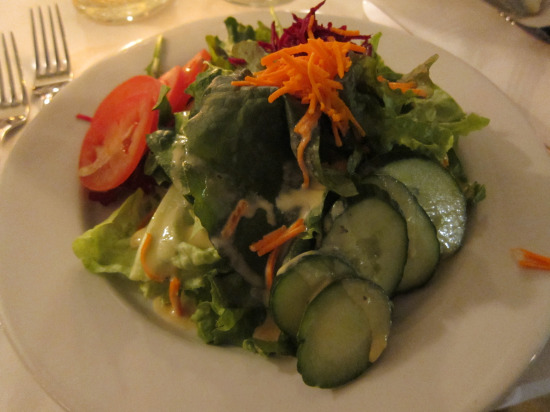 …a super fresh green salad with some awesome dijon vinaigrette. For my entree, I ordered a classic French dish – a warm and fluffy crepe…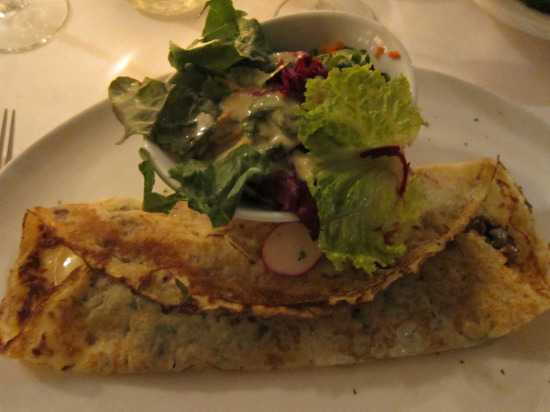 I ordered the "country" crepe with pancetta, brie, spinach, and mushrooms. I honestly picked this crepe for two reasons: 1) brie cheese – love it, can't get enough of it!, and 2) pancetta – close enough to bacon for me to crave it upon seeing the name in the ingredients. The crepe was good, but it had way too many mushrooms for my liking. 
And finally, what Scott had been waiting for all evening…the quintessential French dessert – none other than chocolate mousse…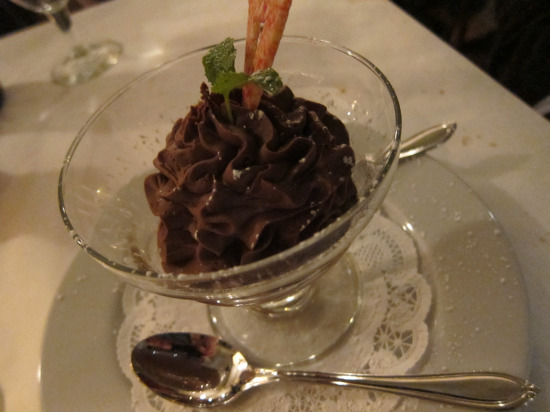 This mousse was so thick and creamy, it reminded me of a very smooth frosting, only not as sweet. It was a fantastic way to end a meal.
One thing I must also add is that the service was amazing!! From the server right down to the gentlemen who cleared out dishes – they were all extremely polite and prompt. I think this restaurant is now my new favorite date-night spot 😉
Have to run for now. Must read over my new and more expensive insurance plan from my work -there goes $300 more a month from my paycheck – blah!
I may see you all again before the day is through 🙂