Hi Everyone!
Have you ever had one of those days where everything just seems to fall into place and your productivity is super high – even higher than normal? Well, today was one of those days for me! I started off with an awesome four mile run, split between the t-mill and outside. It was even colder outside today (35 degrees, brrrrhh!) than yesterday but I bundled up. The cold air actually felt great, although by the time I got home my hands were frozen.
For breakfast, I recharged on some homemade oatmeal…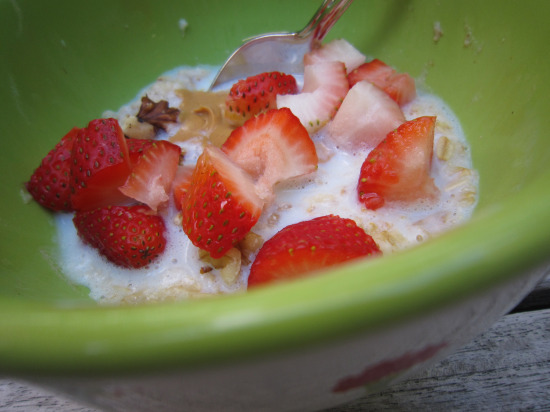 I started with plain oats, then added some skim milk, walnuts, creamy PB, and topped it with fresh cut strawberries – so sweet, thick, and yummy!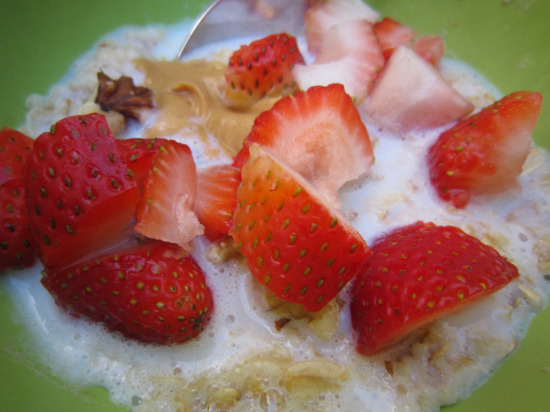 Not only was my run fantastic, but work was incredibly productive today! I was so on my game today. I completed project after project – writing, reviewing, copying, etc. – not bothering to wait for admin help and just taking care of things on my own. I love these kinds of days!
But of course, working in a large office is not without its faults. As I mentioned last week, there are no less than 6 birthdays being celebrated in our office this week. As is office custom, when it's your birthday, you bring treats for everyone in the office. So, when I walked into the staff lounge this morning, I was not at all surprised to see 3 large coffee cakes, 2 dozen cookies, and a dozen gourmet cupcakes. I would have taken a picture, but the food was a little disheveled and it would have seemed odd if I tidied up and then took a picture. 
So, out of all these goodies, what did I take? A cupcake of course!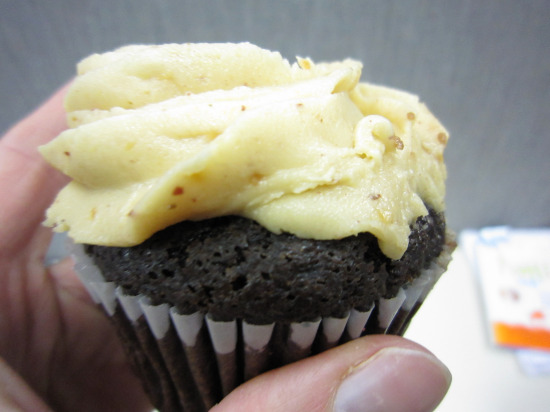 The cupcakes were from a specialty bakery in Chicago called Bleeding Heart Bakery. They sell all sorts of goodies, but seem to specialize in cupcakes with exotic ingredients/flavors – like bacon-infused chocolate cupcakes and blueberry crumble. I thought I had selected a peanut butter chocolate cupcake but it turned out to be bacon-infused chocolate. Kind of a strange combination – bacon and chocolate – but it really works. And, no, I did NOT eat this for breakfast – shame on you for even thinking that 😉 I saved it for an after lunch treat and it was fantastic!
Speaking of lunch, it was leftover pasta and sauce for me!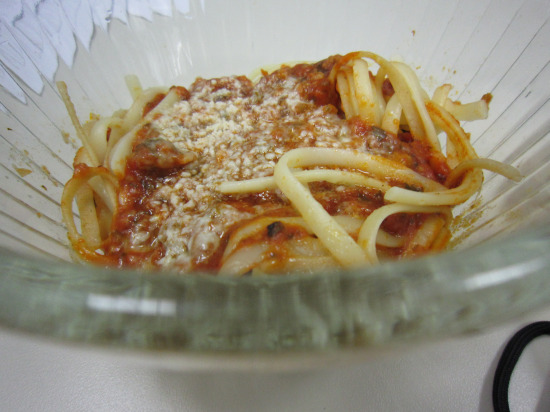 I LOVE pasta and sauce as leftovers – it's a lunch that I actually look forward to. However, I ate this so fast because I was just about starving. I realize that I really need to eat earlier (before 1 PM) to avoid eating fast or overeating at lunch.
My afternoon cupcake treat was a great way to celebrate my super productive day but it left me pretty full, even too full for dinner at 6:3o PM. So instead of a big dinner, I opted for a small salami and ham sandwich on fresh bakery bread, with a side of pickles and Cape Cod chips…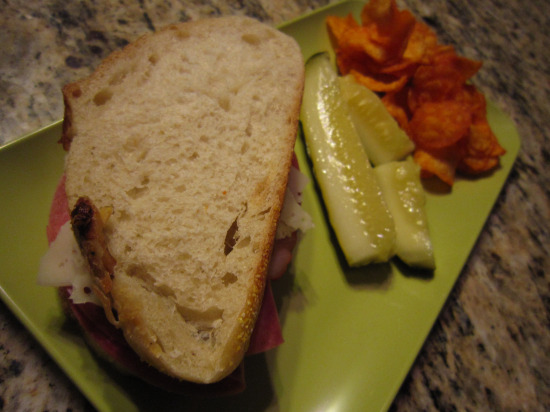 I haven't had a sandwich in at least a week, which is actually quite a stretch for me. And having the sandwich on garlic bread from the bakery made it extra tasty!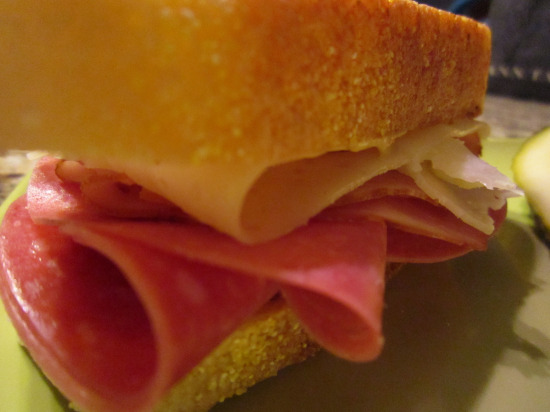 No dessert for me tonight – the cupcake was enough sweetness to last me the whole day!
I have a few things to catch up on this evening, so I'm signing off early. Have a great night everyone!