Hello everyone! I had a great start to my morning. Just as I was getting ready to start my run, I ran into my dog-loving neighbor. She was walking a new puppy (she was just puppy sitting) and it was a Cavalier King Charles Spaniel – my absolute favorite dog! Oh, I just wanted to take him home, but then reality set in. With my husband's and my schedule, we just can't fit in a dog right now. 
After an awesome run I quickly got ready for work. I didn't eat breakfast before I left because we were having a little b-day party for a coworker – breakfast included. Check out the goods…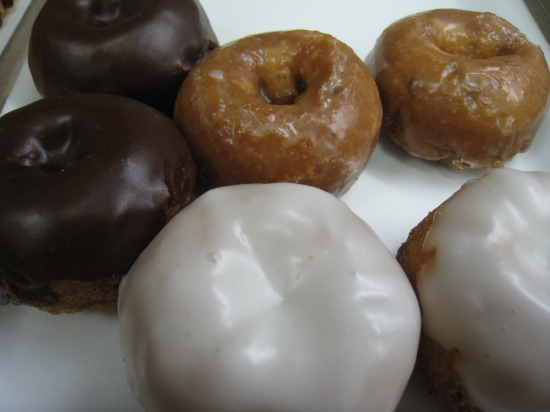 We had fresh pastries from a very popular local bakery. I'm only showing photos of the mini donuts because the other pics didn't turn out. Aside from the donuts, there was also a lemon ring cake and a chocolate chip pecan coffee cake.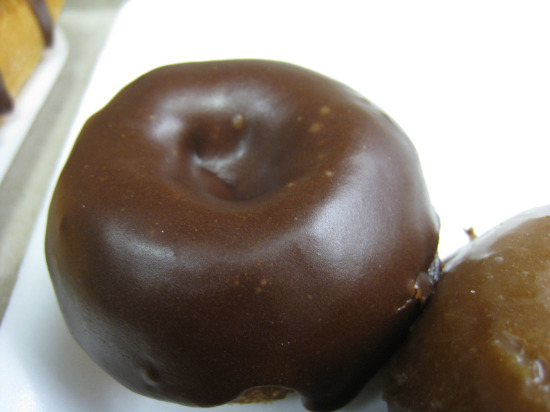 I had a chocolate covered mini cake donut (about 2 1/2 inches) and a small piece of the chocolate coffee cake. I don't normally eat donuts – I've just never been much of a donut fan, but these looked so cute and were just the right size for a taste. I had my pastries with a cup of steaming Tazo Awake – which really hit the spot!
After our little gathering, it was off to a nearly 2-hour meeting for me. It was a super productive meeting – a super productive morning all around. So productive that I decided to take the afternoon off to see Julie & Julia – yeah! I'm so excited to see it. 
But, before heading out for the day, I took the b-day girl out for lunch at a little Italian bistro near where I work.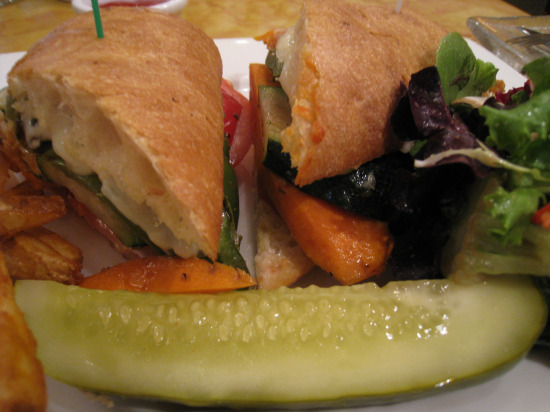 I had the veggie sandwich – full of grilled carrots, peppers, and mushrooms in a ciabatta roll. It also came with a small side salad and great-tasting seasoned French fries. Yum!
All right – I'm off to the movies. My husband is actually meeting me there. He said this is my one "girl movie" that he will see with me. Can't wait!