Hello Everyone!
I had my last training session of the year – woo hoo! I'm home free now. Well, not really, I'll be home free as of November 6, but who's counting, right? 
Before heading to work this morning, I did a quick 4-mile run on the treadmill- again, I needed to run way too early for me to actually run outside. Breakfast was a very fast bowl of Honeynut Cheerios with chopped walnuts…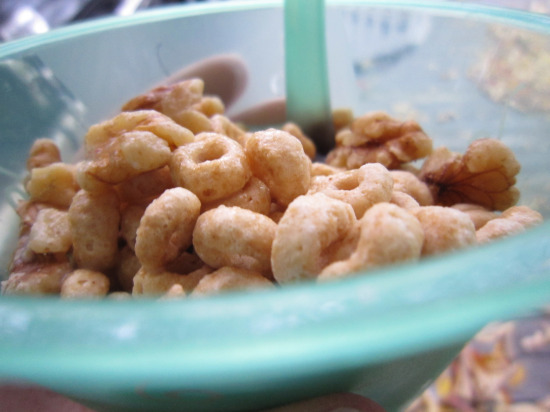 There's nothing sexy or exciting about Cheerios – but, hey, they get the job done when you're in a pinch.
Immediately when I arrived at work, I was putting out fires left and right – just call me firefighter Jen! They were not huge fires, more like smoldering projects that needed my specific attention. Good thing I planned for this and had the morning blocked off for a fire drill.
Lunch happened to be leftovers from Sunday lunch…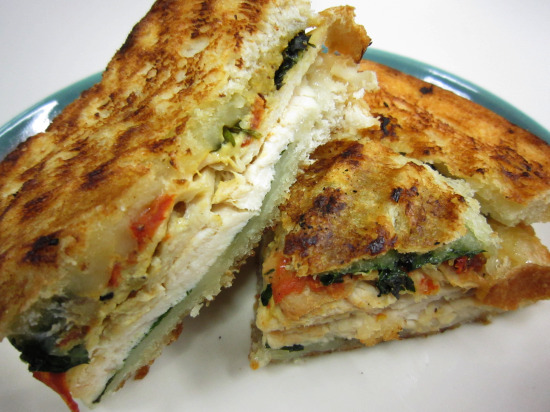 I had the other 1/2 of my chicken pomodoro sandwich from Go Roma. Surprisingly, this sandwich tasted better today than it did on Sunday – maybe because I put it in the toaster oven and it came out all toasty and crunchy??
The afternoon was spent preparing for the staff training session, then actually presenting the training session. All of this took about 3 hours. Training (which was all volunteer by the way) has taken up soooo much time  in the last 2 months. Plus, I've been doing the training on TOP of everything else I have to do to prepare for our meeting. It's a wonder I have not gone crazy by now. But, I guess it's good that I'm trying to expand my horizons – and my paycheck! – at least a bit.
After the training ended at 4 PM, I was super hungry and chowed on some Trader Joe's nonfat vanilla Greek yogurt. Sorry, no picture – I ate it way too fast to even bother getting the camera out of my bag.
Dinner, like breakfast, was not very eventful, although it was rather tasty…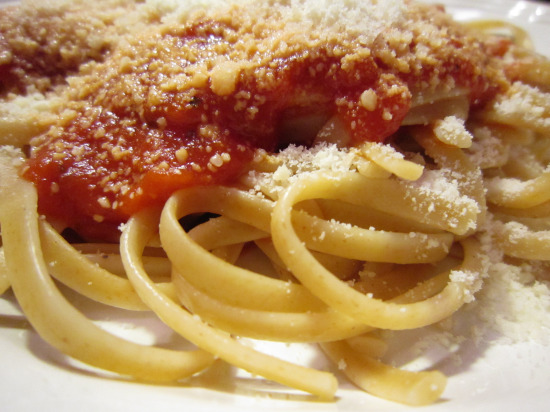 As tasty as whole wheat linguini with Newman's Own Mushroom Marinara sauce can be. I'm not much for jarred sauces – probably because I was raised on Ragu. I think that really resonated with me because I can't eat Ragu and many jarred pasta sauces to this day. However, Newman's is the exception – it really has some decent flavors. I still prefer Scott's homemade meat sauce to anything else in a jar or at a restaurant – yes, that's how good it is!
Dessert was yet another chocolate chunk cookie from Costco with a side of skim milk…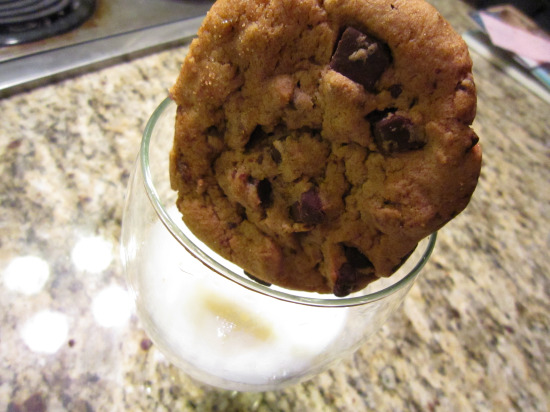 I'm a not a cookie-milk dunker. I only took this milk & cookie picture so that you could see it was not the same picture as the last two nights.
Tomorrow, we have our big all-staff kick-off breakfast for our San Diego meeting that starts next week. Most people are not leaving until Thursday or Friday of next week, but tomorrow is our outgoing CEO's final day in the office as the big chief. I am predicting that breakfast will be all of his favorites, including coffee cakes, cheese blintzes, and lox and bagels. I'll try to take a picture so you can see that if I guessed right.
Ok fellow bloggers, time to shut down the computer and hit the sack.