Hey All!
Hope you had an awesome Sunday! It was a gorgeous day in Chicago, albeit a tad chilly when I went out for my 5 mile run. Scott and I spent quite a bit of the day doing fall-related things, but before I get into that – let's hear it for breakfast!
Breakfast was an omelette made with 1 egg and 2 egg whites, filled with cheddar cheese, bacon, and a mess of veggies leftover from our salad last night…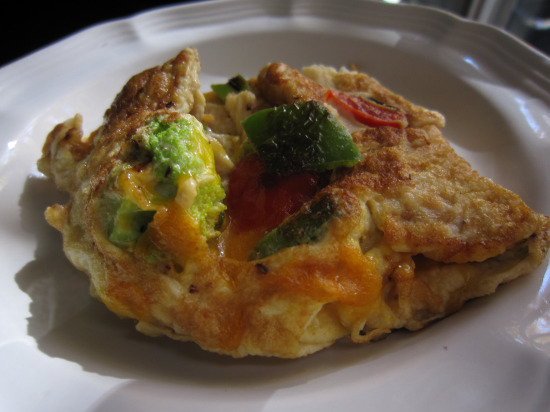 This was super high in protein which is just what I needed after my run.
After breakfast, we headed out to the pumpkin patch. Scott immediately became enamored with the extra large pumpkins, so one 40 lb pumpkin managed to follow us home and make it to my dining room table…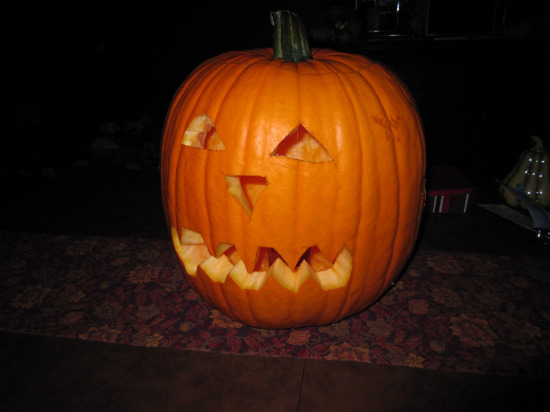 Yes, that really is 40 pounds of pumpkin sitting on my table. I'm glad I have a sturdy, solid wood table. I wonder how many pumpkin pies 40 pounds of pumpkin would make? Hmmm….good question – I think I'll do a little research and let you all know!
Aside from "The Great Pumpkin", I also picked out a few smaller pumpkins to put around the house…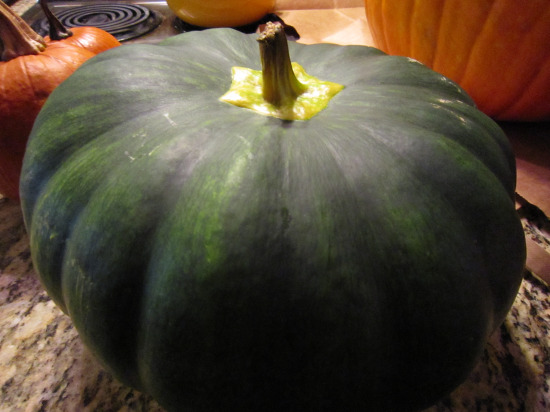 I really like the light orange and light green pumpkins – they are so different from the standard orange pumpkin. The patch was running low on these so I settled for a darker green one, which is still pretty cool.
Aside from pumpkins, we also bought a few apple cider donuts and promptly ate a couple right on the spot…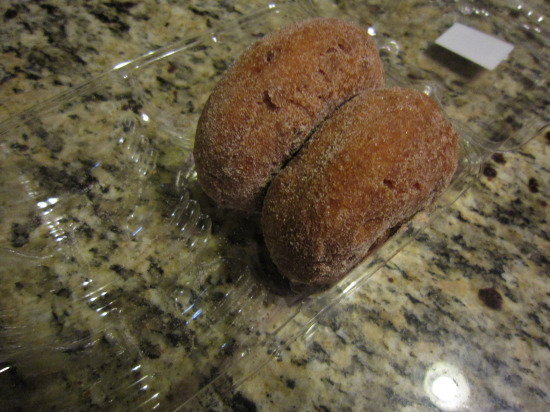 I am NOT a donut fan but this is the one time of year where I will actually eat one without any qualms.
We spent a little more time at the pumpkin patch than we thought so it was already lunchtime when we were packing the pumpkins into the car. We headed to our favorite little Italian cafe for lunch…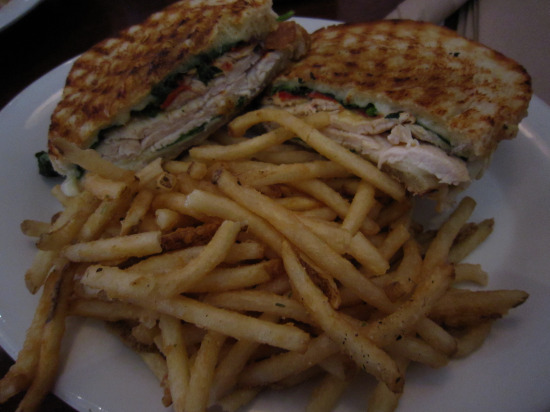 I had a chicken pomodoro panini which was filled with grilled chicken, provolone cheese, basil, tomatoes, and spinach. It sounded SOO good on the menu but honestly it was just so-so. I think there was a little too much basil on it which overpowered everything else. I only ate half and took the rest home.
The afternoon was spent cleaning and carving the pumpkin, as well as preparing the seeds to make roasted pumpkin seeds. We also ended up taking a 30-minute walk which was fantastic! It was chilly, but so crisp and bright outside. I loved seeing all of the brightly colored leaves and all of the neighbors' halloween/fall decorations. 
Dinner was my responsibility tonight so I made one of Scott's favorites – Basil Chicken Stir-fry…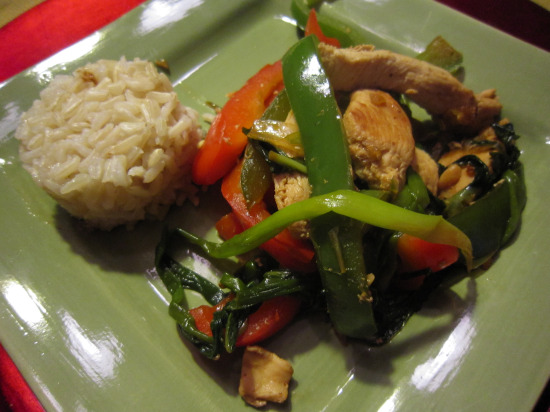 Unfortunately, as I think I have mentioned before, I can't give out the recipe for this dish due to copyright issues. But, you can find it in the Williams Sonoma "Chicken" cook book. This can be a very spicy dish depending on how many jalapeno peppers you put in. When Scott makes it, my lips are practically burning. But when I make it, I use just enough peppers to give it a little spice without having to drink a glass of milk with each bite.
After dinner, I had a little dessert to round out my nearly perfect fall day…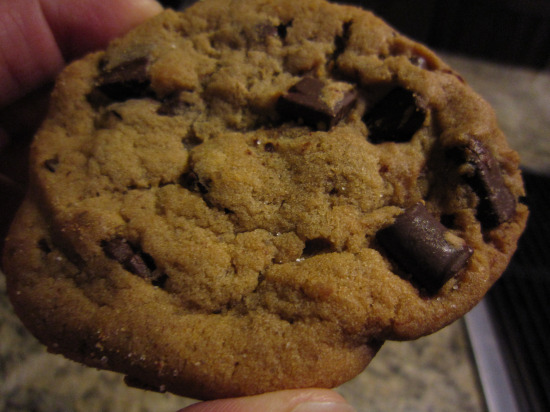 A chocolate chunk cookie from Costco! We bought these cookies yesterday because they looked really good in the package – almost like homemade. Now, after having a couple, they are starting to taste like regular store-bought cookies. 
Well, I have an early morning tomorrow and a busy day planned. Our new CEO, whom I've never met, is starting tomorrow. We have an all-staff meeting to welcome him. And of course, there will be more food – pizza! Should be quite an interesting day!
Have a great night everyone and see you tomorrow evening!