Hi everyone!
I am so excited! I arrived home today to find a HUGE package of goodies – all food samples for me to try. I won't reveal what products they are just yet – I need to arrange a really cool picture displaying my new bounty!
Today was a no-run Wednesday, so I promptly got up around 6:30, ate some breakfast, and was at work at 8:30 (yippee, I was early!). Before leaving the house, I had a light breakfast – a super ripe and juicy nectarine…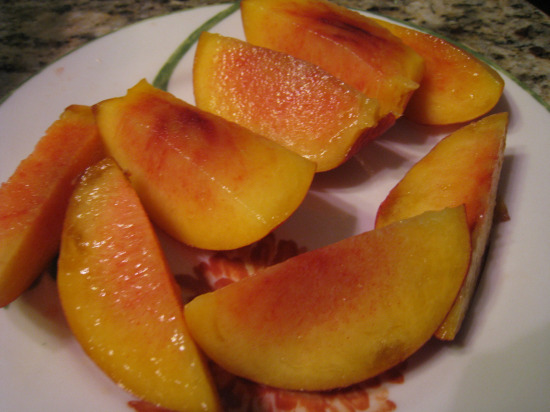 I just wasn't very hungry (that happens when I don't run) but I knew I needed to eat something. 
Work was very productive again today. Thankfully, my projects are beginning to wind down. But, it really is just the calm before the storm, so to speak. Because, in about 3 weeks, everything culminates at our big meeting in San Diego. I will be traveling and working for 7 days straight – working 12-15 hour days. Although some people at the office may not agree, I really do have fun at the meeting. I find all of the hustle and bustle exciting and energizing.
I'm a little worried about my posts for that week though, because of the long days. Also, I'm still not sure how I'm going to take pictures of all my meals – and we usually have GREAT meals/dinners at these meetings – very high class. I promise I will try to sneak in a few good photos!
Around 1:30 PM, I thought it was about time to grab lunch. I called ahead to Go Roma to check out their soup du jour – it was cream of chicken with wild rice. Sold!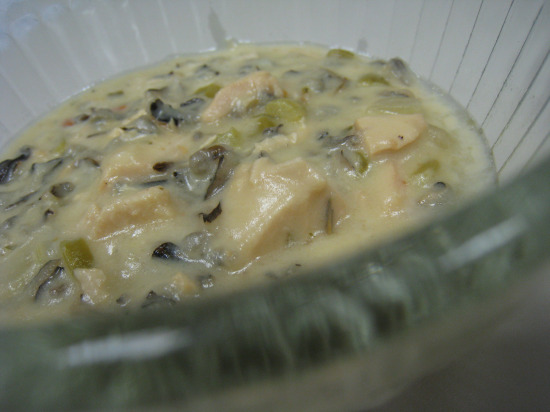 Oh, this soup is fantastic! But I really felt like I was eating 1,000 calories because it was so rich and creamy. That definitely kept me full for the rest of the day!
Dinner was a superb meal of chicken tacos prepared by Scott The Chef/Computer guy – aka my husband.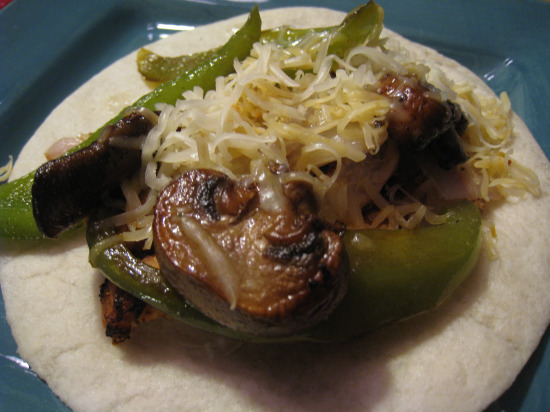 He actually made me chicken tacos while he had the steak variety, because I don't eat beef. Hmm..so good that I actually had two full tacos! As you can see, I made the first one and completely forgot to put lettuce on it – so here  is my taco re-do….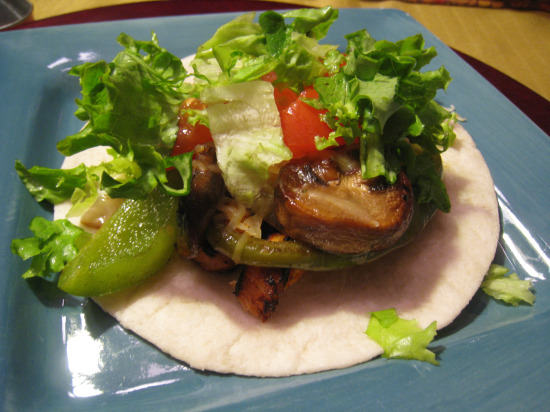 To finish off the meal, I had a little taste of chocolate that someone gave to me at work…
This was a Lake Champlain maple crunch chocolate made in Vermont. Don't you just love the cool fall design? It's so Vermont-ish too.
OK, I wasn't going to mention this, but my conscience got the best of me. After the chocolate, I had another piece of chocolate cake with Breyer's vanilla bean ice cream. No photo though because I'm in cake denial. Part of me thought that if I did not have a photo of it that there would be no proof that I ate it. I'm sure you've all been there!
Ok, enough blabbering for tonight. See you all on Thursday!