Evening everyone!
My cough/cold is in full swing. I sound like I have a smoker's cough and I haven't smoked a day in my life! I would take something, but research shows cough meds don't work. Guess it's just tea with lemon and honey for me tonight.
This afternoon went by really fast again. I looked up at the clock and it said 1:15 PM and I still hadn't eaten lunch. So, I heated up my leftover veggie pizza in the office toaster oven. I was hoping the pizza would be – well…toasty, but it turned out soggy. I hate soggy pizza! I thought only microwaves turned leftover pizza soggy.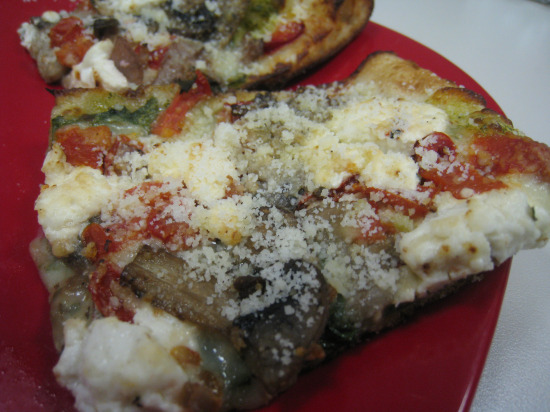 Because that was the only thing I brought for lunch, I threw some parmesan cheese on it, hoping to make it less soggy, and ate it. It wasn't as bad as I thought.
The afternoon flew by and around 4 PM I broke for a quick yogurt snack..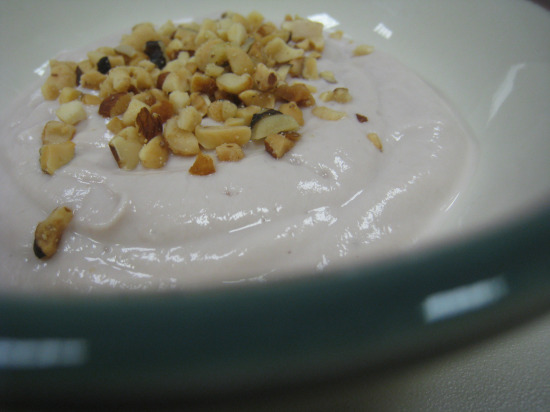 I had a small cup of Trader Joe's nonfat pomegranate Greek yogurt. I added a few chopped nuts on top for extra MUFA and extra crunch.
My commute was longer than usual. So, it was nearly 55 minutes of me sitting in the car  – alone with the little treats that my friend brought me from Europe. I didn't have ANY in the car. But immediately when I came home, I tried one of the Belgian chocolates…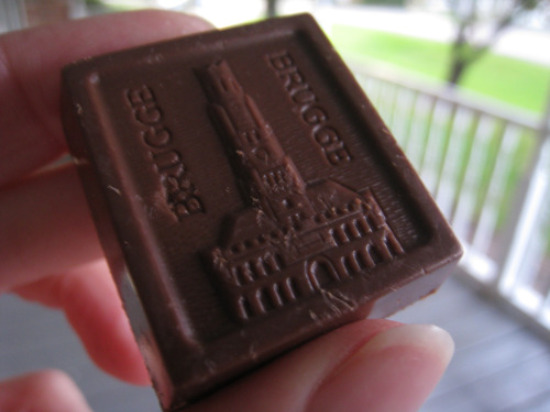 See the building on the chocolate? That is the belfry from the most notable building in Bruges, a little medieval city in Belgium. It was so cute, I almost didn't want to eat it. But, of course, I DID. And, it tasted so good! I thought it would be just a solid piece of chocolate but it had truffle filling with a few nuts. Amazing! Then I started thinking…why don't I eat Belgian chocolates more often? It's supposed to be one of the best chocolates in the world and who am I to argue with that legacy?
Scott is at class tonight so I made a 1/2 PB&J sandwich on 12-grain Brownberry bread. I was honestly thinking about peanut butter and jelly the whole way home. I had a choice of several other things for dinner, but I stuck with my craving.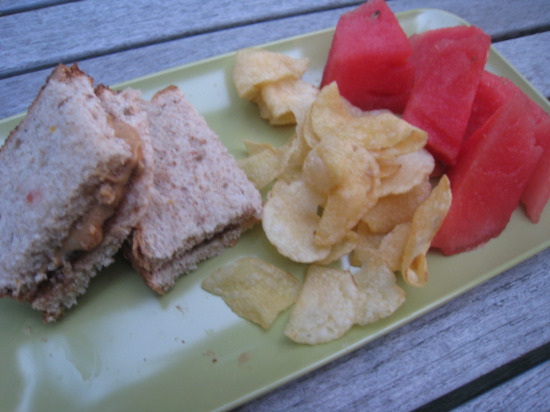 I also had a few watermelon chunks and low-fat Cape Cod potato chips. Not too big, not too small – just right.
Since I already had my chocolate, truffled-filled dessert, I'm set for the night.
It's my day off for running tomorrow – woo hoo! That means I get to sleep in a little. I'm glad too because I actually have to do more work tonight!
Signing off now – good night Gracie!