Afternoon everyone! I've had a very busy day so far. I've already been to yoga, went grocery shopping (yeah Trader Joe's!), and just finished lunch about  an hour ago.
I started out with an unusually sweet treat for breakfast and was so happy that I did!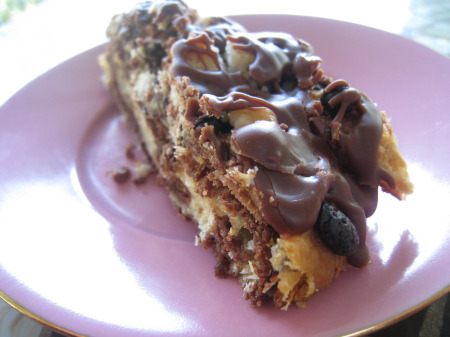 Hmm…a chocolate coffee cake, courtesy of my father-in-law, who came over today to help us with some house repairs. I typically do not have coffee cake or high starch foods for breakfast, just because they don't seem to give me the energy that I need to last until lunch. But I was so wanting this cake this morning! Having a pastry or piece of coffee cake for breakfast isn't a bad thing, as long as you don't do it all the time. When I do have a special breakfast treat, I always try to balance out my day with healthier foods.
The cake was from a very popular local bakery – so popular that if you don't get there by 9:30 AM on a Saturday, you'll be lucky if even see crumbs from your favorite coffee cake. I enjoyed my chocolate-layered coffee cake with some yummy Harney and Sons English Breakfast loose leaf tea, outside on the porch. The sun was shining and the breeze was blowing. A great way to start the day!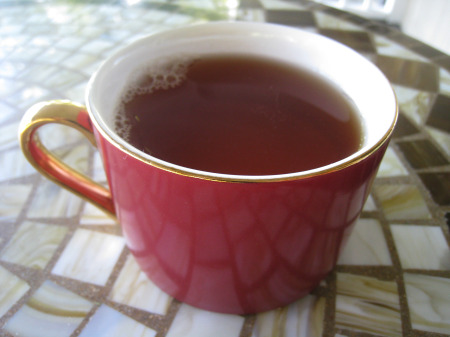 After a very unsatisfying yoga class (see my additional post about how yoga instructors can affect your practice), I headed to the local grocery store and then to Trader Joe's. I just love browsing TJ's and similar natural food stores. It sounds so corny but you can just feel the love whenever you walk into one of those stores.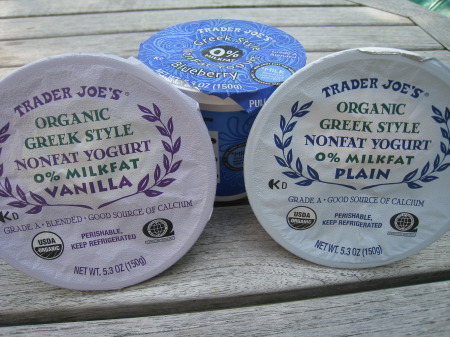 I purchased my usual TJ's Greek yogurt in vanilla, plain, and blueberry. I also bought something new…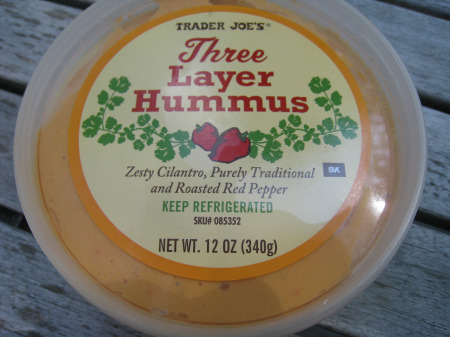 TJ's three layer hummus dip! My husband and I LOVE hummus. TJ's hummus is made with all-natural ingredients, like all of their products. And, we've always had good luck with TJ's basic flavor hummus, so I thought I'd give this one a whirl. I personally love trying new flavors. So, this version is perfect for me because it gives me three yummy flavors to try all at once – zesty cilantro, traditional, and red pepper. Can't wait to dig into these layers!
After a couple  hours of grocery shopping, I was ready for lunch. I didn't want to eat too much, though, because I'm heading over to my sister-in-law's tonight, along with a couple other girlfriends, to have pizza and chat about a potential couples cruise in 2010.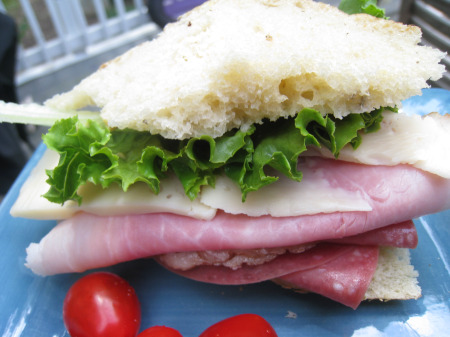 I opted for a 1/2 sandwich made with low-fat salami and lean ham-off-the-bone, topped with lettuce and dijon mustard on whole-grain bread. I also had a few grape tomatoes on the side. Just enough to satisfy my hunger and give me extra room for this evening's pizza!
Have to get a few more things done before heading out tonight. Chat with you all later.