Today went by really fast because of all of my morning meetings and the great staff appreciation luncheon. I have to say that I looked a little funny taking pictures of the food – kind of like the wedding photographer who wants to take pictures of every little detail. I'm just glad no one asked me why I was taking the pictures.
The veggie burger I had for lunch kept me extremely full the rest of the afternoon. I wasn't hungry at all when I arrived home from work at 6:30 PM. But around 7:30 PM I decided to make a little somethin' somethin'…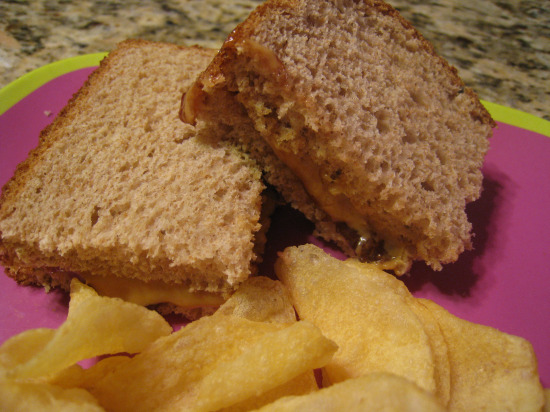 I made a half of a peanut butter and jelly sandwich. Funny, I used to hate these when I was a kid, but now I can eat them for a quick meal or snack. I made my sandwich with a dollop of MaraNatha all-natural cream peanut butter…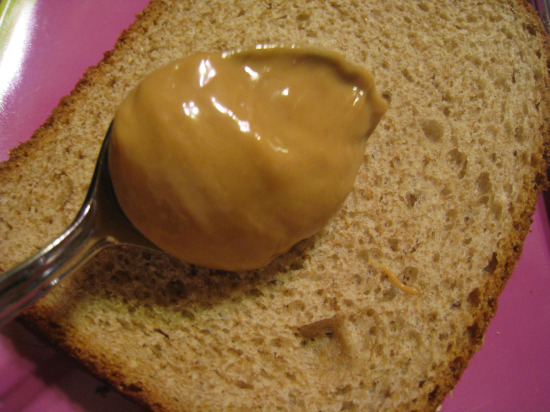 And then topped that with some Knott's strawberry preserves. I also had a few (ok, more than a few!) Cape Cod low-fat potato chips on the side.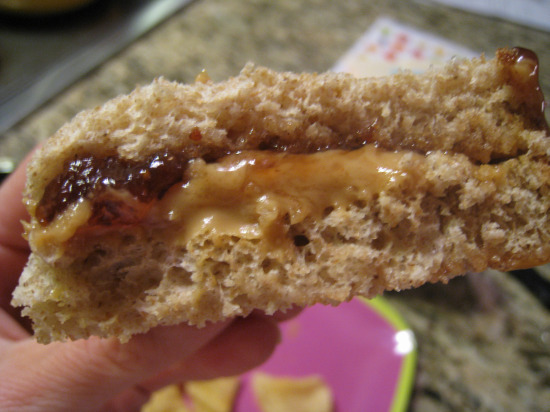 The sandwich was just enough to make it so I would not go to bed hungry. It's weird saying that knowing that there are people who go to bed hungry every night. I thought I was done eating for the night, but then I realized there was a surprise package at my door!!! Yeah! The folks at Kopali Organics sent me a sample of one of their superfoods…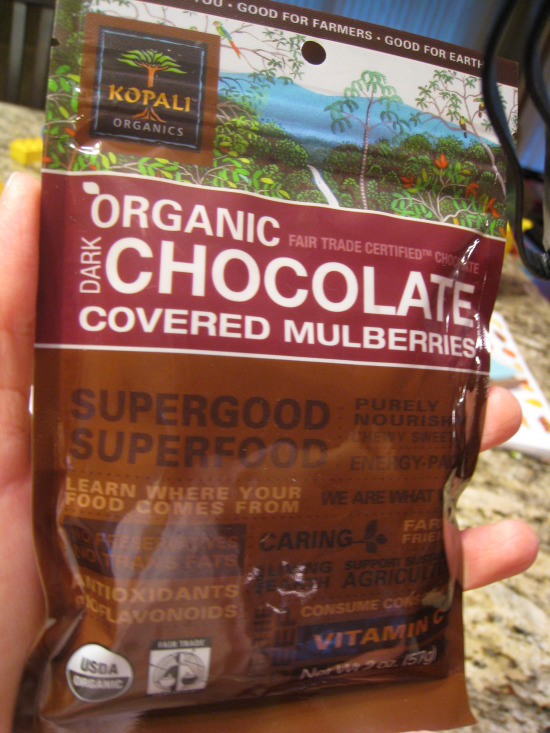 Organic, dark chocolate covered – not cherries, not raisins, not cranberries….MULBERRIES! Can you believe it? Who would have ever thought to cover a mulberry with dark chocolate or any chocolate for that matter. Come to think of it, I don't think I've ever had a mulberry before. It actually looks like a blackberry but it's a little sweeter. Mulberries also are packed with all sorts of good nutrients – antioxidants, etc – and have been shown to lower blood pressure and reduce your risk for blood clots and strokes. 
I wasn't very hungry but I decided to tear open these little babies.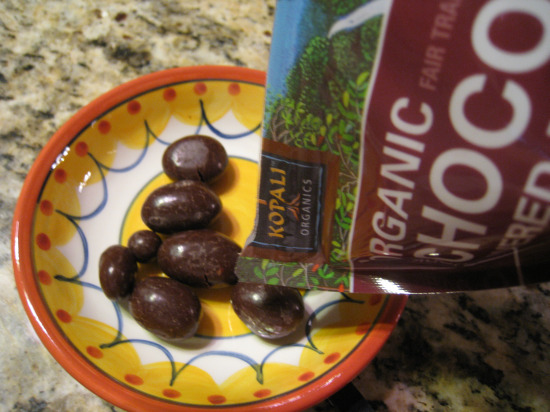 I really loved the taste of the mulberries. It was a nice change from the typical chocolate covered raisin or peanut. I am rather neutral on the taste of the chocolate. Normally, I really like dark chocolate, but this kind just tasted a little different than what I'm used to – not bad, just different. Maybe it's because it is organic chocolate, which, to my knowledge, I've never had. 
Despite it's health properties, I don't think this snack is ready to replace raisinets at the theatre anytime soon, but they would make a nice alternative (you'd have to sneak them though – he he!), especially if you're looking for a snack that's on the healthier side. In addition to chocolate covered berries, Kopali Organics also has dried fruit and other organic mixes.
Ok, I need to head to bed. I'm finally getting my hair cut tomorrow and I'm so excited!