Evening Chicas!
I had an awesome run this morning, although it was cold, cold, COLD! I went from running in 55 degree weather to 35 degree weather this morning! I'm trying to run outside as long as my body (and mind) will let me, because I'm dreading going back on the treadmill for the season. Does anyone else feel this way?
I was running late as usual, so I decided to eat breakfast at work. I remembered I had a Trader Joe's vanilla Greek yogurt at work, so I took a few walnuts from home to stir in. When I actually looked at the date on the yogurt it said November 5. Hmm…I know you can usually eat yogurt a few days past the expiration, but I thought I'd get a second opinion from a coworker. She replied, "it's yogurt, it's already cultured so it won't be bad."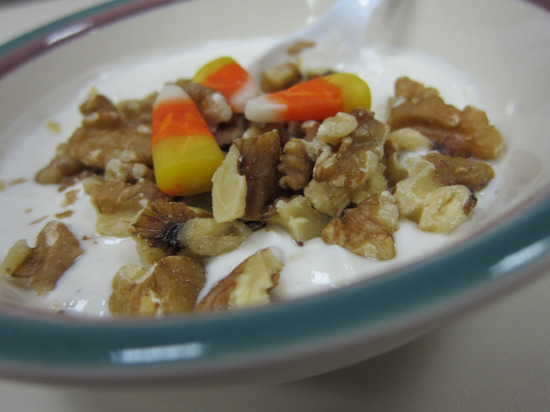 After smelling it, I added my walnuts and took a few bites. I realized that it was not a smart move. It was indeed cultured yogurt – a little too cultured for me – and I consider myself a very cultured person – he he! Bad, Bad, yogurt.
I threw it out – walnuts and all (goodbye $2.50) and starting trolling the halls looking for a second breakfast. My choices were very limited, either leftover Halloween candy or a questionable bag of crackers. But then, I saw this…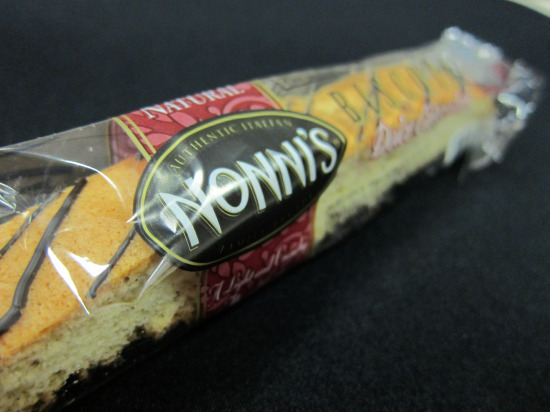 And Nonni's Biscotti it was! I very rarely eat biscotti which is kind of strange since I'm a big fan of the big CRUNCH. This lovely came from a brand new container a vendor sent to our office – just in time too!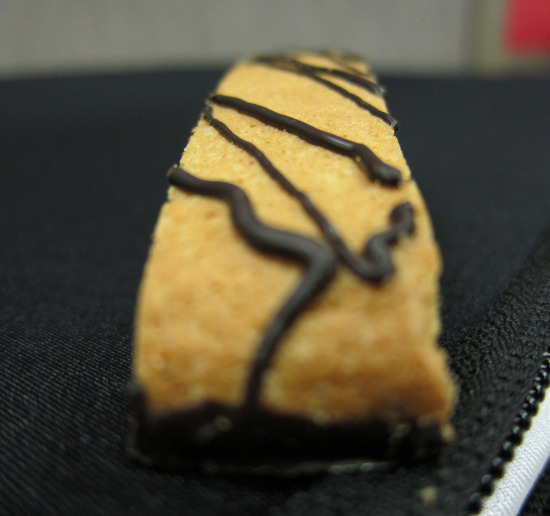 Seeing as it was biscotti, I figured I should have something warm to go with it – enter Tazo Awake Tea…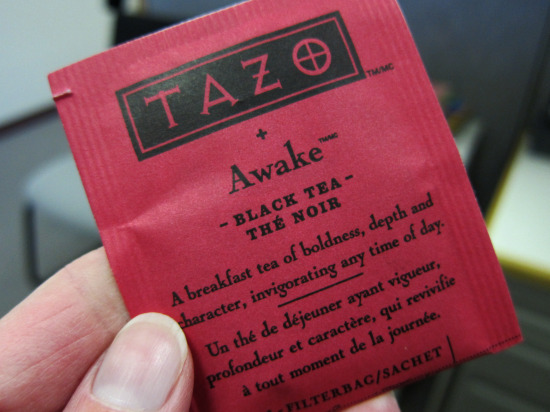 I just so happened to have one stashed in my desk. I proceeded to drink a HUGE mug of tea and crunch away on my breakfast…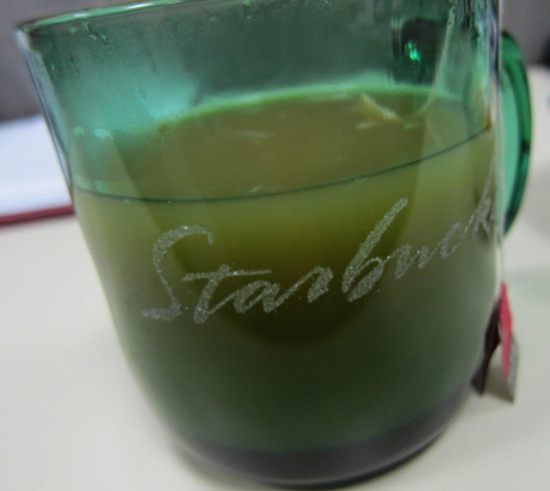 Work is picking up a bit, but not so much that I couldn't meet my favorite guy out for lunch today. We made a last-minute date at Go Roma. I had a lovely pairing – soup and sammie…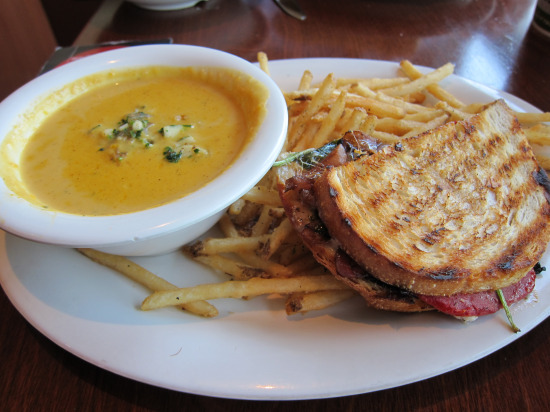 I haven't had butternut squash soup in forever and today was the first time I had it at this restaurant. Fantastic! Very rich and creamy with a smooth texture.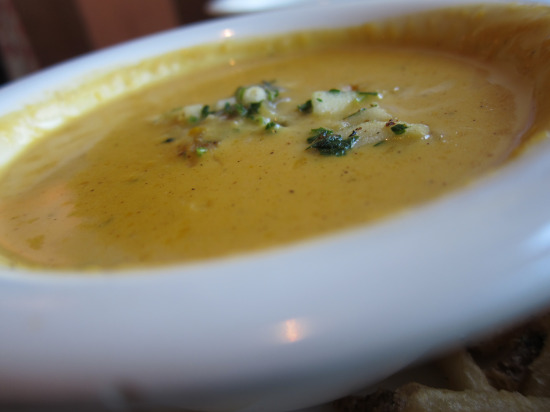 My 1/2 veggie panini with spinach, red peppers, and goat cheese also was well-worth the money. Yes, I ate the French fries. All of them.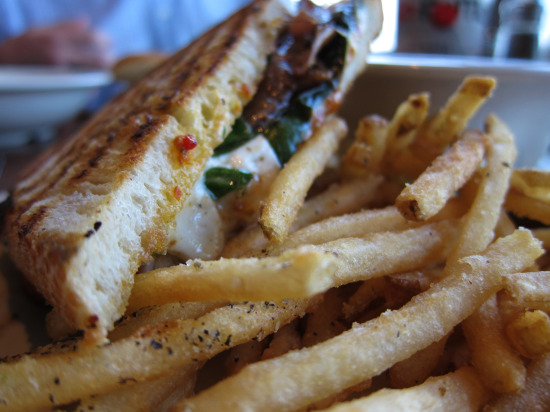 With such a big lunch, it was no snacking for me this afternoon. I wasn't even interested. When dinner rolled around at 6:30 PM, I had regained my appetite but really didn't feel like cooking anything challenging. So, it was warmed up pasta sauce with homemade turkey meat balls….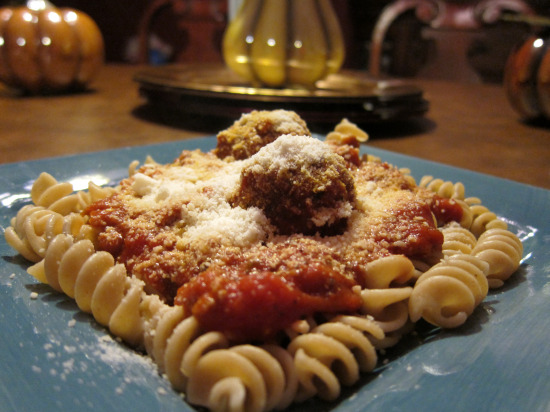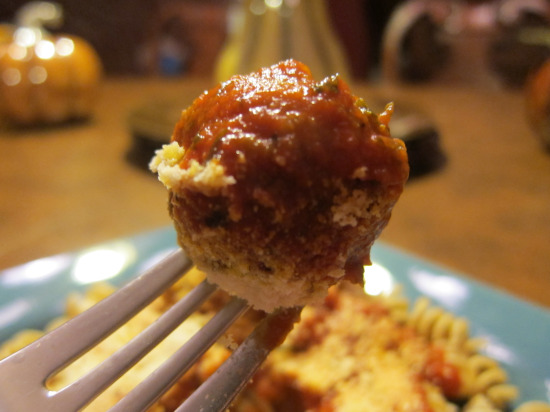 This is such a comforting dish, I was ready to curl up on the couch and take a nap after I ate.
I am getting very, very sleep, so I checking out for tonight. I have the day off tomorrow so I'm planning to do a little pre-Thanksgiving Christmas shopping – ho ho! If anyone knows of any good deals, please send the info my way.
Have a great night!