Hey everyone! I'm doing much better today, although I am getting sick which is never fun. I'm still stressed over all the work I have to do, but today everything just seems more manageable. 
I started my day with a quick 4-mile run. I didn't want to push myself too much due to being sick. I felt a little winded during and after running, probably because it's getting harder for me to breath.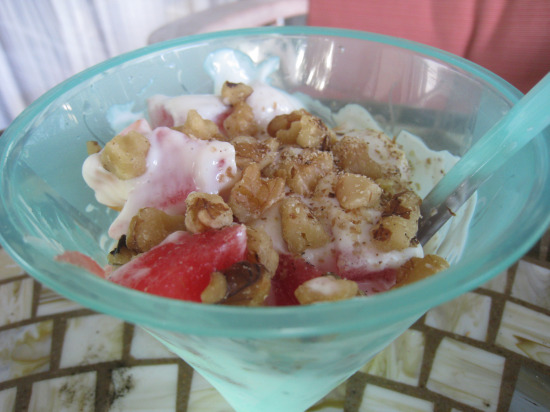 Breakfast was a big yogurt bowl made with a carton of Trader Joe's vanilla nonfat Greek yogurt, mixed with watermelon chunks and 1/4 of a nectarine. I topped it with the last of my chopped walnuts. I love this creamy, crunchy texture! I also had a shot of Zola's Daily Wellness. The juice shot claims to help boost your immune system (ie. help you from getting sick). Maybe it just wasn't strong enough to fight off the bug that I have.
As I headed to work, I heard Starbucks calling my name. I arrived at my usual store and found out that they are closing as of September 13! I was in shock as I walked out of the store holding what could be the last mocha frap I buy from that Starbucks. Boo hoo.
On a more positive note… since it was really the only convenient Starbucks on the way to work, this may be a great opportunity to reduce my Starbucks purchases. I'm sure my husband would be thrilled!
My morning at work was full of meetings, to-do lists, and tons of writing/work. There's a seminar being held onsite at our office this week so there are twice as many people as normal stuffed into the staff lounge, to which I'm pretty annoyed. Luckily a coworker offered to pick up Potbelly for everyone and I quickly jumped at the offer!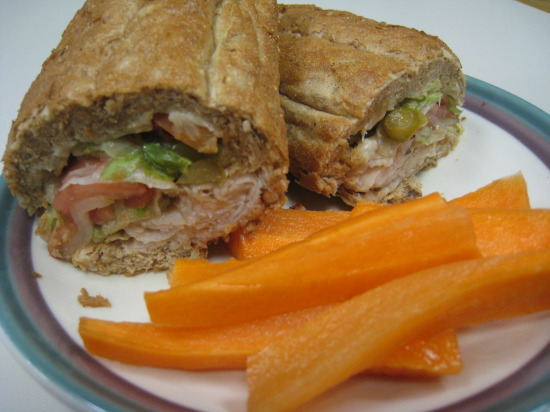 I enjoyed a super tangy turkey and provolone sandwich on whole-grain – skinny, with tomatoes, lettuce, brown mustard, extra pickles, and HOT peppers. Oh my, I haven't had Potbelly in sooo long and it tasted awesome! I really had to stop myself from NOT inhaling this. And, it was all under 300 calories – bonus.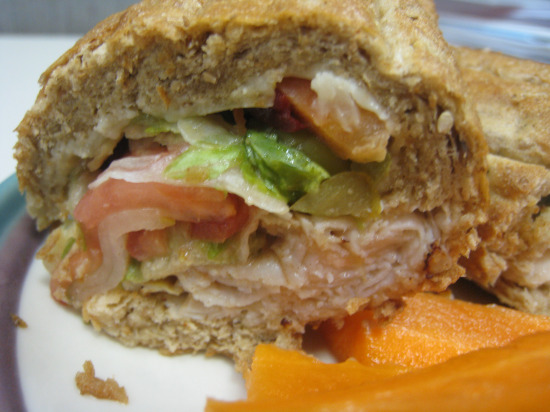 Now that my tummy is pleasingly satisfied, I'm am back to work once more. I have a conference call in a few minutes, then it's the first of two business reports that I have to draft. The fun never ends around here!
Have a great afternoon everyone!