Evening everyone! Hope you're Saturday was fun. My day was pretty lazy. I did not end up going to yoga this morning – blah!. After running 6 days this week, plus adding weights, lunges/squats, and an office yoga session, I was pretty tired this morning. But, I did have a fantastic breakfast…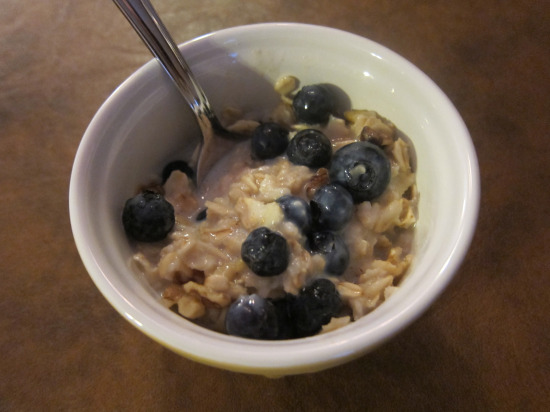 This is my second day of oats in a bowl – although today it was in a ramekin = paired with Tazo Awake tea…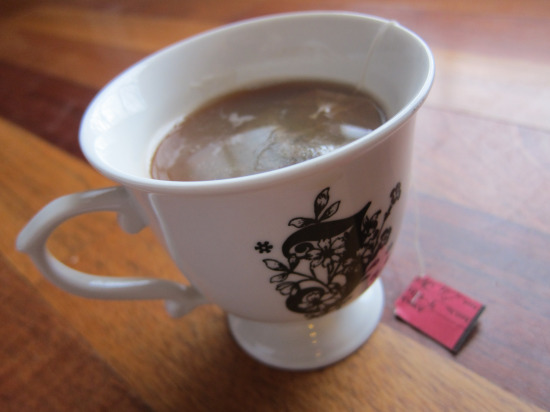 Check out my new tea/coffee cup from Anthropologie! It has my initial, of course, which I absolutely love, and it looks so French. Plus, it was only $6! I could have spelled out my whole name for that price, but I really did not need 8 more cups.
Lunch wound up being a sandwich again, although this time I actually slowed down enough to enjoy it…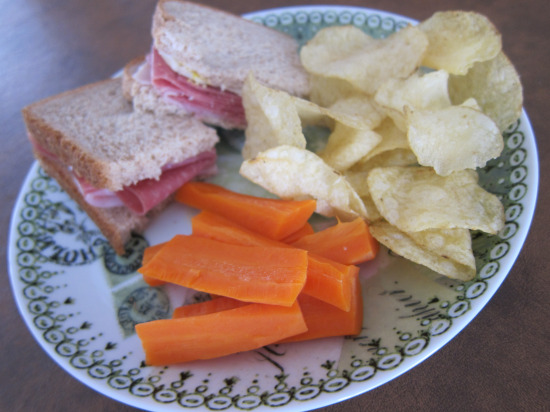 Much of the day was spent lounging but also doing a little vacation planning. We're heading out the Disney World in a few weeks and we're anxiously planning/making all of our dining reservations ahead of time. I've actually been making reservations for the last 3 weeks, so today when I called the dining hotline, the customer service rep told me I had over 20 reservations made under my name. Yikes! I better cancel some of those. And so, I spent over an hour trying to reconcile the reservations, deciding which ones to keep and which ones to give up. As of now, we have reservations at:
Le Cellier (Epcot)
Boma (Animal Kingdom Lodge)
1900 Park Fare (Grand Floridian)
Crystal Palace (Magic Kingdom)
Chef Mickey's (Contemporary)
Whispering Canyon (Wilderness Lodge)
Wolfgang Puck Cafe (Downtown Disney)
I seriously can NOT believe we will be eating at all of these restaurants – 7 top restaurant reservations in 7 days! We will definitely be making up for our Restaurant Diet!
And, except for Boma, all of these restaurants will be NEW for me – and that's saying a lot considering I used to work for Disney. If it isn't obvious by the reservations, we are doing the Disney Dining plan – for the first time. I'm really not sure how much money we are saving by doing this, if we're even saving any at all. But, since we go to Disney once a year, we thought we'd give it a try.
Anyway, dinner was a brand new creation – a recipe/serving suggestion taken from the February issue of Real Simple magazine…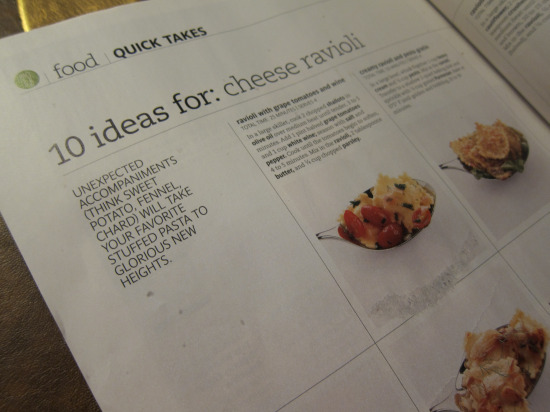 The magazine featured 10 ways on how to doctor up plain cheese ravioli. ALL of the serving suggestions sounded delicious, which prompted me to try one tonight. I started with Trader Joe's mini cheese ravioli..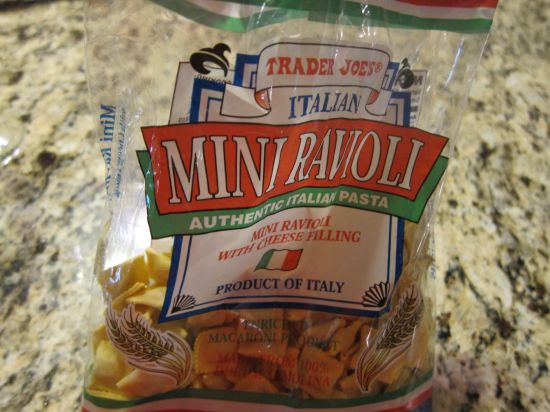 Which I cooked according to the directions. Then I added a mixture of cream and Trader Joe's pesto…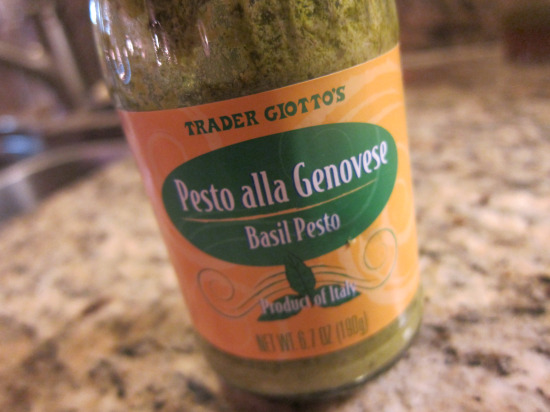 I mixed the sauce and noodles together then put that into a glass baking pan. It was topped off with parmesan cheese and baked for about 20 minutes, until browned on top.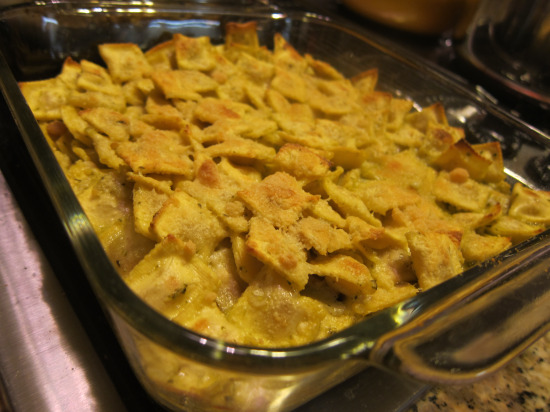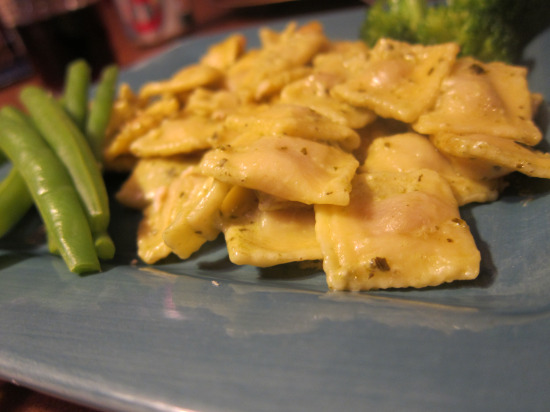 This was a great dish to make on the fly, although I'm not sure how healthy it was. I'm eager to try more of the serving suggestions the article suggested.
OK, I'm starting to fall asleep. Take care everyone and chat with you all tomorrow.