Hello Everyone! 
This morning, I did a couple miles on the old treadmill (which has NEVER had any clothes hanging on it – thank you very much!) then jumped off, threw on a running jacket, and headed outside for the remaining 2 1/2 miles. After my run, I did a few stretches and a 15-minute ab workout. I used to be a really hardcore runner, thinking that anything less than 6-7 miles was not worth my time. But after overtraining for a 1/2 marathon, I cut back quite bit and found that my body and I were much happier. This got me thinking…why have I been running for over 10 years and why do I keep running? The answers are simple  and can be explained in just five words – control, convenience, cost, calories, and challenge.
Running With Cake: The Five C's of Running
Control Factor: Running makes me feel strong and in control. If I can run for miles and miles, I feel like I can do anything.
Convenience: You can do it anywhere/anytime. 
Cost: For the most part, all you need are good running shoes and running clothes.
Calories: Running is a HUGE calorie burning exercise – need I say more!
Challenge: Distance running can be grueling at times, but it's the utter satisfaction of finishing a race or achieving a personal record that makes it all worth it!
And the question is…Why do you run? If you don't run, what is keeping you from starting?
By the way, overtraining is one of the most frequent mistakes made by runners. If you're curious about the other common running mistakes, check out this Quiz from Women's Health magazine which lists the top 11 running mistakes. I took the quiz, applying it to my current running style, and scored 100%. 
As for the rest of my day…Breakfast was a big bowl of Honeynut Cheerios with a handful of walnuts – gotta love that MUFA crunch!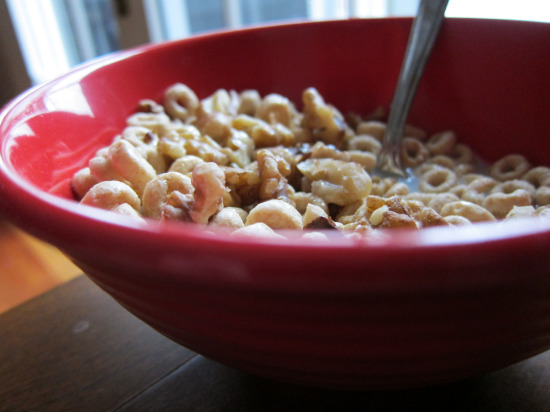 I only worked a 1/2 day today because I had a ton of errands to run before heading out tomorrow for our Thanksgiving feast! I am seriously amazed at how efficient I was between 1-5:30 PM. In just 4 1/2 hours, I managed to go to:
Go to Hobby Lobby
Do Laundry
Make 3 1/2 dozen chocolate chip cookies
Tidy up the house
Put away the Fall decorations
Go to Kohl's
Go to Crate and Barrel
And somewhere in that marathon of errands, I managed to eat a bit of lunch…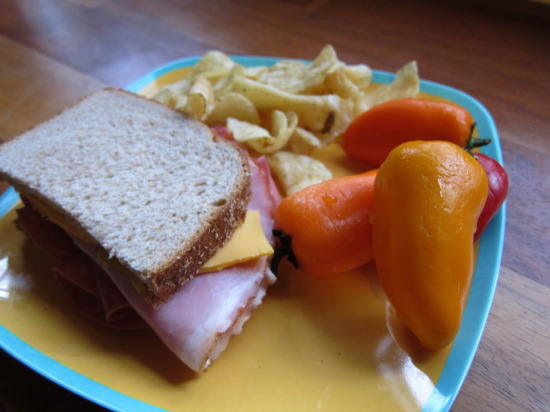 A salami, ham, and cheddar cheese sandwich – the RWC standard these days, particularly when I don't feel like cooking.
Dinner was a tad more exciting – Italian sausage on our indoor grill. We invested in Italian sausage a few weeks back – I say invested because we bought it at Costco, where the food (and everything else)  comes in huge quantities, which causes you to invest a lot of time in eating it. To accompany the sausage, we had some very creamy Trader Joe's shells and white cheddar cheese (aka. fancy mac & cheese) along with grilled bell peppers and onions.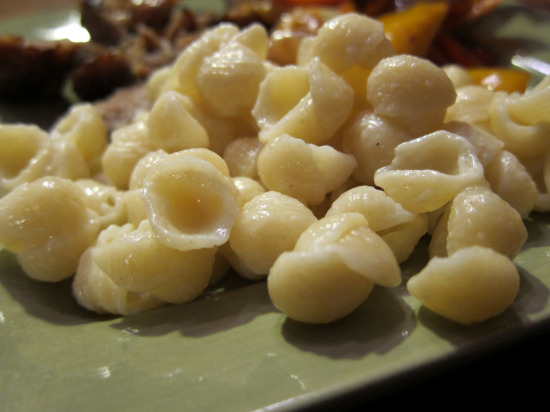 Scott actually made the shells and cheese using the exact recipe on the box. I assured him that a standard box of mac & cheese is not difficult and that you don't need to follow the recipe exactly. But, he's a stickler for following recipes – most of the time 😉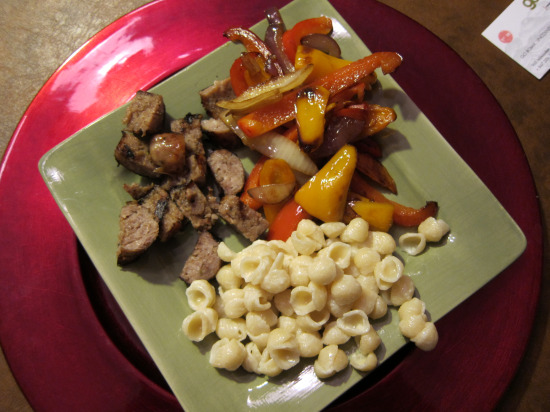 Hey, how did that Go Roma business card get in the picture?? I think it wanted its 15-minutes of fame – but don't we all?
Thank you to all of you who voted for your favorite foodie magazine. As promised, the magazine with the most votes would become the new Running With Cake subscription. And the winner is…Cooking Light magazine! Fine Cooking also was mentioned by more than one person, but Cooking Light seem to be the food blogger favorite. I plan to subscribe in the next two weeks, so that I can avoid getting a duplicate of the December issue that I plan to purchase tomorrow 🙂
OK ladies and gents, I'm off to bed. I need to get bright and early to get in a run before we leave.
Enjoy your evening and your Wednesday!