So, what is the craziest thing you've ever done to be pretty?
Last night, I met Scott, Miss M, and Mr. C at Panera for dinner before heading to my 6 PM Aveda pedicure and 7:15 PM hair appointment. I love Panera's potato soup! But I digress…back to the pedicure.
The pedicure was awesome! I sat in the vibrating chair with my feet in the soothing water and just melted. Lena worked on my nails for nearly an hour – which I think is fantastic considering many of those fly-by-night places only give you 30 minutes for a pedicure. After my pedi, I headed out to the front counter to pay and saw that it was snowing outside. Let me add that when I went into the salon, it was not snowing and the sky was pretty clear. Well, I did not have any sandals and was not about to put on my socks and shoes with semi-dry nails. So I had to walk to my car in the those flimsy flip-floppy pedicure things – so cold! I then drove with cold, wet feet all the way to the hair salon in a blizzard – actually a complete white-out. I just kept saying to myself follow the car in front of you, following the car in front of you. I then proceeded to walk from my car to the salon in about 2 inches of snow, pretty much barefoot. Oh the things women do to be pretty!!
A Blueberry Morning
Luckily, this morning was a little better. The snow has since stopped but not after leaving us 4 inches of powder on our driveway. I'm so sick of the cold and snow. I'm so glad I'm headed to Florida soon!
After my awesome 4.5 mile run on the t-mill, followed by stretching and an ab workout, I tried another new yogurt – Dannon's nonfat Greek blueberry yogurt …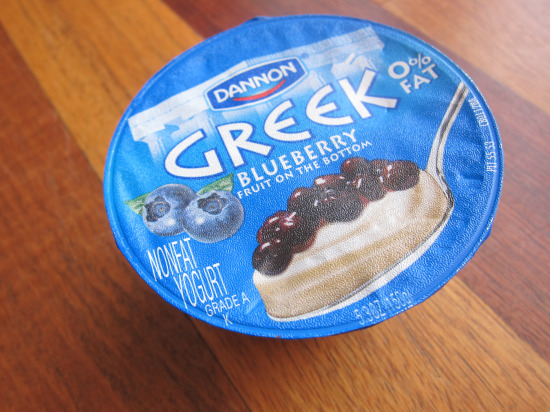 This yogurt was definitely an improvement over the vanilla Oikos I had a few days ago. It was so thick and creamy and had a fantastic blueberry taste. I will definitely get this again! Even Miss M liked it – especially because it was purple 🙂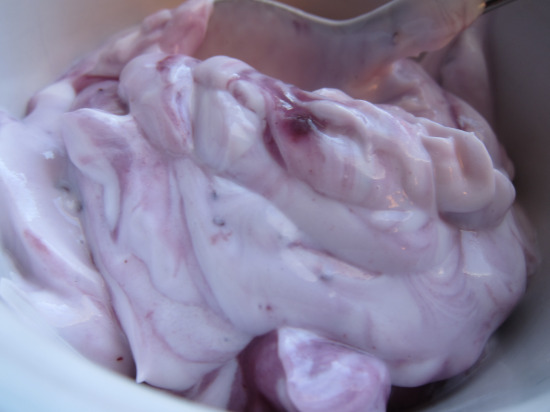 OK, have to actually get some work done today. Have a wonderful morning!