Evening everyone!
I had a great early morning run today – started before 6 AM which I haven't done for a while. After 4.5 sweaty miles running from 7.0 to 7.6 on a 10% incline, I was sooo ready for breakfast. I couldn't wait to try my new Oikos nonfat Greek vanilla yogurt…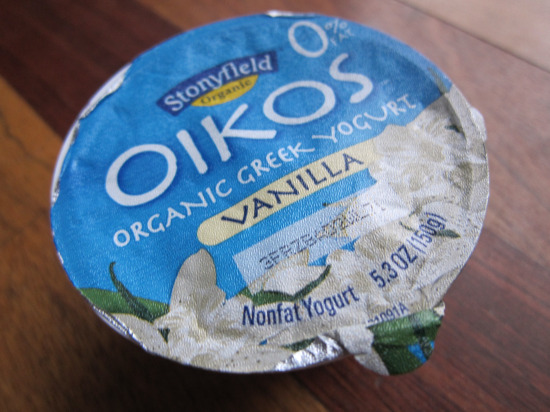 Hmm…not so good. I really wanted to like this yogurt because it's a little more accessible than going to Trader Joe's and it's a little cheaper too. But there was just something about it I did NOT like. It almost tasted too sour – like it was on the verge of becoming bad, although the expiration date wasn't until mid-March. I tried adding some peanut butter to it and that didn't help, which totally goes against my peanut butter reality (that peanut butter makes everything taste better).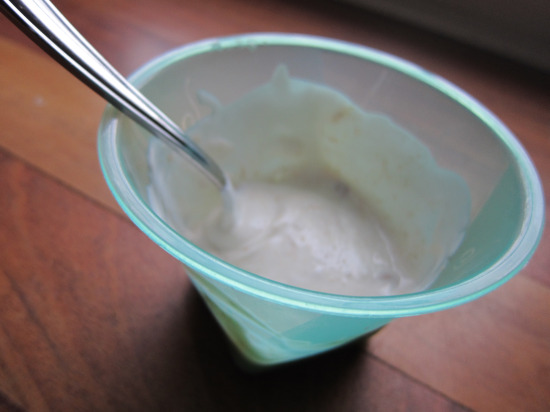 I only took a few bites and then gave the rest to Miss M, who didn't like it either. And that is saying a lot considering this is a girl who loves Trader Joe's vanilla Greek yogurt. Oh well, I only bought two – I'm hoping the strawberry flavor is better. To compensate for my blah breakfast, I had 1/2  Luna bar on the way to work. Luna – so dependable! Then it was on to Starbucks for a skinny vanilla latte – I needed it after only getting about 6 hours of sleep!
Work ended up going by really fast today, which is always nice 🙂 Lunch was an unpictured can of soup and a banana, and then another Luna bar for a snack.
Dinner was one of my favorites tonight – homemade pasta sauce made with ground turkey…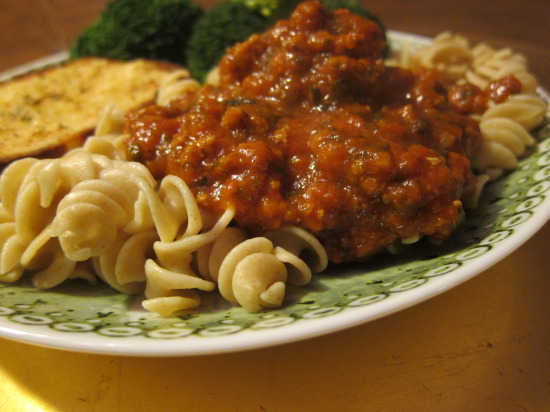 Plus some homemade garlic bread on the side. Scott made it and it was sooo good – doesn't this look like Texas toast??? But it wasn't, it was the leftover three-cheese bread from La Brea.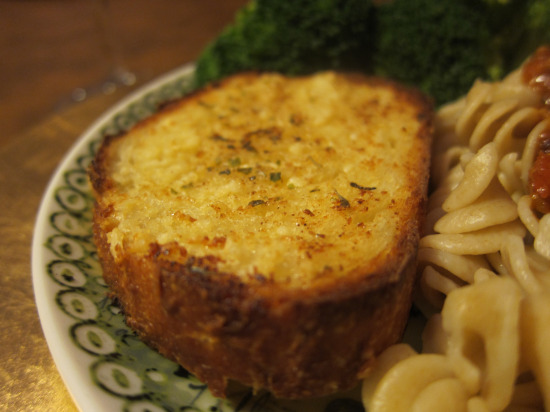 I had about 1 1/2 cups of pasta plus 3/4 cup sauce. I really wanted MORE, but I refrained knowing that there is a brownie in the house with my name on it.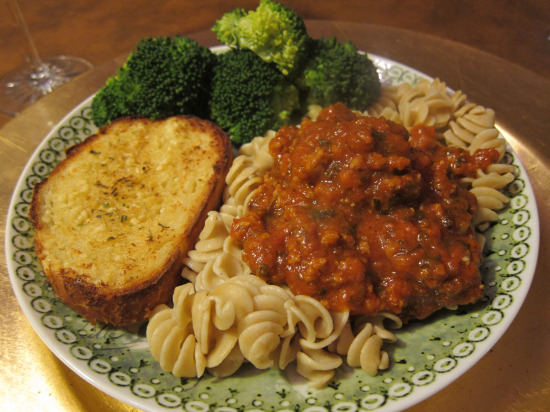 So let's see how I did…
Jen's Calories for Monday, February 22:
Few bites of yogurt = 50 calories
1/2 Luna bar = 90 calories
Skinny vanilla latte – 90 calories
Banana – 90 calories
1 can of chicken soup = 150 calories
1 Luna Bar – 180 calories
2 small pieces of garlic bread = 200 calories
1 1/2 cups cooked pasta (measured) = 300 calories
3/4 cup pasta sauce (measured) – 200 calories
1 cup steamed broccoli = 50 calories
1 brownie = 200 calories
Total calories = 1,600
Not too bad as far as calories, but the majority of my calories were consumed after 5 PM (950 calories), when I am at my least active. Not so good for my metabolism. 
Gotta read a few articles before heading to bed. See you all tomorrow!