Afternoon everyone! Hope you're day is going well. I had such an awesome run this morning. It's so nice not being sick!
For breakfast, I had a quickie PB sandwich…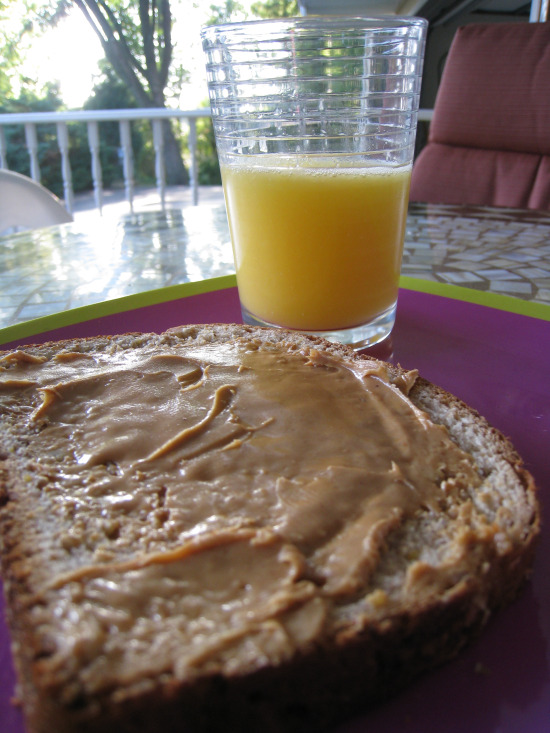 I took a very fresh slice of Brownberry Multigrain bread spread with about 2 tbsp all-natural creamy peanut butter. I also had about 3-4 oz of Tropicana all-natural OJ. This may not seem like much, but the nuts in the bread (and high fiber) combined with the peanut butter can really fill you up!
It took me forever to get ready for work today and nearly as long to actually get to work. I felt like everything was going in slow motion. It was after 9 AM by the time I arrived to work. So, immediately I jumped right into action on my first project, which took me nearly all the way to lunch.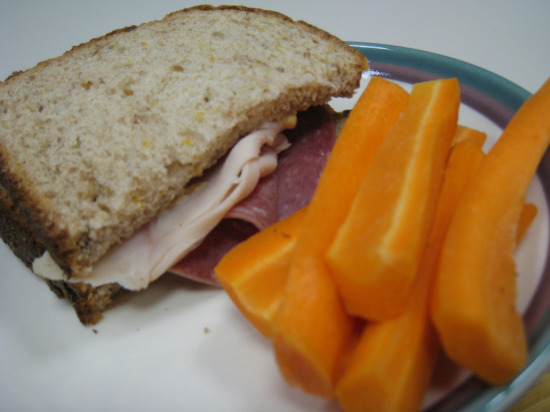 I had another slice of Brownberry bread with about 1 oz of sliced turkey and low-fat salami deli meat, paired with carrots of course! Not very exciting, but definitely a nutritious office lunch.
I'm actually on a conference call/webinar right now, but plan to have a big chocolate chip cookie for an afternoon snack. Someone put them out in the staff lounge and I snagged one before they were all gone – he, he!
I think I may head out to Whole Foods after my call for a quick grocery run – I'm in need of more Dr. Kracker flatbreads! Also, I haven't been to Whole Foods in nearly 3 weeks so I'm going through withdrawal.
Gotta run for now. Have a great afternoon everyone!