Running With Cake Fact: I've run in 23 of the 50 United States, as well as Washington, DC.
Hello All! I've had such a full day already and it's not even 2 PM. Friday is my typical day off so I slept in just a tad (6:45 AM but I usually get up before 6!) and was out the door running shortly thereafter. I love my Friday runs. It's so nice running at whatever pace I want, knowing that I don't have to rush to get to work. I decided to do an easy 4 miles, and save my longer run for Sunday. 
I forgot to eat my 1/2 powerbar before running so by the time I came back, I was crazy hungry. That's what I get for eating cereal for dinner the night before a run! So, what did this famished girl have for breakfast….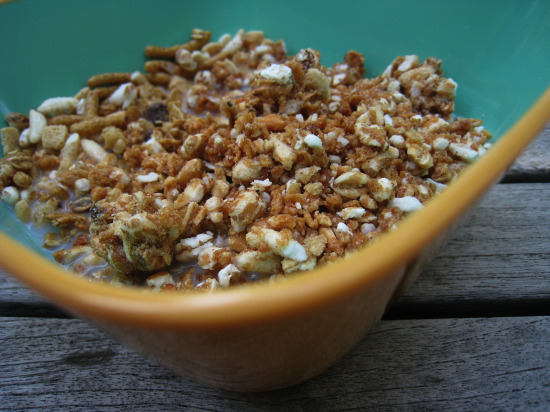 You guessed it! More cereal…well it was actually a mixture of 2 cereals and 1 granola. I mixed 1/2 cup of Kashi Go Lean Crunch with 1/2 Kashi Go Lean (both are super high in fiber) and then added 1/2 cup of Cascadian Farm dark chocolate almond granola – a perfect cereal trifecta if you will. But, I seriously think my eyes were bigger than my stomach because the bowl of cereal ended up being HUGE! And, I ate it all! But, I am happy to say that this big bowl of cereal kept me satisfied all the way to lunch.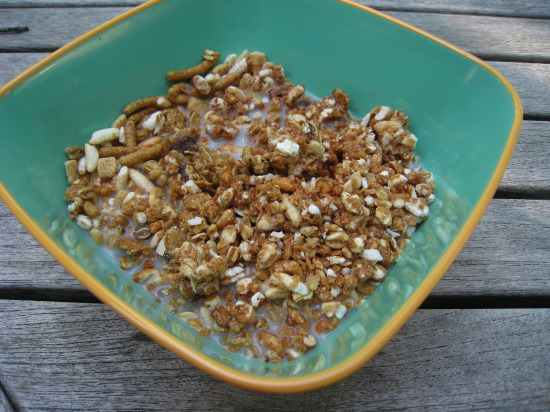 After a little breakie, I packed up my things and headed to Target. It was just a regular Target – not a superstore or anything. But, I was amazed and happy to find that LUNA bars were on sale for $1.00! I promptly snagged three…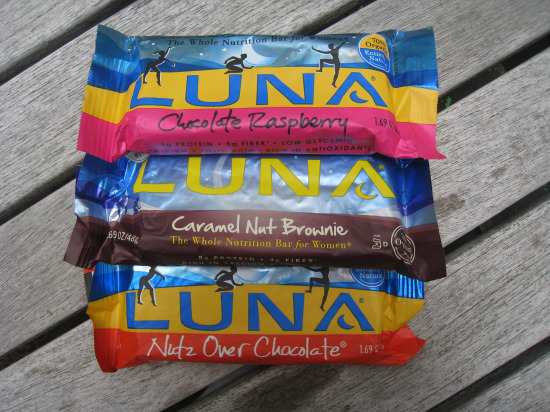 Out of all of the powerbars I've been eating lately, so far LUNA is the best. And, I love that they have extra vitamins/nutrients specifically for women. 
After my Target run, I scooted over to the local Italian cafe to pick up a carry-out lunch…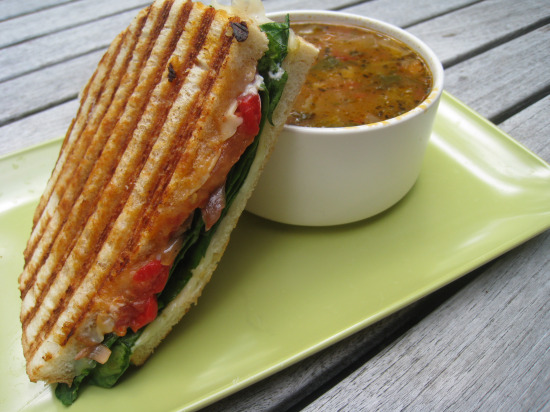 ..a cup of minestrone soup and a 1/2 veggie panini. I usually get the veggie pizza when I go to this cafe, but I was in the mood for a sandwich. This was my first time eating the veggie panini and it was fantastic! It had spinach, red peppers, tomato, onion, provolone, goat cheese, and sun-dried tomato pesto. I'm glad that it was only a 1/2 because I don't think I could have eaten a whole.
Now, I think it's time for a little break. The book I started reading last night – Improper English – is ok so far. The heroine is actually a tad too crass for me. I can't believe that a girl would actually be saying some of these things, but it's fiction, right? Anyway, I'm off to read a little more.
Have a great afternoon!