Need Post-Run Refueling? Try Cereal
The next time you do a hard run or other intense exercise, you may want to opt for a bowl of cereal instead of your normal sports drink. New research from the University of Texas Austin compared the post-exercise effects of both cereal and exercise drinks in 12 trained athletes. They found that a bowl of whole-grain cereal with skim milk replenished the athletes' immediate muscle fuel, called glycogen, as well as the sports drink, and in some aspects, even better. Cereal and milk is typically less expensive than sports drinks, making it an even better option for nonprofessional athletes like me!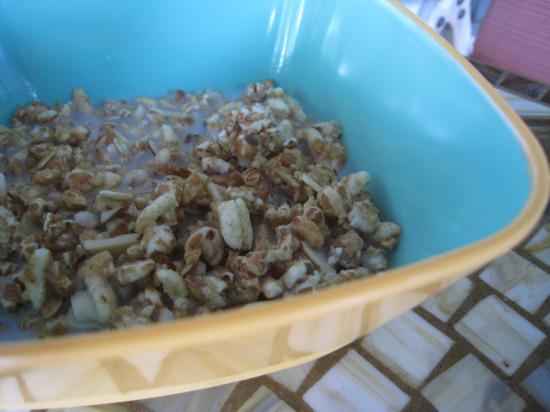 On many mornings, you will likely find me enjoying a big bowl of whole-grain cereal after my run – just like today! I was up and out the door around 6:20 AM today to run a moderately paced 4-miler. I'm still sick so my energy level has not been the greatest.
After my run, I measured 1 cup of Kashi Go Lean Crunch-Honey Almond Flax, which has 8 g of fiber and 9 g of protein in every serving! I poured in about 1/2 cup of skim milk and then the crunching began!
I also had my Daily Wellness Shot from Zola and a few chunks of bright, juicy watermelon…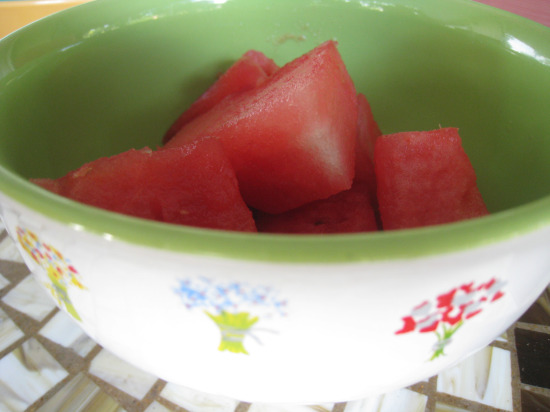 I love watermelon! I'm sure I will be longing for this lovely fruit all winter long.
Today, our office is, once again, being overtaken by strangers and food! I'm trying to avoid the staff lounge/kitchen as much as possible for this reason. For lunch, I had a bowl of leftover veggie pasta salad…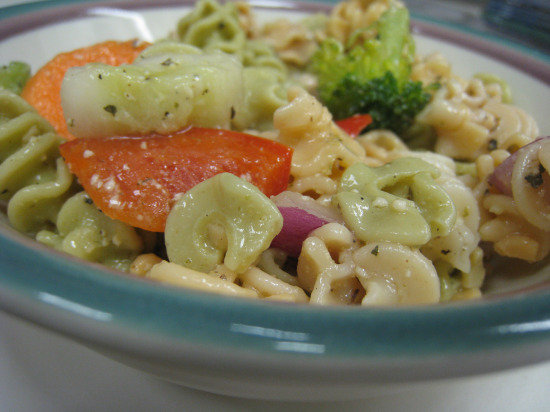 It still has great flavor even when it's nearly a week old! I think the photo of the salad turned out pretty well, considering it was taken in my cube.
Alright. Must get back to work so that I can leave early to get a jump start on my weekend. Have a great afternoon!