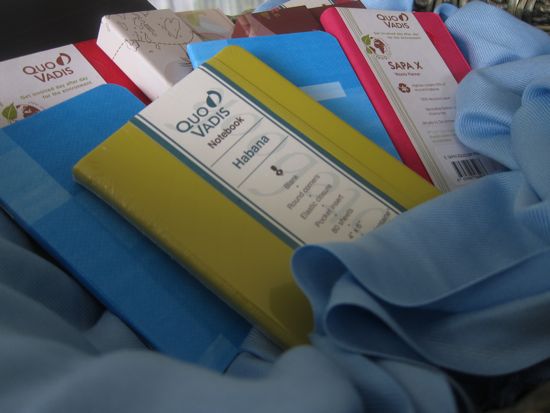 With such a busy travel schedule coming up, I find myself making tons of lists:
To do lists
Packing lists
Shopping lists
Clothing lists
…and so on. When making my lists, I try to keep them in the same notebook or folder, so that they are easy to find and refer to. However lately, I find that I've filled most of my little notebooks and have resorted to making lists on sticky notes or on Word documents on my computer. Although this helps get my items on "paper", I'm not always in front of my computer and I tend to lose the sticky notes after a few days.  This obviously makes my life more hectic and stressful, and I definitely do NOT need more stress in my life right now!
In addition to lists, my schedule pretty much forces me to keep a detailed calendar/schedule for all of my trips, family functions, and other responsibilities. I really don't like living my life on a schedule, but c'est la vie. This is the main reason I attended the Time Management session at the Healthy Living Summit a few weeks ago. I wanted to learn how to become a better time manager, although not a micro time manager. It was at HLS where I learned about the Quo Vadis day planners, notebooks, and other products that help make scheduling life easier.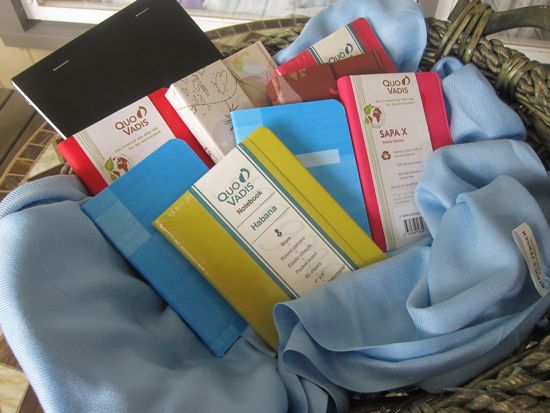 For weeks now, I have been looking for a stylish yet functional notebook as well as a planner and had my eyes set Quo Vadis. The parent company of Quo Vadis, Exaclair, very graciously sent me several notebooks, mini-notebooks, planners, and notepads to try. Although I have not tried the planners as of yet (because they are for 2011) I've tried the Rhodia dotpad and the Clairefontaine magnetic journals. The dotpad is perfect for making lists – you can tear your list out and take it with you when you're done, or you can leave it in the pad to save for reference. The Clairefontaine journal is equally handy for journaling daily thoughts, making "life lists", etc. And what else I love about this journal is that it is hard cover and comes in a very Eurochic design, complete with a faint old-fashioned map of the Mediterranean…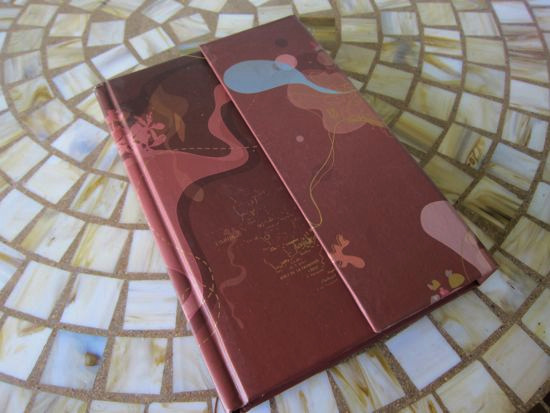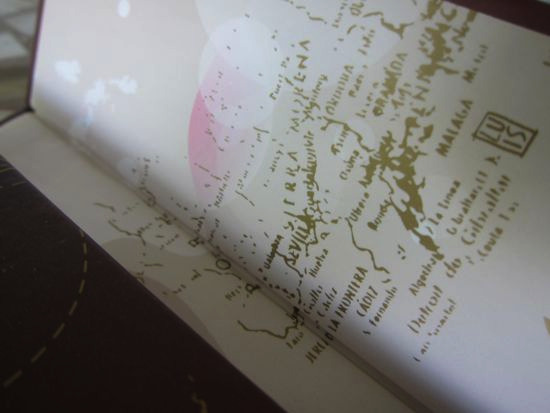 The magnetic strip is a huge bonus – I don't have to worry about it falling open or flapping around when I'm writing outside on my deck.
As you can see from the pictures above, I received way more Quo Vadis goodies than I can actually use. So you know what that means – it's giveaway time!
Clairfontaine Journal Giveaway!
I will be hosting several giveaways on both RWC and Bistro Chic involving these awesome notebooks and planners in the coming weeks. The first giveaway will be for one of the stylish magnetic notebooks (the brown hardcover picture above). As I said before, it's perfect for keeping track of your day-to-day thoughts and activities, and it's also small enough to fit in your laptop bag or even your purse. So whenever you have a new idea to add to your list – voila! – just pull out your Clairefontaine journal and go to it.
There are two very easy ways to enter the giveaway for one of these awesome Clairefontaine journals:
Comment – Leave a comment on this post tell me how you would use the journal if you won. Or
Tweet – If you don't have time to leave a comment, you can tweet this post out as a chance to enter.
You must do one of these two things by 9 PM Eastern, Wednesday, September 8, 2010 in order to enter.
I just had another great idea – I'm off to write in my journal!!
Good luck everyone!