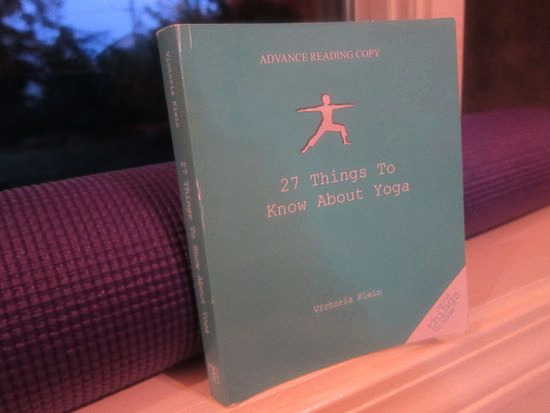 Oh yoga, how I missed you! I finally made it to yoga after missing class for two weeks straight. I absolutely love the yoga instructor at my studio. I know I've said that before, but she is one of the reasons I get up so early on Saturday mornings, just to get there 30 minutes before class so I can reserve a space. Yes, she is THAT good! I happened to see her at Target last week (after I missed her class). I ducked into another aisle – I didn't want her to remember I missed her class. Plus, Ms. M and Mr. C were not being very Zen-like. But, yesterday's class was amazing as usual. We did quite a few hip openers, which I really needed since I did a bunch of lunges on Thursday morning and was still feeling it two days later.
And Speaking of  Yoga
Have you ever been in a yoga class and not understood what the instructor says? This happens to me more often than I like to admit. I usually just watch someone else in the class, hoping that I'll catch on. I've also been in a situation where my instructor says something in yoga-ese (aka Sanskrit) and I'm just clueless. I find that nodding and looking very serious only goes so far. Well, if these things have ever happened to you, you're in luck!
Last month, I received an awesome little book – 27 Things to Know About Yoga. Or, as I like to call it, everything you wanted to know about yoga but were afraid to ask, book. The book was sent to me for review, which I am totally grateful! I learned quite a bit from this book, despite it being only 176 pages. But that's one of the real pluses of the book, it's short, very easy to read, and provides just enough detail to make you feel smarter about yoga.
It's All Sanskrit To Me
For instance, I finally learned what yoga mudra is! It's a symbolic physical gesture usually made with the hands, ie. Hands together at heart center.  So yesterday, when my yogini said, "brings your hands into yoga mudra", I nodded reassuringly and felt much better that I was not the clueless one in the room. I imagine a conversation with the lady next to me….Excuse me, do you speak Sanskrit? Why yes, I do.
Other Things I learned About Yoga
The types of yoga – It really is great for a quick review and follow-up reference, but not if you want to go really in-depth in one area.
Yoga Manners – For the most part, I follow good manners for yoga, according to what is spelled out in the book. Although, I have been guilty of leaving before the end of savasana – no one is perfect.
The teacher makes the student – I could have written this chapter!!! Although I totally know this from experience, the book really reinforced this principle.
Now, For the Yoga Book Giveaway!
If you want to brush up on your Sanskrit or want to learn about the limbs of yoga, you have the opportunity to do just that! I'm giving away one copy of 27 Things to Know About Yoga to one reader. How to enter the Yoga book giveaway – just leave a comment on this post, or retweet this post and voila….you're entered! You have until Wednesday, August 4, at 10 PM Eastern to enter. Come on Healthy Living Summit attendees, show me some love!
Good night all and Namaste