Hi All! Well my sister and I had fun-filled day of shopping! We found ourselves all over the place, including…
Crate and Barrel
Bath and Body Works
Gap
Ann Taylor Loft
Lucy 
Whew! Now were so exhausted, but not too tired to have a little late night dessert…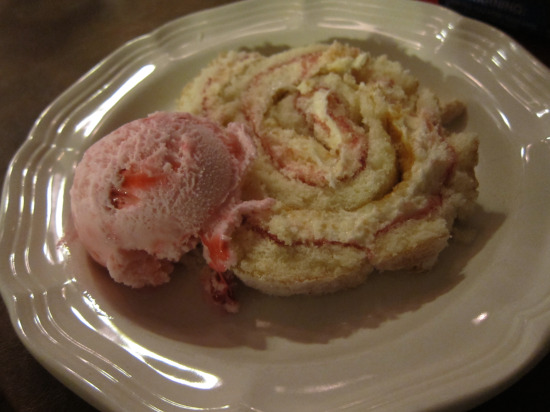 Raspberry and white chocolate swirl cake with a side of Edy's peppermint ice cream – so yum! And I love the pink colors – how girly, don't ya think?
Now, we're getting ready for a little gift wrapping party – fun, fun, fun! Tomorrow, we're headed to a Nutcracker-themed afternoon tea. I love the practice of taking tea in the afternoon – it's so old-school British! We're also hoping to go for a morning walk/run – although it might be too cold (30 degrees – brrrrr…)
Signing off for now, but stay tuned for pics of my cool loot from Lucy!