Hello everyone. I had good intentions of writing a long, fun post tonight to start the week on a high note. However, I've had a pretty rough day. Last night, I worked from 9 PM to 1 AM and didn't get to sleep until 1:30 AM. Work was related to my big meeting coming up at the end of the month. If I don't get these projects done, there's no one else who can do it – so the pressure is on!
After going to bed at 1:30 AM, I ended up waking up at 6:30 AM and, because of the powers that be, I could not go back to sleep no matter how hard I tried. So, the whole day I felt tired, sluggish, and still sick from the week prior.
Anyway, enough bellyaching (literally!). I got up and lounged for a little bit before lacing up my shoes and heading out for a very cool 5 mile run. I really wanted to run 6 or 7 miles but was only running on about 50% of my normal energy level.
After running, I had a little breakfast that Scott made for me..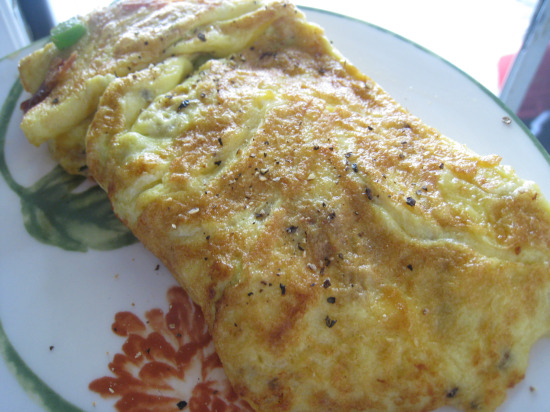 He made me a two-egg omelette (1 egg and 1 egg white) that included all-natural, nitrate-free bacon, green peppers, white cheddar cheese. Thanks honey!
Next we spent the day cleaning the house for a birthday party we were hosting. So all day it was clean, cook, clean, cook, and so on. In between, I had a little lunch…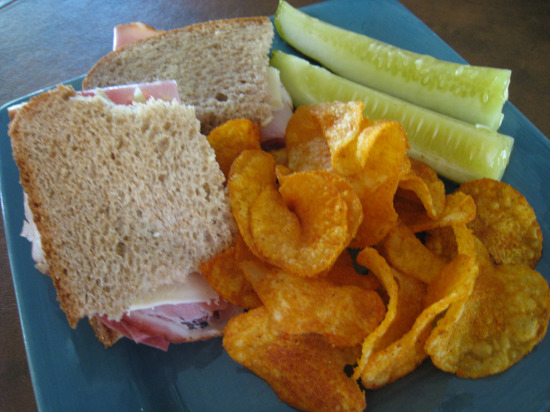 A 1/2 low-fat salami and ham sandwich with white cheddar cheese with dijon mustard, all on 1 piece of Brownberry double fiber bread. As you can see, I also had some awesome BBQ chips and a couple pickles – because one pickle just isn't enough!
When our guests arrived, we had a few appetizers – like white cheddar cheese (can you tell I love this stuff! I've eaten it three times already today!) and crackers, followed by spinach and artichoke dip…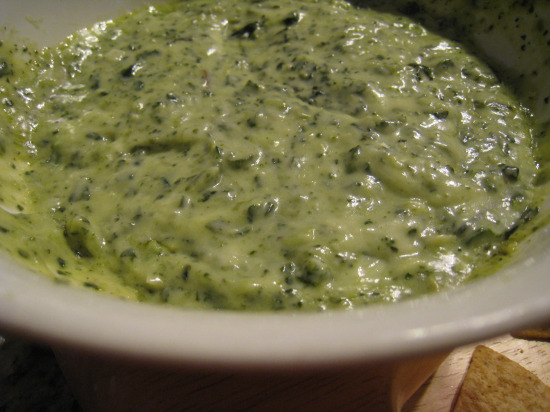 The spinach and artichoke dip was from Trader Joe's and was fantastic! It tasted as good as any restaurant-style dip. I highly recommend it. I definitely ate way too much of it though. That's probably why I don't feel the greatest right now – ugh!
For dinner, we started with a salad made from red leaf lettuce, carrots, cucs, peppers, and MORE white cheddar cheese. OK, I'm beginning to think I eat way too much white cheddar cheese! But after tonight, I think I've had my fix for a while.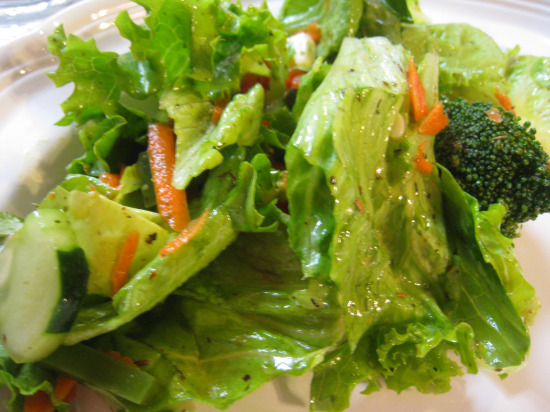 My husband made dinner (of course!) which was his awesome partially grilled, partially slow-cooked BBQ pork loin. He served it with some homemade mac and cheese (it's a great recipe, but I'm really too tired to write it now), and some of his homemade apple sauce. All so good! Although it strangely reminded me of Cracker Barrel – just kidding Scott!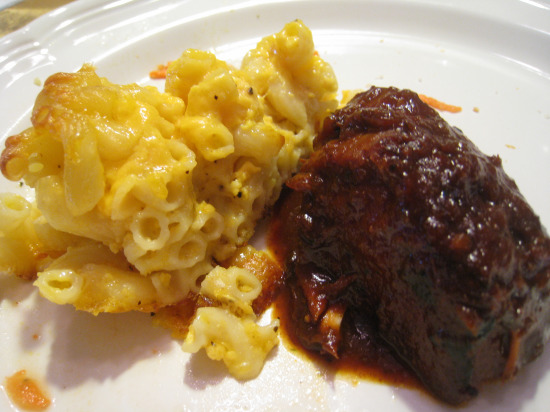 After singing to the birthday girl, we all had a little dessert – devil's food chocolate cake with butter cream frosting and vanilla bean ice cream…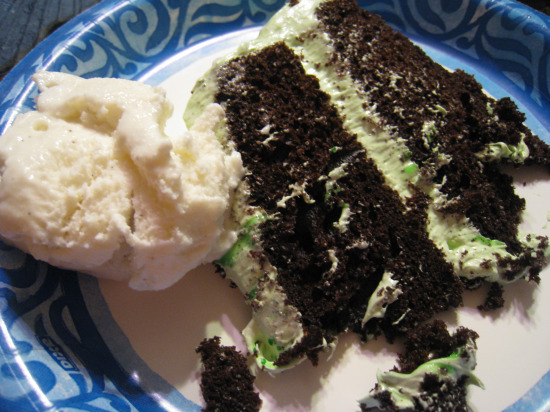 No, your eyes are not playing tricks on you. The frosting is green!! The b-day girl wanted a green cake and who am I to argue with the b-day girl. It was really nothing a little blue and yellow food dye couldn't handle!
Guess what I have to do now? More work – blah! But then again, that's why I'm getting paid right?
See you all tomorrow!