Hi Everyone! Hope you all had a lovely Sunday! Today was a day of all things holiday for us, including trimming the Christmas tree.
My day started with a 5 mile run on the treadmill. I was actually all dressed and ready to go outside when it started to downpour. I was really disappointed because today was supposed to be the warmest day of the week at 50 degrees. The rest of the week, the Chicago Tribune is reporting SNOW!! I shouldn't be so surprised, after all, Tuesday is December 1!
Breakfast was a warm and sweet bowl of homemade oats – plain oatmeal topped with brown sugar and crunchy walnuts…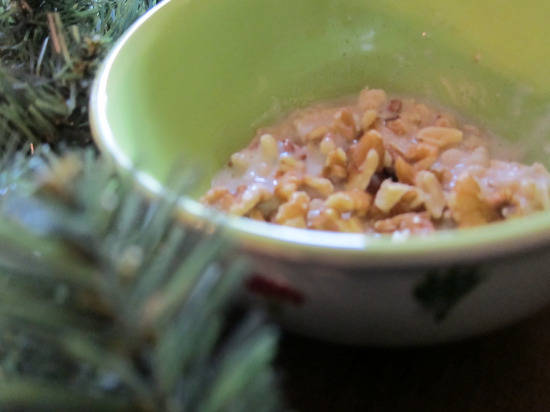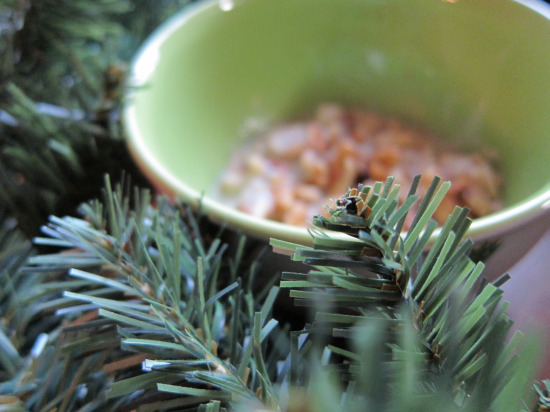 As you can see, I was playing with the macro setting and focus on my camera. Both of these photos turned out well, each with a slightly different look.
Seeing as today was the first day of Advent, Scott and I headed to 9:30 mass after breakfast. The service was very nice although the church wasn't as decorated as I thought it would. I'm sure they'll add more decorations later.
For lunch, we made our typical Sunday fare of sandwiches, but this time we made them with Boar's Head salami, turkey, and ham – this was one classy and expensive sandwich!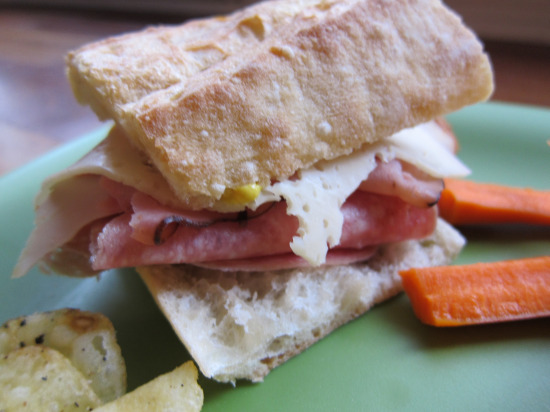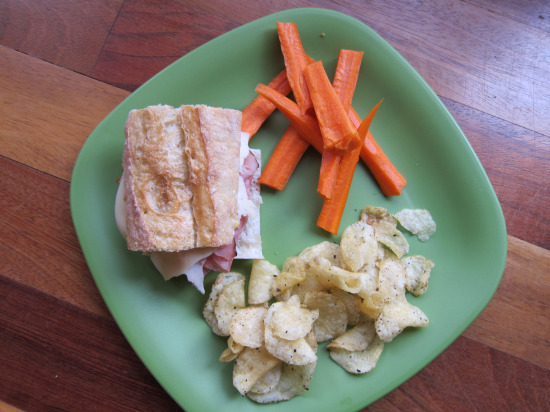 Although we put up our tree last weekend, the rest of the day was spent decorating the outside of the house as well as decorating the tree. Last night, we bought a bunch of plain green wreaths from Hobby Lobby and some wide red ribbon. I stayed up until around midnight making bows and then attaching them to the wreaths…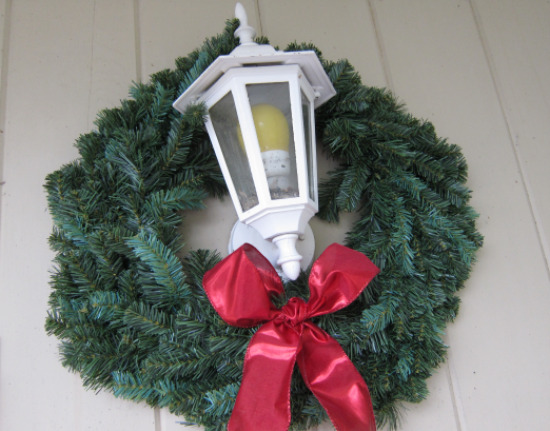 Not too bad for a first time! Next year, I think I'll buy wider ribbon to make it stand out a little more when you're looking at the house from the street.
Dinner was Scott's homemade chicken soup with dumplings…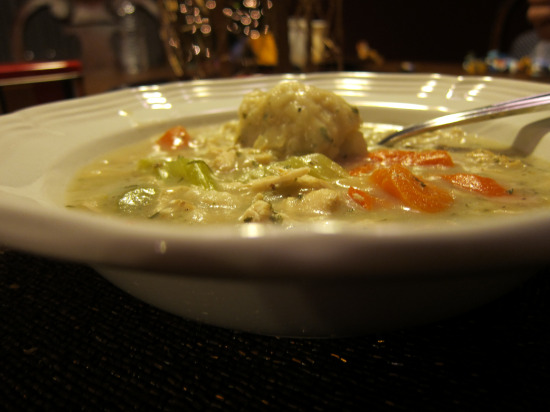 Although he and I have made this soup MANY times, the dumplings are very tricky. You have to cook them just right or else they turn out very firm instead of soft and fluffy like they did today – nice job Scott!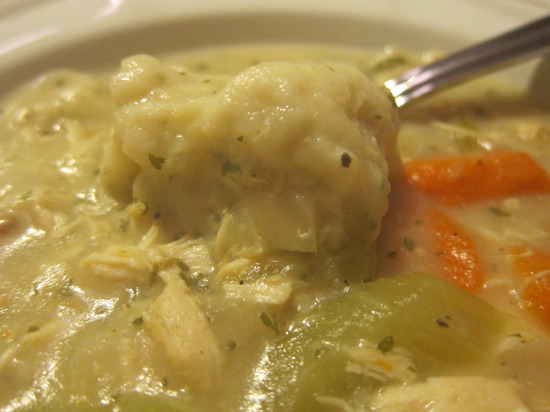 After dinner, we pulled out the rest of the Christmas decorations and tree ornaments and went to town! Since Scott and I have been married, we have been doing a sort of Victorian theme for our Christmas tree with lots of burgundy, gold, and pink ornaments. I have this dream that I will one day have a truly authentic Victorian (or Dickens-style) Christmas – complete with roast pig by the fireplace, cranberries strung on the tree, and hot mulled wassail brewing on the stove, all while listening to carolers at my door. I know, it's a little over the top, but that's why it's a dream.
I must admit, I am partial to plain jane ornaments, like snowflakes and bulbs, yet two of my favorite ornaments are anything but plain…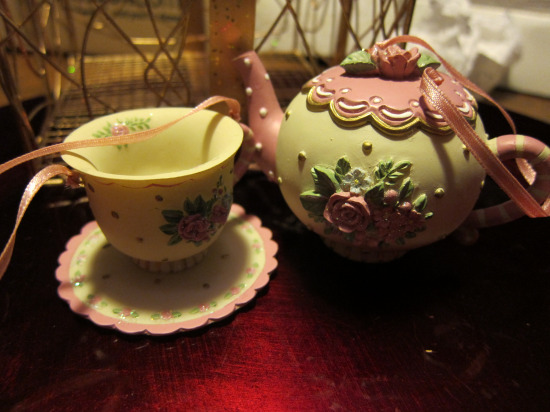 Because I absolutely LOVE hot tea – and actually collect tea cups and teapots –  I couldn't pass up these two little cuties! I bought them a few years back on a quick trip to Bronner's Christmas store in Frankenmuth, MI. Seriously, if you think you can go into Bronner's and NOT come out with something, you're crazy! They have sooo much to choose from and you can find just about any themed ornaments or decorations there – although I would have loved to find a little Harney and Sons tea tin ornament to put on my tree 😉
OK bloggies – I'm off to study. I finally received my personal training prep books and I need to do some major reading in advance before my class starts in two weeks!
Catch ya all tomorrow!