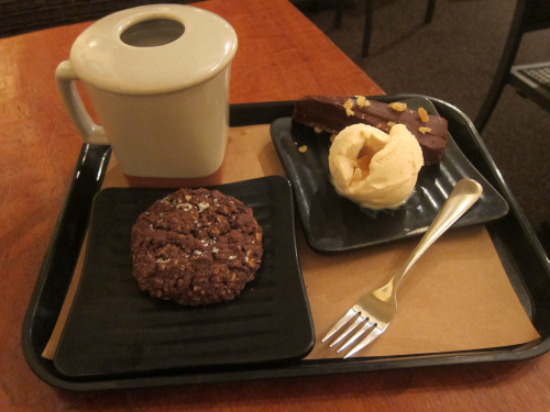 Today was day #2 – on my own in Washington, DC. After a brisk run, followed by a little morning work, I headed off to the Smithsonian – a place that I had not been in over 20 years. I spent more than two hours wandering the halls of the Natural History and the American History museums. I even got the chance to visit Julia Child's kitchen! During this time, I was torn between loving the freedom to come and go as I pleased, but wishing I had Scott with me to share the experience.
On the way back to the hotel, I stopped off for afternoon tea at a local favorite – Teaism in Penn Quarter. Teaism would not be my first choice for authentic afternoon tea (British style) – it's more focused on Asian tea. But the cafe provided a great atmosphere to enjoy my English breakfast, some cake, and a cookie. Because I had nowhere else to go, I took my time, savoring the drink and good eats, and reading a magazine from cover to cover – something I rarely do nowadays.
Tomorrow I actually have to WORK, but thankfully, not until 10 AM. I'm planning a 6-mile run around the city, then another dinner out tomorrow night. Life is hard when you're on a business trip – he he!