I don't know what's going on with me this week. I just couldn't get my act together this morning. I even woke up an extra 15 minutes early to start my run earlier. Yet, I still didn't get to work until 9:15 AM! I'm usually there by 8:30, so it's really unlike me to arrive so late. I know what it is – it's the end of summer and I still haven't taken a real vacation! I really can't take one though because this is my busiest season. But, all work and no vacation makes Jen a very cranky girl.
Enough complaining already. Because I was running so incredibly late, I had to make a quickie breakfast….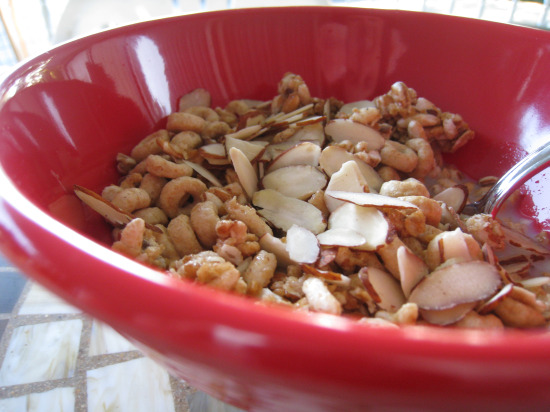 A cereal mix of Cheerios and Kashi Go Lean Crunch, topped with about 1 tsp of sliced almonds (for added MUFA). You just can't beat that huge CRUNCH in the morning! Always wakes me up, that's for sure.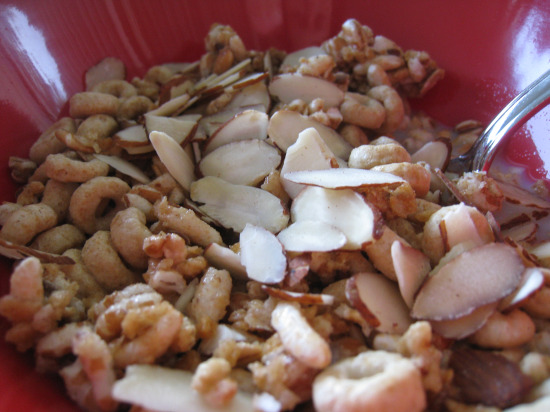 I went outside to enjoy my breakfast on my usual front porch breakfast table and got a rude wake-up call. There was a horrible natural gas smell all over the area. I couldn't smell it in the house thank goodness, but it was really thick around the house. I should really call someone about that….
Today, my boss is coming back to the office after being gone for about 10 days. So, I guess that means I really have to start working – ha! Who am I kidding, I've been working nonstop (hence the need for a vacation.)
Now that I'm at work and it's nearly 9:30 AM, I really need to buckle down and get a few things done. I really want to go to Whole Foods at lunch, but have a long list of things I need to accomplish before I can head out the door. 
Enjoy your day!