Hello All!
I mentioned in Flavors of the Fall that I am a Big Ten Football fan. Monique asked who I cheer for…well, I grew up near Ann Arbor so Michigan is near and dear to my heart. But, my husband and his brother (and all their friends) went to Illinois and are pure Illini fans. It's really hard to choose so I like both – which most Big Ten fans will deny to the grave – but I am actually quite proud of this choice!
Now, onto my day…
I had a super productive day – how about you? I basically wrote ALL day long but I really cranked out some good pieces. And, I'm sure you're all wanting to know about the pastries in the staff lounge – I did not have ANY of those pastries from this morning. I only ventured into the lounge twice – once for my lunch and another time to get more water. So, crisis and pastries averted!
For lunch, I had some leftover minestrone soup…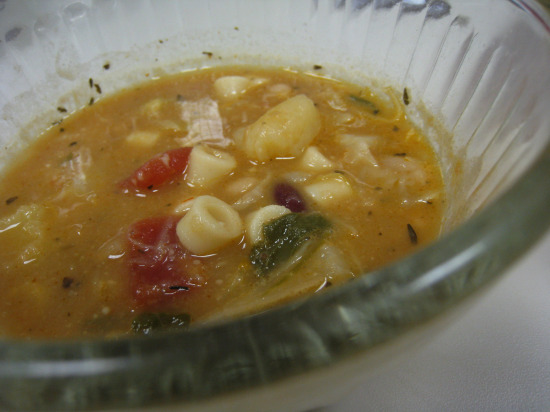 Ahh, a great light lunch for the first day of Autumn! But, it also may have been a little too light. Around 4 PM, it started to wear off and I was so wanting a snack. I didn't bring one and was trying to avoid the lounge and pastries at all costs. Luckily, my boss brought in some cool organic treats from Trader Joe's (sorry, no photo). I had a couple chocolate-covered raspberry sticks and was set until dinner.
Speaking of dinner, hubby was teaching again so I made a simple dinner tonight…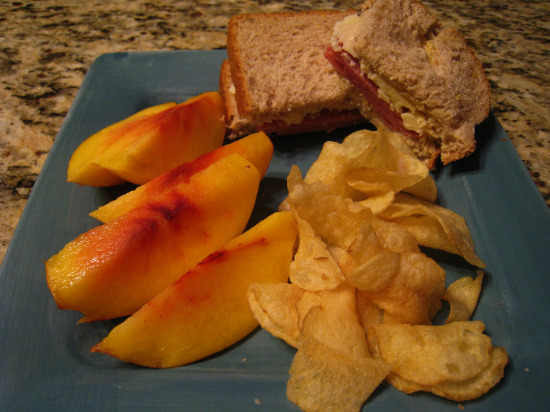 It consisted of a 1/2 salami and white cheddar cheese sandwich on 12-grain Brownberry bread, with some Cape Cod crispies on the side. I also threw is a really ripe and juicy nectarine…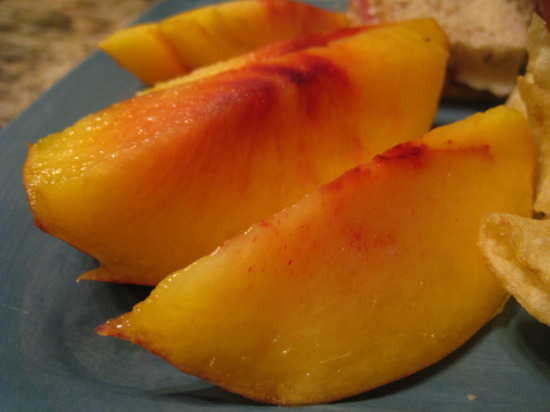 I used to be a peach kind of a girl, but now I fancy the sister fruit – the nectarine! I really can't tell the difference in taste too much. But, we buy nectarines now because my husband has an aversion to the peach fuzzies!
A couple hours later, I wanted a little something sweet, so I whipped up a little somethin' somethin'….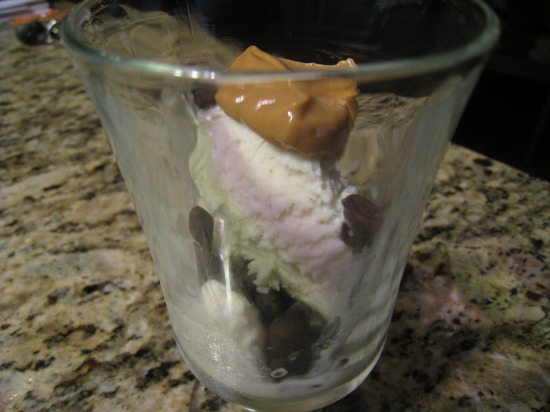 I had a 1/2 cup of Breyer's all natural vanilla bean ice cream, topped with chocolate chips and a dab of MaraNatha all-natural creamy PB! Hmm – Hmmm good! Scott and I used to make Cold Stone runs way too often. Then I realized that all I really wanted was vanilla ice cream with some chocolate chips. We save so much money now by just eating ice cream (and other treats) at home. But, you do have to have self control with goodies in the house and my husband needs a little help with that – he he!
Before I sign off for the night, I have to ask – Are you a peach kind of a girl or do you prefer nectarines? 
Have a peachy keen night everyone!