Evening everyone. Because it has been raining for most of the day, I didn't feel at all guilty about deciding to stay home all afternoon. I had a great afternoon catching up on emails and on reading. However, I did make a special trip to the market to prepare for our "Thanksgiving in August" dinner. Confused? Let me explain…
For the last few weeks, my husband has been going on and on about wanting turkey, mashed potatoes, and gravy. He gets like this around this time every year – where he craves Thanksgiving dinner in the summer. Well, Thanksgiving is over 3 months away, but I thought I'd humor him…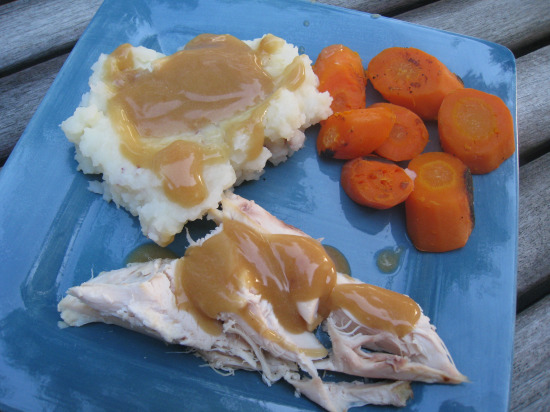 For dinner, I went to Fresh Market, a gourmet market near our house, and bought a white wine and herb rotisserie chicken. I paired the fresh white meat chicken with mashed red potatoes and super sweet carrots. I also made a little homemade chicken gravy on the side.
Everything tasted fantastic but the mashed potatoes were especially good. After I boiled them, I added a little butter, a little skim milk, and a bunch of chicken broth to make them really creamy – soo goood!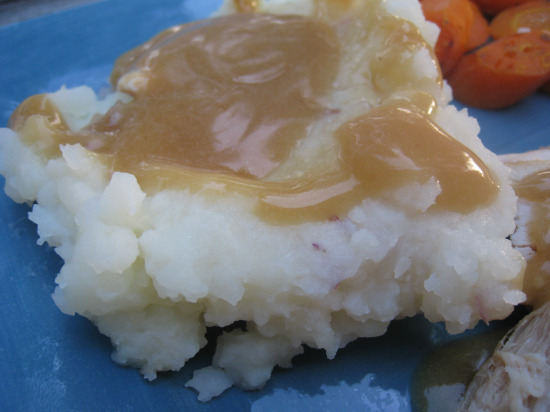 My husband, of course, loved the meal, and even offered to make dessert – double chocolate Ghirardelli brownies.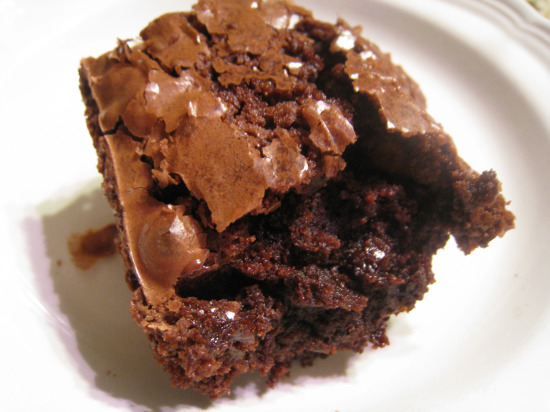 He also added some walnuts for extra MUFA. These are by far our favorite brownies because they are so full of chocolate. I've tried several times to make brownies from scratch, and they either turn out really dry or really mushy. If anyone has a great recipe for brownies, I'd love to get it!
Ok, I'm off to bed now. We've got a busy day tomorrow, that all begins with yoga at 8 AM!
Night all!