Hey out there,
Fitbloggin Info: If anyone is going to Fitbloggin, you may want to book your room at the Marriott ASAP. I just booked mine tonight and was told they had no more rooms left under the designated block. She finally "push it through" and gave me the conference rate. It looks like there are about 75 people signed up so far – at least there are 75 people with Web sites. Can't wait!
As some of you know, a couple days ago I tried my first ever pink orange. I was at a loss for what kind of orange would be pink (kind of an oxymoron) but thanks to one reader, I now know where these pinkies come from. As quoted from the Sunkist Web site:
Cara Cara oranges, a type of navel grown in California's San Joaquin Valley, are available January through April. Their outward appearance is similar to other navels, but their interior is a distinctive pinkish red and has an exceptionally sweet flavor with a tangy cranberry-like zing. Cara Caras are a rich source of Vitamins A and C, fiber and Lycopene. A perfect snack served as wedges, they're also a colorful addition to beverages or squeezed into a vinaigrette salad dressing.
It just so happens that I had another pink orange today, and sure enough, when I looked on the sticker, it said Cara Cara!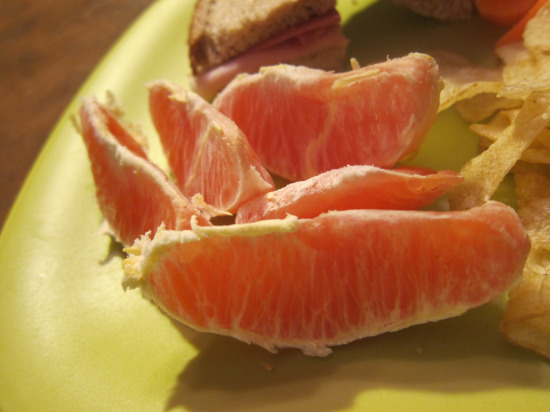 Scott started teaching his night class again, so I was on my own for dinner tonight (well, actually with two kids in tow). So, it was a sandwich for me…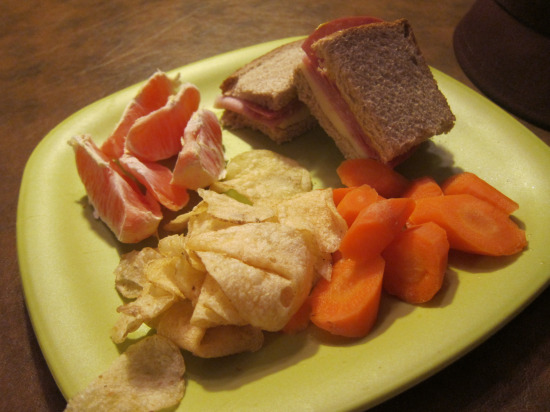 I put a few slices of lean ham and reduced-fat salami on a piece of double-fiber Brownberry bread, plus a little Swiss cheese for good measure. Apparently, when Mr. C saw the cheese, he had to know where cheese came from. I replied, "from milk that comes from cows." He was satisfied with that answer. But when I added, "or milk from sheep," he said, "but sheep don't drink milk". Not entirely true because sheep do drink milk, but it's still funny, especially when that is my only entertainment for the night.
After dinner, I enjoyed one of the last pieces of the Trader Joe's apple bread…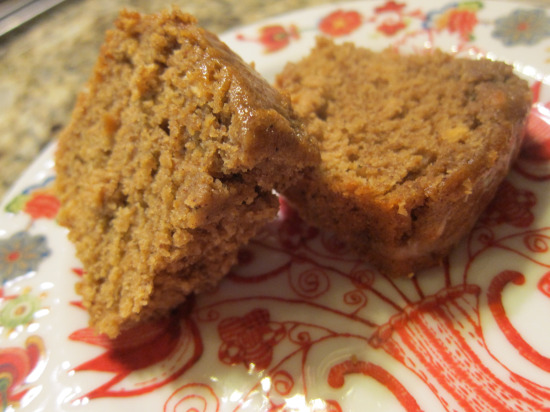 I am sorry to see it go so quickly, but luckily gingerbread is next.
2010 Trip #2: Washington, DC
As you'll recall, two weeks ago I headed to Phoenix/Scottsdale for my first work-related trip of the year. Tomorrow, I leave for the second – to Washington, DC. My bags are packed, I'm ready to go…or so the old song goes. I am heading out a little earlier in the day to avoid the rush in the evening. Also, I really don't like getting into a new city in the dark. I usually feel a little uneasy taking a taxi or public trans at night, particularly when I'm by myself. Fortunately, I am meeting an friend for dinner. I haven't seen her in a year so it will be fun to catch up.
Off to bed now, but stay tuned for Bloggin from the Capitol!