I love that it is now getting light earlier! I don't know how long it will last, but I'll take it for now. I was able to be out the door running at 6:15 AM. Before the time change, I wasn't heading out until at least 6:45 – what a difference, especially during the work week.
After my run, I did a few stretches and a 15-minute ab workout – which I normally do but just never write about. Then, it was time for a big cereal mix for breakfast…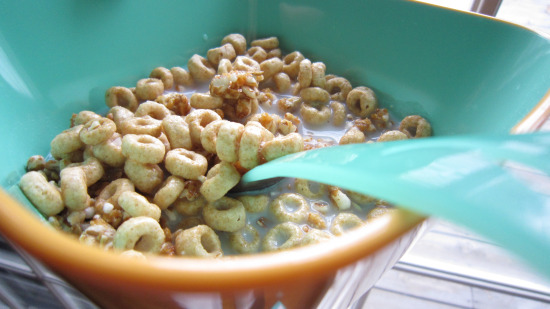 It was a mix of Honeynut Cheerios and Kashi Go Lean Crunch – perfect post-run breakfast!
Due to construction literally everywhere I turned, it took me over an hour to get to work today so I didn't get there until 9:30 PM – yikes! Thank goodness it was a slow morning and a slow day. That usually happens the few weeks after our big meeting. People need a few weeks to unwind and regroup on projects.
Because it was slow, I was able to meet Scott for lunch at a local Corner Bakery…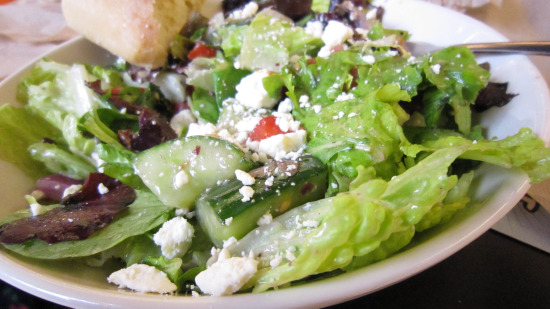 I had the Greek salad once again, but it wasn't as good the second time as it was the first. I think it was that it had way too much dressing on it.
After a very slow afternoon, I decided to leave work a little early at 4:30 PM. Little did I know I would spend over an hour trying to get home. Ugh – I so do NOT like construction – and particularly at night.
When I arrived home, I was so excited to see dinner was almost ready, but even more excited to find out that Scott bought another camera!! I guess one just isn't enough for two bloggers.
So this is the newest edition to our blogging family – the Canon PowerShot S90IS
. This is a point and shoot digital camera and takes high quality photos – especially close-ups. I've only played with the camera for a few hours but can already tell you that I like it better than the Canon PowerShot SD980IS
digital elph. I've had the elph since early October and, although I haven't had serious issues with it, it doesn't take the greatest close-up shots of food. Believe me, I've tried!
We are not convinced on keeping both cameras, but we will very likely keep the latest one. The way Scott explained it was that the Canon S90 takes quality photos, like the SLR (although obviously not as good) but without all of the bulk. So, the rest of the photos that you will see tonight will be taken with the new Canon S90.
So now, back to dinner. Scott made one of his favorite dishes – Basil Chicken Stir-fry from the William's Sonoma Chicken Cookbook…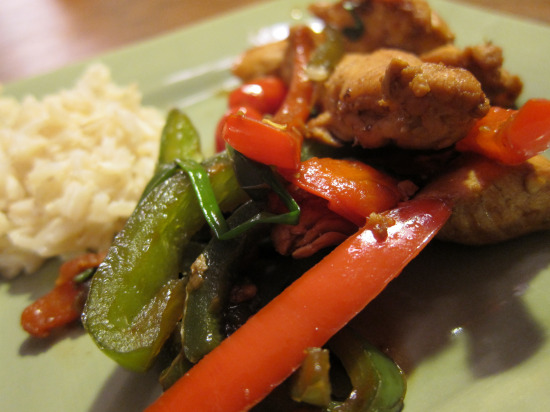 Yes, the stir-fry tasted as good as it looks! Notice the difference in cameras?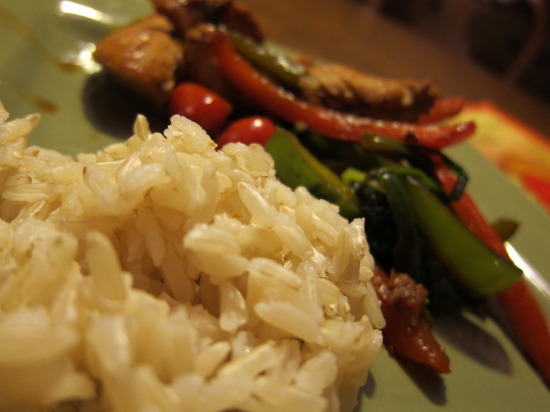 I swear this is not me trying extra hard to make this camera look good. From what I can tell in 3 hours, this camera is awesome! I told Scott he could have the other one and I would keep the S90 he he!
After dinner, I made some homemade chocolate chip cookies – the famous Nieman Marcus recipe…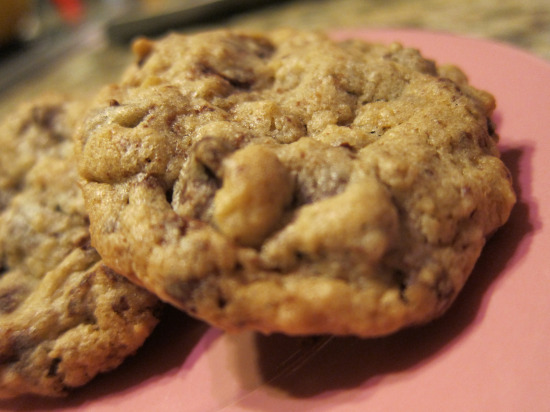 Fake Nieman Marcus Chocolate Chip Cookies

1/2 cup butter
1 cup flour
1/2 tsp. soda
1/2 cup sugar
1 1/4 cups blended oatmeal **
6 oz. chocolate chips
1/2 cup brown sugar
1/4 tsp. salt
2 oz. Chocolate Bar (grated) milk, semi-sweet, or dark
1 egg
1/2 tsp. baking powder
3 cups chopped nuts (optional)
1/2 tsp. vanilla

 Blend oatmeal to a fine powder and combine with flour, powder, baking soda, and salt. Set aside. Using a high powered mixer, cream the butter and both sugars, then blend in egg and vanilla. Add the dry flour/oatmeal mix to the wet ingredients and blend well. Blend in the grated chocolate followed by the chocolate chips, and then the nuts if you are using them. 

Roll into balls and place two inches apart on a cookie sheet. You can also free the dough balls and bake them frozen as instructed below.

Bake for 9 minutes at 375 degrees or until the cookies are slightly golden. Immediately remove them from the baking tray and place on a plate or counter covered with wax paper. Makes about 44 small cookies.
I don't feel bad giving away this recipe because it's ALL OVER the Internet and has been circulating for years.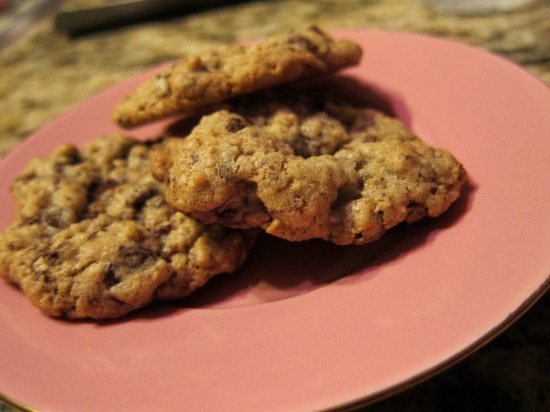 These cookies are so easy to make and taste awesome! When you make them without nuts and make the cookies on the small side, they come out to be about 75-80 calories per cookie. I've experimented by adding more chips and/or more chocolate and different types of chocolate. I've used ALL dark chocolate before and they were fabulous!
OK, nuff said for tonight. See you all on the flipside!