Hey all! Apple picking was so much fun! I have loads of pictures to share but I'm going to wait until tomorrow AM to post those. Otherwise, I would have WAY too many photos to put in one entry.
After apple picking, we all headed out to lunch. We went to a very popular Chicago chain restaurant called Portillo's (if you're from the Chicago area, you know exactly what I'm talking about!). Well, I normally LOVE Portillo's but today, I just wasn't in the mood for their food. Luckily, there was a Corner Bakery, another Chicago-area favorite, just  a few doors down. While everyone else was ordering their food at Portillo's I ran over to Corner B and got me a bistro-style lunch to bring back and eat with the others…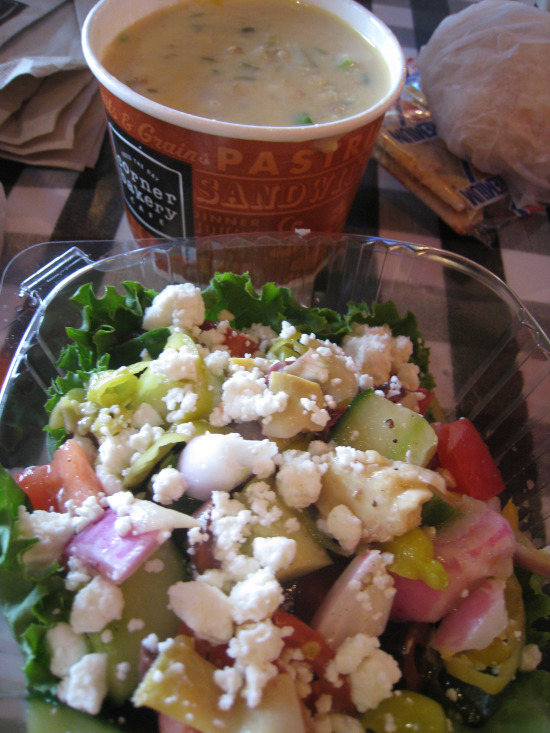 I had a cup of baked potato soup with bacon and a Mediterranean salad. As I've mentioned before, this soup is one of my absolute favorites to eat and it's super filling. It was so filling that I couldn't even eat the salad that came with it! It didn't help that I chowed on the equivalent of two Gala apples just an hour before. But apples are healthy and full of fiber, so I didn't care.
I took the salad home and had intended to eat it for dinner, but my husband had other plans. With summer winding down, chicken tacos seemed to be a great grill-friendly dinner to have on a cool and comfortable evening. We started out dinner with a little Frontera all-natural salsa and tortilla chips…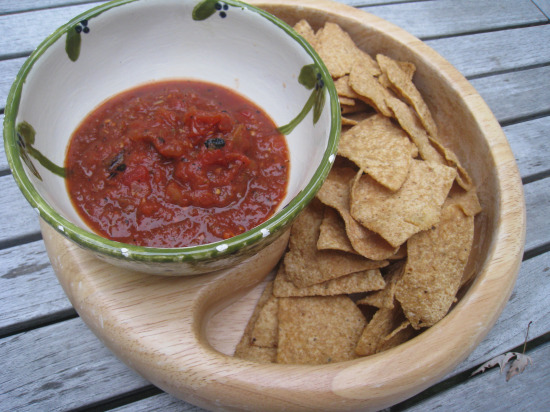 If you're not familiar with Frontera salsa, it is made by the famous Chef and restauranteur Rick Bayless who is the Chef at Chicago's Frontera Grill. Scott and I have eaten at Frontera and loved it. Now, Scott wants to eat at Bayless' Topolobampo, Frontera's sister restaurant, but it's really expensive (for gourmet Mexican food) so I've been holding off for a really special occasion. One thing is for sure, Chicago has some of the most amazing restaurants in the US and I'm looking forward to trying all of them some day – ha!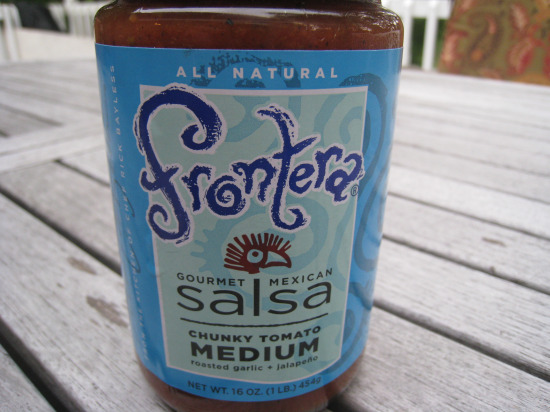 The salsa in a jar was very good as well. It has a roasted tomato flavor which I love, just a hint of garlic, and not too spicy. Love it!
Then came the main event – grilled chicken tacos!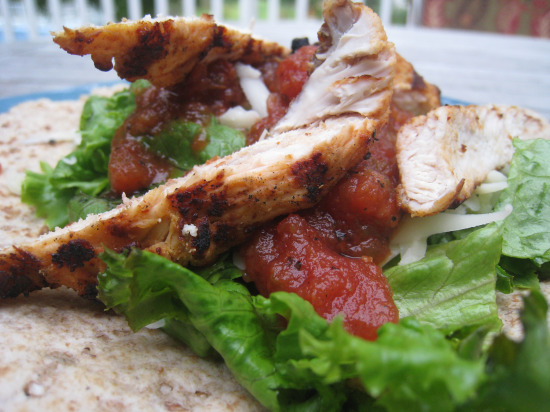 They tasted as amazing as they look – no joke! The chicken marinade my husband uses is similar to his fajita recipe, but not as tangy. I stuffed my whole wheat soft tortilla so much that it nearly fell apart (but that's what forks are for, right?)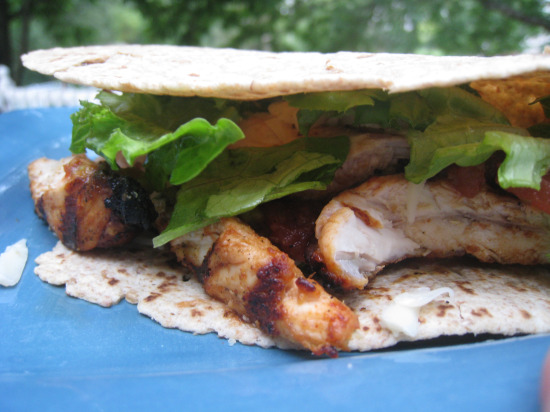 See, it's bursting at the seams – hah hah! I only had ONE taco and then ate a little more Trader Joe's guacamole and salsa – I'm all about the appetizers!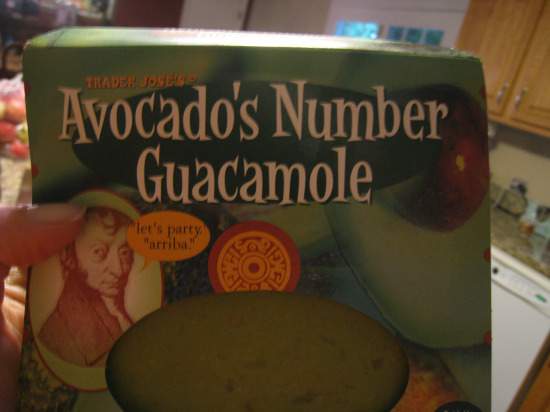 And, if it's one thing I know, it's to stop eating just before I get full (or when I feel satisfied). I very rarely let myself get stuffed because I hate that "just ate a bag of rocks" feeling in my stomach. I also try to eat slow so that I actually recognize that I'm full (or not) before I eat too much. That's a key factor for me in keeping my weight down and being able to fit into my Gap jeans year after year. Try this strategy, you may be surprised at how it can work for you.
Now, I'm sitting at Barnes and Noble contemplating a Starbuck's night cap – should I get a skim hot chocolate or a new pumpkin spice latte – hmm…decisions, decisions.
Stay tuned tomorrow morning for an apple extravaganza!